"I did not want 'Rangoon' to sound like a newcomer's album"- Vikram RH
Thursday, June 8, 2017 • Tamil Comments

Listen to article
--:-- / --:--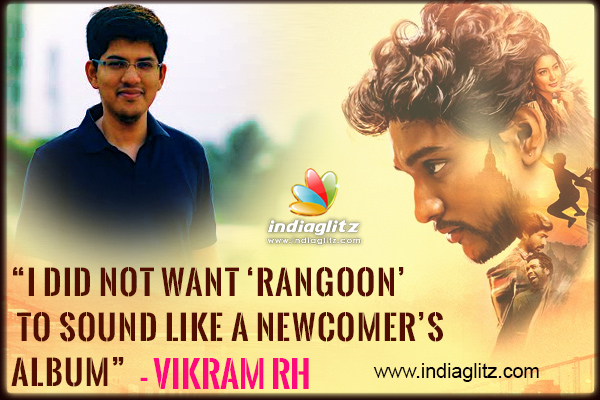 Young and energetic musician Vikram RH is keeping his fingers crossed with excitement as his first feature film Rangoon` is all set to release this Friday. The film produced by A. R. Murugadoss and directed by Rajkumar Periyasamy will be Vikram`s first film to hit the screens. The songs he has composed for the film have garnered positive reviews from the critics and being regularly played in FM channels.
IndiaGlitz had a chat with this young talent in which he speaks about his journey to tinsel town, the significance of the songs in Rangoon` and his future projects.
How did you get the opportunity to work in Murugadoss`s production?
Basically, I am from a band background. My band`s name is Staccato and it is the only Indian band to perform in the London Olympics 2012. I worked for three years with GV Prakash Kumar. I got this opportunity while working with him. The makers of Rangoon`were searching for a new music director. One of the assistant directors had referred me and the production side wanted me to send some demos. I met Murgadoss sir, and he liked my demos. That`s how I got this opportunity.
What is the significance of the songs in this film?
I have done four songs in the film. The first song is Yaathreega` written by Na. Muthukumar sir. It is about the journey of a traveler. The film starts with this song. The song sets the base for the film. It is about a family that comes to Chennai from Burma.
Enai Marakireny` is like an intro number for the heroine who is a singer in a bar. That song has been crooned by Maria Kavitha Thomas.
The third song, Foreign return` is a celebraory number. It comes during a wedding in the Burma Colony in North Madras. It is an out and out celebration number sung by Anirudh.
The last one Thottil Madiyil` is kind of a lullaby sung by heroine to the hero.The lyrics will be like tomorrow will be a better day for you. That song will have Chinmayi`s voice only. There is no instrument at all.
What is the speciality of the song sung by Anirudh that it has become so popular?
If you listen to the song you will not feel it has been sung by Anirudh. Because he has changed his voice to suit the nativity of the song. Though there are a lot of celebratory songs this is written for a wedding. In the middle of the song Antony Dasan and his wife have sung something like Vaazthup paadal. Apart from Anirudh some four, five singers have sung this song since it is a celebration. It will be a highlight in the film because of the dance also. Gautham Karthik has never danced like this before. It`s a very high energy number.
What was the reaction of A.R. Murugadoss for your work in the film?
At our first meeting Murugadoss sir said the success of songs is vital to a film like Rangoon`. He said at least one song should be a big hit and I think that has happened now. The Foreign return song and Yaathriga are being played regularly in FMs. After listening to the songs he said he is very happy with the output.
What made you happy about the reviews?
Many people had written a detailed review for this album. I was surprised and very happy for that. One reviewer in Twitter had said "After a long time I am hearing a high budget album". We started this process with that thought. We did not want it to sound like a newcomer`s album or a low budget album. That has been communicated to someone who is not known to me. I think I have achieved what I intended. That made me very happy.
Your future projects?
Pandigai` is releasing next month. The film stars Krishna in the lead. I am also in talks for a couple of other projects.
All the Best for a great career in Kollywood, Vikram.!!!
Follow us on Google News and stay updated with the latest!
Follow
Actress Photos
Mehreen Pirzada
Sonal Chauhan
Amala Paul
Shobitha Dhulipala