"I want to work with writers who have become directors"- Actor Lallu
Tuesday, June 20, 2017 • Tamil Comments

Listen to article
--:-- / --:--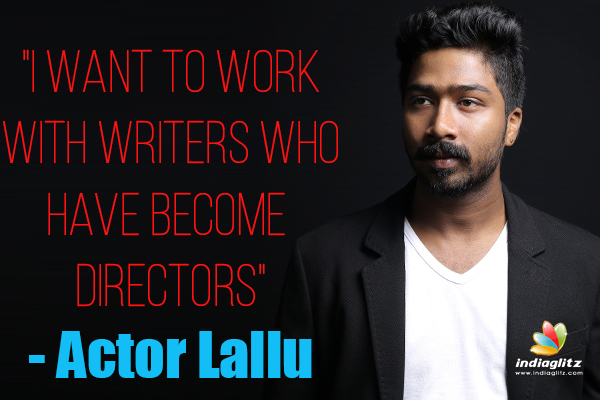 Young actor Lallu is getting recognised for the supporting characters he played in the recent critically acclaimed films '8 Thottakkal' and 'Rangoon'. In the former he played the role of one of the three bank robbers along with M.S.Bhaskar. In 'Rangoon' he played the role of 'Atho' Kumar, the close friend of the hero played by Gautham Karthik.
Modest background
Lallu hails from Tiruvannamalai of Tamil Nadu and belongs to a middle class family. He actively took part in cultural events during school and college days. His neighbors and friends encouraged him by calling him as a 'Hero' for his interest towards stage performance. He says he tried in Loyola college for some other department but only the college people guided him to study Visual communications as he is good in stage performance and writing.
In Loyola he has acted in 10-12 short films and also written lyrics and dialogues in those films. He has also taken part in script discussions with his friends.
Spotted by a Star kid
For a screening of one of the short films in which Lallu has acted, veteran actor-director Parthiban was the chief guest. Parthiban's daughter Keerthana was Lallu's senior in College. When her father searched for a newcomer to play one of hero's friends and an assistant director in his 'Kathai Thirikkathai Vasanam Iyakkam' it was Keerthana who suggested Lallu for the character. That's how the Lallu entered Kollywood. After the critically acclaimed hit film 'KTVI'. Lallu acted as one of the cricket playing guys in 'Chennai 600028 II' directed by Venkat Prabhu.
Lallu says after the success of 'Rangoon' his family members and friends are convinced that he has a good future in tinsel world. Lallu says his friends in his native place, placed banners and posters for him during the release of 'Rangoon' to make him popular among the people. He thankfully recounts that they did it voluntarily out of affection and to encourage him.
Memorable Words of Appreciation
Ask Lallu what is the memorable appreciation he got for his performance in films. the first that comes from him is the appreciation from his friends. He also said on the release day of the film Gautham Karthik called him and said "Naama Jeichtom" (We have won!). The lead actor of the film who has now become his wellwisher told Lallu that he should become an acclaimed actor like Guru Somasundaram who did a small role in Gautham Karthik's debut film 'Kadal' and now acted as the lead character in the National Award winning film 'Joker'.
The young actor also recounts Gautham Karthil mentioning in all his interviews about 'Rangoon' that Lallu and Danie who acted as his friends in the film have acted very well and he even learnt acting from them.
When asked whether director A.R.Murugadoss, the producer of 'Rangoon' said anything about his acting. Lallu says " Murugadoss sir said the impression he got about the Kumar character when he listened to the script narrated by the director has come exactly the same way in the film and that is because of the way I have performed it. He appreciated me for that."

What's in store for the Future
As of now Lallu has not signed any new film. The reason he says,
"I waited for two years since I wanted a strong character role to be added to my profile. Now 'Rangoon' has given that to me. Now I have started approaching directors. I want to do more of character roles. characters that lead the film rather than hero in a commercial film."
His intent also reflects in the directors he says he is eager to work with. "I want to work with directors like 'Kaaka Muttai' Manikandan and 'Kuttram Kadithal' Bramma. I usually keep following writers turned directors like Raju Murugan and Maari Selvaraj who is currently directed his first film 'Periyerum Perumal'. "
This write up about Lallu should not be completed without mentioning this. Lallu is a lyric writer and he has written lyrics for the 'Foreignu returnudhan' song crooned by Anirudh in 'Rangoon'. He also wants to become a lyric writer but as of now he is focused in acting.
IndiaGlitz wishes the Best for Lallu to achieve big as an actor and win many awards and accolades in his career.
Follow us on Google News and stay updated with the latest!
Follow
Actress Photos
Mehreen Pirzada
Sonal Chauhan
Amala Paul
Shobitha Dhulipala