An eclectic musical
Monday, August 12, 2019 • Telugu Comments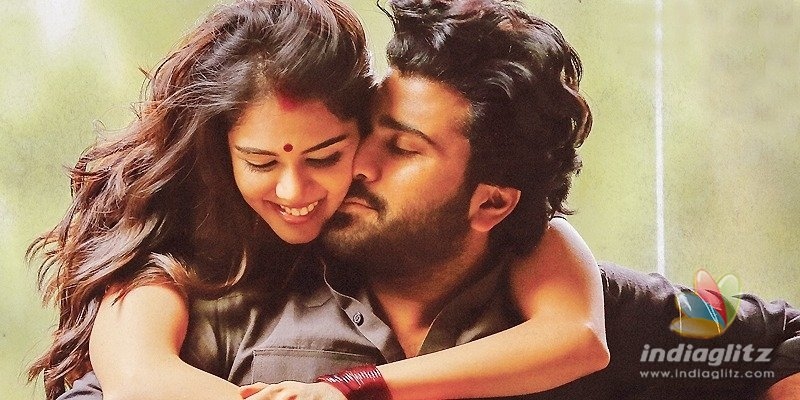 The audio of 'Ranarangam' is out, on Aditya Music.  Prashanth Pillai has composed two songs, while Karthik Rodriguez has dished out two.  The other song is by Sunny MR.  Sreehari K, Nikhitha Gandhi, Preeti Pillai and Karthik Rodriguez are the singers.  Lyrics are by Krishna Chaitanya and Balaji (one song).
Seetha Kalyanam
Singer: Sreehari K 
Lyrics: Balaji
The lyrics celebrate the marriage of the protagonist with his soulmate in spiritual language, only to proceed to romantic lines that capture the little joys of a newly-married couple.  Sreehari K's voice is a cross between RP Patnaik's and an offbeat singer.  The music is heavily inspired to the point of inducing a hundred deja vu doses.  The falling back on the Carnatic has been a low-hanging fruit in recent years.
Kannu Kotti
Singer: Karthik Rodriguez 
Lyrics: Krishna Chaitanya
This one has been music-directed by Karthik Rodriguez, who is also its singer.  The song gets the retro mode lazily.  There is nothing much to write about the 'raga'.  Krishna Chaitanya's lyrics are imaginative.  All in all, a below-average song that seeks to score points through its set-up rather than anything related to the music.
Kummeyra
Singer: Karthik Rodriguez
Lyricist: Krishna Chaitanya
The trumpets ensure that there is enough of trumpeting - about the machismo guts and all.  The lyrics are smartly-written, suiting the genre, elevating the mood.  Karthik's voice is apt for the song, which required a sense of force.  But the music is found wanting.  Karthik's composition could have been less boisterous.
Pilla Picture Perfect
Singer: Nikhita Gandhi 
Lyricist: Krishna Chaitanya
Composer Sunny MR treads a beaten path, but the beats grow on the ear slowly.  The one-note 'raga' should have been avoided to ensure longevity.  The lyrics keep in mind the character of the song's protagonist.  Nikhita's voice spices up the female-centric song, lending it a certain charm.
Evaro Evaro
Singer: Preeti Pillai 
Lyricist: Krishna Chaitanya
Pilla's composition is mood-based in a pronounced manner.  Preeti's rendition is intense and creates an air of earnestness.  The lyrics are profound, giving room for plenty of imagination about the love story involved.
Verdict:
The album stays true to the genre, striking a balance in terms of the kind of songs and lyrics on the platter.
Rating: 3