"Producers will sell the rights to telecast movies online within 3 years"
Wednesday, March 22, 2017 • Tamil Comments

Listen to article
--:-- / --:--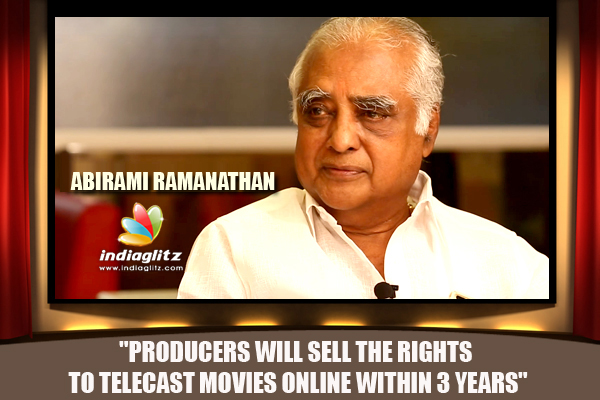 Abirami Ramanathan is one of the well known white clad gentlemen in Tamil film industry and he is a veteran in film production, distribution and exhibition He owns a four screen theatre complex in Chennai which was the first ever theatre to be converted into a mall.
In his exclusive interview to IndiaGlitz, Ramanathan reveals various hidden truths about business made by Tamil films and the sustainability of theatre business in future.
What are the prominent changes you observe over the last 25 years in Tamil film industry?
25 years ago the budget of a big film will be around Rs.1 crore.Today we are making films in Rs.100 crores. We don't have machinery and facilities available for Hollywood but we are producing films that are on par with Hollywood quality and for that the intelligence and skill of Tamilan is the only investment.
How do you see the trend of Heroes becoming producers?
Actors (Heroes) keep on increasing their salary. If the situation arises where no producer could afford them, the actors become producers.
Many film producers claim that their films have collected above Rs,100 crores but these claims are contested on the basis of dwindling number of theatres and reduction in theatre going crown, Can you explain the truth?
All 100 crores collection claims are mere promotional strategies. It is a strategy to fool the gullible people. None other than the producer of a film will be able to know the real collections of a film. We are nine distributors in Tamil Nadu and we cover the nine districts in Tamil Nadu. I distribute films in Chennai City and Salem. Only I will know how much a film collected in these two areas.
If you take Chennai, a film releases in 20 theatres on an average. Others can get the details of the collections of a film in one particular theatre. But all will not give. The theatre owners will directly send the details to the distributor and distributors will send them to the producer. So only the producer gets the entire details of collections made by a film in all places.
Many producers claim that their film has collected Rs.100. Has anyone provided date to prove that?. A big film releases in 400 theatres. Has anyone given the break up of collections from each theatre.
For them it is a prestige issue. They have to project even a flop film as a hit film. Only then they will easily get finance for the next film. As far as I know no producer will give the complete details of collection made by a film.
How much a film can actually collect in the present circumstances?
Kaaka muttai is a very good film. But even if a small budget non-star film like that becomes a super hit, its collections will be less than the collections made by a flop film of a big star. So we cannot exactly tell how much a film can collect.
Do Social media reviews really have a telling effect on a film's collections?
Social media doesn't change anything. People know whom to believe and whom to not believe in social media. our people are very intelligent. Instead they are depending on the reviews shared in personal Whats App groups of families, close friends and organisations . Because in Facebook anyone can tell anything.
Audience are complaining about the escalating cost of Movie watching in theatres. What's your take?
This is a wrong notion. The technology has made half of the film watching people lazy. They think that they can comfortably stay at home and watch films. But the experience of watching films in a theatre cannot be felt while watching it at home. People in the 15-25 age group constitute the 90% theatre going crown today.
A section of theatre owners are seeking a hike in Ticket rate while the Government is opposing that. What's your view?
We (theatre owners) are not merely asking for the rights to hike ticket rates. We want the rights for Flexible Pricing of tickets. For a film that performs well, we should be allowed to increase the ticket and for those with less patronage we will reduce the ticket cost.
We can fill the theatres with big budget films only for 20 weeks per year. For the remaining 32 weeks we have to depend on small budget films. But those films do not attract audience as people think. Rs.120 is too high for those films. So we should be allowed to reduce the tickets for these kind of films as Rs.50 or Rs.40.
Many Stand alone theatres are closing down. What will be the next stage of this trend?
Within a couple of years. theatrical business will have a steep downfall. Then 70-80 seat theatres will only sustain. Even the 300 seat theatres will become extinct. Producers will start selling films online and other direct to home platform. So they will get revenue. The number of films produced will not reduced but the number of theatres will have a drastic reduction.
20 years back, in Tamil Nadu we had 2,400 theatres. Now we have 800. Within three years from now, it will become 400.
Follow us on Google News and stay updated with the latest!
Follow
Actress Photos
Mehreen Pirzada
Sonal Chauhan
Amala Paul
Shobitha Dhulipala