Premji will be a good fielder from December 9
Wednesday, November 23, 2016 • Tamil Comments

Listen to article
--:-- / --:--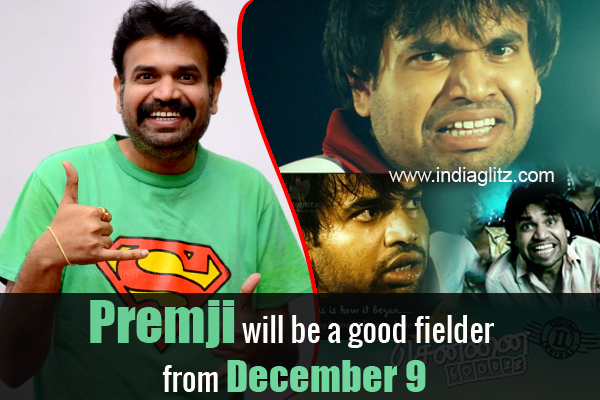 Actor Premji Amaran shot to fame playing the immensly funny 'Seenu' character in Chennai 600028`. His famous dialogue in the film "Enna Koduma Sir Idhu..." has been used in many films after that. No one can forget his lightening speed fielding performance in 'Chennai 28' which always leads to a catch drop.
But this time, the energetic actor has trained in full swing for the second innings of 'Chennai 28' as he plays he only bachelor in the sequel. Produced and Directed by Venkat Prabhu under the banner Black Ticket Company, Chennai - 28 II` has the cream of the prequel's cast retained . The film will be hitting the screens on December 9.
Chennai 28 II` is strongly backed up by the music of 'Rhythmic Master' Yuvanshankar Raja like the part 1
"Ten years have passed by since we released Chennai 28 part 1. So much have changed these years, but not our enthusiasm. We are still and for that matter for ever a young and energetic team. Chennai 28 second part is set on rural back drop. There are plenty of avenues to keep the audience pulled to the theatres and hooked to the screens. The drive to watch this film will be there in plenty. We have pitched in the best of commercial elements that could keep the youth jump over the boundaries. Need less to say that the young women will be bowled over my screen presence " says Seenu aka Premji Amaran with his trade mark finger signage.
Follow us on Google News and stay updated with the latest!
Follow
Actress Photos
Manjusha
Anasuya
Chandini Chowdary
Krithi Shetty