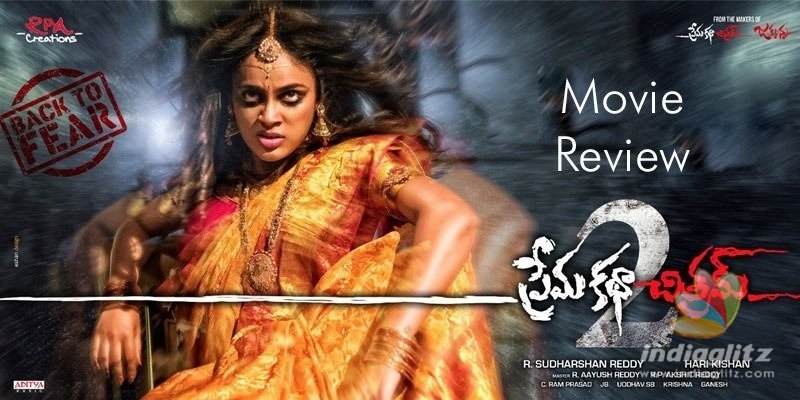 'Prema Katha Chitram-2', starring Sumanth Ashwin, Nandita Swetha and others, hit the screens this Saturday.  Here is our review of the horror-comedy.
Story:
Bindu (Siddhi Idnani) is a classmate of Sudheer Babu (Sumanth Ashwin).  She falls in love with him but, to her utter shock, she realizes that he is already in love with Nandu (Nandita Swetha).  Bindu apparently takes an extreme decision out of utter dejection.
A few days later, Sudheer and his comedy friend find themselves in a haunted mansion.  Nandu is visibly possessed by a ghost, which makes it clear that she wants the body she is residing in to be destroyed.
The rest of the film is about who is the ghost, why she is targeting Nandu and Sudheer, and how Sudheer saves himself and his girlfriend.
Analysis:
Debutant director Hari Kishan thought that merely casting Nandita Swetha can convince the audience that they are watching a horror movie.  There was a time when some mediocre directors thought that merely casting Vijayashanti in a cop's role can delude the viewer into believing that social change is upon them.  This is similar.
This is the kind of horror-comedy in which a comedian who is not even half-decent is surprised that even ghosts can smell the fart.  This is the kind of wardrobe malfunction (the film itself is a malfunction at that) where the possessed woman roams across the haunted mansion in shorts but changes into a red sari to seduce a cop (Prabhas Sreenu) for a cheap scene.
Somebody should have told the director that making Nandita Swetha laugh eccentrically doesn't scare even a kid.  Just 10 minutes after the horror track begins, you are convinced that this film is a seriously deluded horror flick with zero special effects and primitive background music.
In the second half, there comes a flashback episode that actually borders on parody. Vidyullekha Raman and others indulge in senseless comedy.
Even the climax follows a tried template. A minute after it begins, you will have this prayer on your lips: Before the ghost threatens to make a few more graphics-free grimaces, the film should end even if means eternal victory for the evil.
Sumanth Ashwin plays the Sudheer Babu of 'Prema Katha Chitram' (remember this is a sequel).  And the way he acts, he does it like Sudheer himself.  A recipe for disaster, we realize sooner than later.  Sudheer Babu should consider instituting an award named 'Thank You For Taking Me Too Seriously' and give it to Sumanth Ashwin every year.  Siddhi Idnani and others deliver lifeless performances.
Jeevan Babu's music (for the songs) is perhaps the only bright feature.  The cinematography is pathetically inefficient.
Verdict:
A grossly lazy film that over-estimates its ability to scare the audience with a shoestring budget.  If this can be called horror-comedy, anyone with a camera can make a better piece.  Utterly incompetent performances add to the woes.
Rating: 0.5 / 5.0
Showcase your talent to millions!!
Write about topics that interest you - anything from movies to cricket, gadgets to startups.
SUBMIT ARTICLE
More
Telugu Movie Reviews
Calling Sahasra
Atharva
Animal
Kota Bommali P.S
Aadikeshava
Sound Party