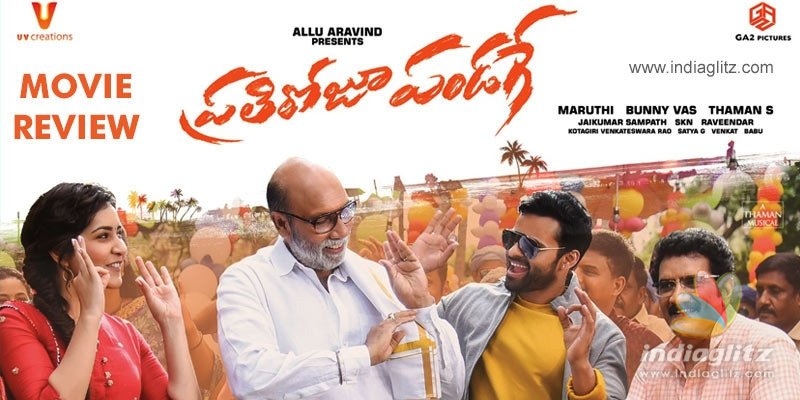 'Prathi Roju Pandage', directed by Maruthi, hit the screens this Friday.  Here is our review of the family entertainer.
Story:
Raghu Ramayya (Sathyaraj), a 75-year-old, is counting his days after being diagnosed with lung cancer.  Upon coming to know the bad news, his grandson Sai (Sai Dharam Tej) arrives in Rajahmundry from the US to be with his grandfather in his last days.  
The grandfather convinces Sai to get married to his best friend's granddaughter Angel Aruna (Raashi Khanna).  Sai's father (Rao Ramesh) and other family members arrive in Rajahmundry for the marriage.  
What follows next?  Does the grandfather-grandson duo have a heartbreak in store?  
Analysis:
There comes a moment in 'Prati Roju Pandage' when Sathyaraj breaks into a spontaneous dance because he is just happy that his children and grandchildren are around him.  The film's title song is not impersonal.  It's intimate and personal.  Its lyrics make the audience feel conscious of Sathyaraj's joy.  Had this line of thinking been taken by the dialogues/scenes, this film would have been even more endearing.
Ten minutes or so into the film, Sathyaraj walks into his empty home after coming to know that his days are numbered.  His loneliness, we are told later in the film, is the actual cancer afflicting him (or anybody, for that matter).  This emotion should have been verbalized or projected subtly more often in the film.
Director Maruthi and his writing department, by and large, do a commendable job in imagining a human story that highlights the helplessness and child-like feelings of a septuagenarian.  In doing so, it also brings out the goodness of a youngster, the film's male lead, who is sensitive to the condition of his 'thatha'.  
The director's febrile imagination concocts unlikely scenes.  For example, instead of the routine land-grabbing element, this film has a 'samadhi'-grabbing segment involving 'Sync' brothers (played by Ajay and Sathyam Rajesh).  The old man has a friend (Vijay Kumar) who is imperfect like a kid.  It's good that his universe is not just about his family members, you see.  
Raashi Khanna's TikTok obsession allows for comedy to thrive.  However, more than that, it goes into making her decision to give into the arranged marriage in a cinematic way look convincing.  
The climax is charged with dramatization and heavy-duty sentimentality.  It will surely click with the audience.
Everything said, the nature of the entertainment this film offers is in the tricky zone.  It's because if you find the mean-spirited behaviour of the selfish children of Sathyaraj eccentric or unreal, you might find it hard to accept the movie.  In a 'Shatamanam Bhavati', the characters behave with all seriousness.  Even if their ways/language is way too hackneyed, there is literally no risk in such conventional entertainment.  However, the kind of story-telling in 'PRP' is not conventional.  The banter does get blissfully unreal, the pitiable thinking of the self-centered characters is deliberately over-the-top.
After a point, the second half is about a series of death jokes you would trust a Jabardasth skit to have.
After showing the mentality of Sathyaraj's children in the first half, there really is not much left for the second half.  The first 15 minutes of the film should have efficiently showcased the bonding between the grandfather-grandson duo, before the emotional song.  
A scene where Sathyaraj speaks emotional lines to his grandson about his 'samadhi' would have helped.  The trajectory of the characters and the film is largely on expected lines in the entire second half.  
How many fathers prevent their sons from developing an attachment with their mothers just so that they (the fathers) gets all the love? Why does Telugu cinema dish out such extremities too often in the name of drama? 
The performances are bang-on.  The Mega hero is apt for the role of a doting grandson and a son frustrated with his father's petty mindset.  Sathyaraj and Rao Ramesh are a sheer delight to watch.  They are awesome character artists who know their brief instinctively.  The latter nails it with his perfect comic timing.  The pre-interval hospital scene proves what a superb talent Rao Ramesh is.  Murli Sharma is another plus.  Hari Teja, Bhadram (as a romance-obsessed guy), Srikanth and others are convincing.  
Thaman's songs sound pleasing, while the BGM is undoubtedly a plus.  Jaykumar's cinematography and the art direction are merits, too.
Verdict:
'Prati Roju Pandage' offers fun, banter, bonhomie, bonding and heavy-duty sentimentality as well.  Barring some flaws in the second half, it makes an easy watch.  Go for it!
Rating: 3 / 5.0
Showcase your talent to millions!!
Write about topics that interest you - anything from movies to cricket, gadgets to startups.
SUBMIT ARTICLE
More
Telugu Movie Reviews
Calling Sahasra
Atharva
Animal
Kota Bommali P.S
Aadikeshava
Sound Party