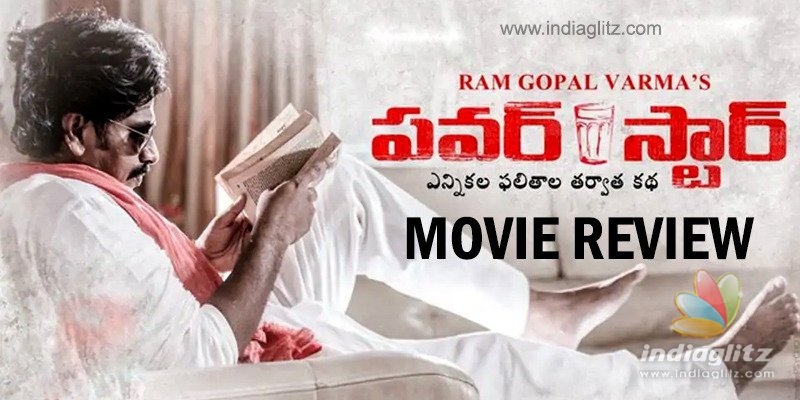 'Power Star', touted to be a fictional film telling the story of a crest-falling actor-politician, hit RGV World Theater on Saturday. Here is our review.
Story:
Actor-turned-politician Prawan Kalyan, the leader of Mana Sena Party, has lost terribly in elections.  His party is down and out.  His elder brother and his long-time director-friend advise him to quit politics and start doing films.  Just when he is confused, a self-proclaimed well-wisher of Prawan enters the screen and puts the blame on a writer-friend for Prawan's intellectual stagnation.  A monologue follows.  Watch the climax on your monitor.
Analysis:
With a run time of 37 minutes, 'Power Star' can be divided into two parts.  The first part has characters mimicking real-life personalities (like Chiranjeevi, Trivikram Srinivas, Bandla Ganesh, Naga Babu and, above all, Chandrababu Naidu), who enter and exit the screen after Mana Sena's rout in the elections.  Their language borders on gossip and there is no trace of smartness in these portions. Writer-director Ram Gopal Varma uses these episodes to indulge in some cheap commentary that is based on partisan narratives.  
It's the second part which actually has a semblance of satirizing.  Posing himself as a well-wisher, RGV delivers a sermon to the dejected Prawan Kalyan.  It would be a spoiler to reveal the climax but it reveals something if you try to delve deeper.  What RGV says in the final moments is not what he means.  
'Power Star' stays away from making any serious political analysis.  Prawan realizes that it was a historic blunder to support a particular CM candidate in 2014.  Aside from this one passing confession, there is nothing that you get in terms of political wisdom.  The film projects a particular writer-friend of Pawan Kalyan as a scapegoat.  It's too simplistic.
The film is not content with mocking its central character.  It mocks a film director who made 'Gijnathavaasi' with Prawan and who now wants to rehash an NT Rama Rao film.  Gundla Ganesh gets roasted.  So on and so forth.
A huge drawback is that almost everything was shown in the trailer.  There are no surprises, and RGV's obsession with deriding Pawan Kalyan worsens the matter.  
Joshi's cinematography is able and, with DSR's music, the proceedings come with a touch of gravitas.
The actor who satirized Pawan Kalyan is convincing and, in terms of casting, RGV scores full marks.
Verdict:
'Power Star' infuses lazy political commentary that is ineffective for the most part.  Expect no political or intellectual insights.  Expect no satire but for the climax.  RGV deploys his hatred for one person and even presents himself as a solution at one juncture in the web-film. 
Rating: 1 / 5.0
Showcase your talent to millions!!
Write about topics that interest you - anything from movies to cricket, gadgets to startups.
SUBMIT ARTICLE