Pooja Devariya plays a writer in her next
Friday, December 30, 2016 • Tamil Comments

Listen to article
--:-- / --:--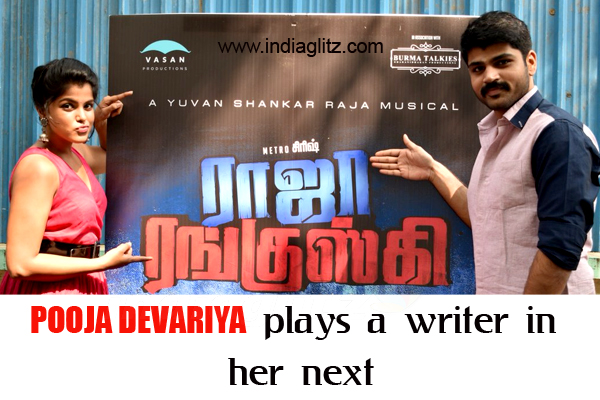 Yesterday (December 29) a new Tamil film was launched with an attractive title 'Raja Ranguski'. The film directed by Dharanidharan of 'Jackson Durai' fame will have Srirish of 'Metro' fame and Pooja Devaria in the lead role.
The catchy term Ranguski has been derived from the name given by veteran Tamil writer Sujatha for a mosquito in Superstar Rajinikanth's 2010 blockbuster 'Enthiran; Now the makers have revealed the reason behind having this word of created by the legendary writer int heir title.
"Our hero`s name is Raja and Our Heroine`s name is Ranguski. That`s how the title of RR (Raja Ranguski) was born. Actually the female lead in our film plays a Writer role, and when we thought of giving her a perfectly suitable name, the first spark hit in our minds was legendary writer Sujatha sir`s pet name Ranguski`. Our Raja Ranguski will carry all the commercial elements that make the Audience to sit at the edge of their seats throughout the film. " says Dharnidharan.
He adds " I am indeed excited on associating myself with the musical legend Yuvanshankar Raja. His contribution to the cause of the script is a boost to any Director. I am thankful to my producer Sakthi Vasan of Vasan productions for giving me the best of technicians that will go a long way in show casing Raja Ranguski` in great light. "
So Pooja Devaria plays a writer in this film. It is worth noting that she has been getting characters associated with arts in her previous films. In Iraivi` she played a 'modern painting' artist and in Aandavan Kattalai` she played a acting school student. We hope she will excel with her performance as a writer in Raja Ranguski` like she did in her earlier films.
Follow us on Google News and stay updated with the latest!
Follow