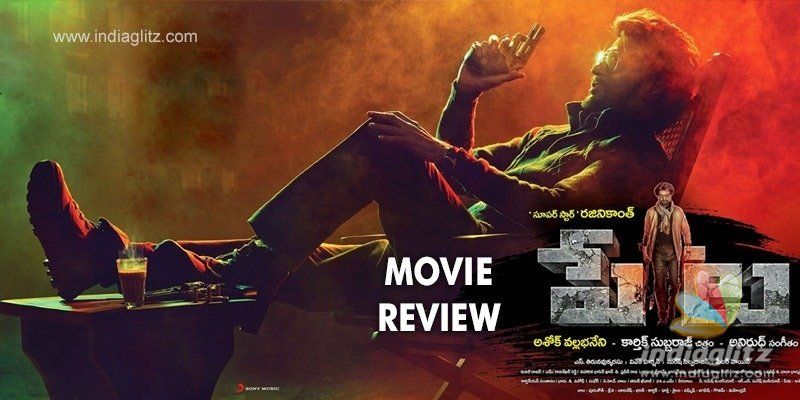 'Peta', starring Rajinikanth in the lead, hit the screens this Thursday.  Here is our review of this action entertainer.
Story:
In a hill town, there is a notorious college where a gang of terrible seniors led by the son (played by Bobby Simha) of a powerful man are known for carrying out violent activities.  Kaali (Rajinikanth) arrives here as a temporary hostel warden, ostensibly with the aim of setting things right.  In the process, he befriends two youngsters who are in love.
Just as we think there is more to the hero's mission than meets the eye, the interval block makes it clear that certain powerful men want an important character dead.  
There is a sub-plot wherein Simhachalam (Nawazuddin Siddiqui) and Jithu (Vijay Sethupathi) are seen carrying out far-Right politics.  
It's time for the actual story to unfold soon after the interval.  The ensuing drama of deceit throws up some cliches, smarts and a twist.  
Analysis:
Director Karthik Subbaraj makes the movie to demonstrate the process of Rajini-ization.  Rajini is known for many things but he can also pull off peculiar tasks that border on the bizarre.  For example, he can dance like crazy when he is expected to offer last respects to a departed soul.  And then, the beloved Peta Veera executes the unthinkable.  A handle-bar moustache and a devil-may-care attitude add large doses of, well, Rajini-ism to this episode.  How can you not be Rajini-fied?
One of the first scenes has our Superstar run down a gang that treats juniors at the college as slaves.  "Evadiki evadu banisa?" the hero of the Dravidian masses says as if to make a political statement.  He is an Annadatha who makes the beleaguered college students happy by supplying them tasty food.  In any other film and with any other hero, this scene would have been lacklustre.  But since it's Rajini, he has to be seen as the future CM (?) delivering Mid-Day Meals for poor students.
Amidst saving random people, he falls for a Pranic healer (Simran is seen in a half-hearted role that is given a raw deal, much like Trisha's inconsequential and boring character) after calling her a Biryani dealer.  
The first half is high on style, so much so, it's a treat to watch Rajini even when he is warming up his body ahead of a fight.  After Pa.Ranjith made the mass actor look so bland in 'Kaala', after Shankar made him a robot in '2.0', it's such a relief that Karthik Subbaraj delivers a sprightly Rajini who humiliates villains and outpaces them in a battle of wits.  He looks very involved while doing comedy.  That's also a relief.  
Throughout, Anirudh's background music is an absolute treat.  It enlivens the already-lively Rajini-fied proceedings.  The 'Mass Marana' song is one of the best hero moments we have seen in recent years.  Thiru's cinematography is another fabulous feature of this technically sincere movie.  
The writing comes with its share of major shortcomings.  Nawazuddin's character throws up old-fashioned villainism and the fact that the actor is unfleshed only makes it all the less appealing.  Vijay Sethupathi doesn't get much space in the first half.  In the second, he is part of a block that doesn't allow him to put his talent on display.  The screenplay here is not-so-straightforward.  After some psychological warfare, Kaali aka Peta Veera closes the main antagonist's fate with a simplistic sequence.  A twist in the climax gives a temporary high.  
The writer-director's narration presents the elements of betrayal, revenge, regressive notions of honour, jungle justice without over-indulgence.  To this extent, the story-telling deserves commendation.  However, when it comes to the story making a thoroughgoing impact, that's not there.  There was potential.  It never becomes an actuality.
Verdict:
'Peta' is an old story with a spin.  There is style, there are emotions, there is drama, there is action.  There is a bit of comedy as well.  They all keep you engaged, especially because they are powered by Rajinikanth.  On the flip side, the second half lacks gravitas after a point. 
Rating: 3 / 5.0
Showcase your talent to millions!!
Write about topics that interest you - anything from movies to cricket, gadgets to startups.
SUBMIT ARTICLE
More
Telugu Movie Reviews
Calling Sahasra
Atharva
Animal
Kota Bommali P.S
Aadikeshava
Sound Party