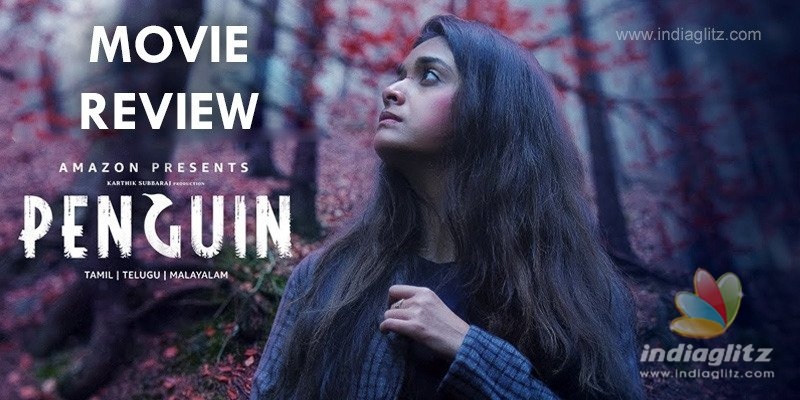 'Penguin', starring Keerthy Suresh in the lead, is streaming on Amazon Prime Video.  Here is the review of the latest Telugu-language OTT release.
Story:
A masked human kidnaps Ajay (Master Advaith), the little son of Rhythm (Keerthy Suresh).  The mother is distraught and her equations with her husband Raghu (Lingaa) take a beating.  Rhythm's long and painful search for Ajay continues even as at least half a dozen other kids go missing in the town.  
Who is the villain? Is he a psychopath?  What are his motives?  Can Rhythm trace her son?  The film unfolds its story in a to-and-fro fashion in answering these questions.
Analysis:
First and foremost, 'Penguin' was touted to be a psychological and emotional thriller.  With Keerthy Suresh headlining the cast, it's an out-and-out female-centric movie.  Debutant director Eashvar Karthic puts the 'Mahanati' actress in almost every scene, and the actress rises up to the challenge with aplomb.  As a perennially agonized character, she shows not just restraint in her performance but also manages to elicit the viewer's sympathy.
Master Advaith as Ajay is pretty much a plus.  His expressions evoke pity, exactly what was needed.  Everybody else, including Mathi, Thilak Rammohan, Madhampatty Rangaraj, and Nithya Kirubha, fits the bill.
For a mystery thriller, the background score has to be distinct if not hair-raising.  Santhosh Narayanan delivers a generic and rather inspired, somewhat tepid output.  Cinematographer Kharthik Phalani makes his frames amplify the atmospherics.
In terms of writing, the film falters at every step.  There is a red herring in the story and it is so underdeveloped that it doesn't even qualify to be called a twist.  At its core, 'Penguin' is a banal, outmoded revenge drama that has at its centre an increasingly inconsistent protagonist and an elementary villain who is at times laughable.
From a child's whimsicality to a doctor who speaks in a dry language ('This is just a coincidence', 'He is trying to communicate something' and such predictable and lame dialogues), you have everything stuffed in the span of 132 minutes.
Characters make unlikely assumptions, the pregnant mother just walks into the savage's den as though it were a park, her nightmares are endless (like the audience's)...
Policemen in 'Penguin' have as much say in the story as Swamy Nithyananda's Kailasa Island has in the ongoing Indo-China tensions.  They are worse than jokers.  Some tropes exist with as much purpose as the cops.  Just as you start hoping that the film is shedding its cliched narration, the child suddenly sings a rhyme in the middle of the night, thereby successfully reminding us of a zillion horror movies at one go.
I am going to take a few weeks to unsee the sequence where Keerthy Suresh's character is in the savage's den and she says, "Ikkadiki ravoddu baytiki vellu" to her son, as though he is entering a kitchen in the hope of tasting 'payasam' before it's served to guests.  At one point, I thought the kid's main grouse is with his mother's stupidity and that's why he doesn't talk with her.
Also be warned that you are bombarded with a second mother's wailing before you are done with the first one.  
Verdict:
'Penguin' is a malnourished psychological drama that tries to tells an atmospheric revenge story.  Barring Keerthy Suresh's fine performance and fairly good technical aspects, it is a damp squib.
Rating: 2 / 5.0
Showcase your talent to millions!!
Write about topics that interest you - anything from movies to cricket, gadgets to startups.
SUBMIT ARTICLE
More
Telugu Movie Reviews
Peddha Kapu 1
Skanda
Chandramukhi 2
Sapta Sagaralu Dhaati
Changure Bangaru Raja
Mark Antony