Earthy and emotionally rich
Tuesday, September 11, 2018 • Tamil Comments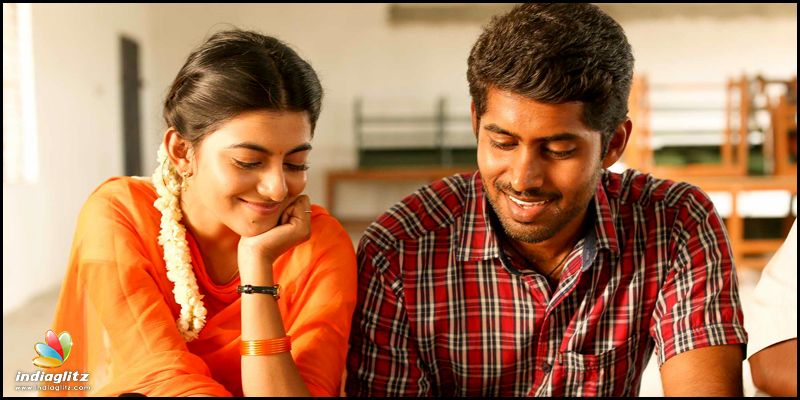 Album: Pariyerum Perumal
Composer: Santhosh Narayanan
Earthy and emotionally rich
'Pariyerum Perumal' is an upcoming film starring Kathir and Anandhi in the lead roles and directed by Mari Selvaraj, who formerly worked under director Ram of 'Kattradhu Tamizh' fame. Santhosh Narayanan has scored the music for the film and the first single 'Karuppi' is already trending in the web.
Karuppi En Karuppi: Voices: Santhosh Narayanan, Composer: Santhosh Narayanan
Give Santhosh some crayons, he will give you a rainbow back. Karuppi is as poignant as the dog's snout, musically embroidered to disturb and have a deep impact on you. It's like having to stitch your torn wounds without a local anesthetic, you are averse to the idea, but what if you wanted it like that anyways. Karuppi's impact would be the same. Bordering on 'oppari' fused with rap, it hits hard, its the confluence of stylistic western 'speak/rap' with our very own cultural lament/oppaari laced.
'Mookil mugam vachu Urasanum. .un naakkil nakki en azhukka kazhuvi pokkanum. .' This gives a defining layer to the song. Overtly attached to the physical sensations of a comfort from a pet, this is the most purity one could avail of a poet, a lyricist, unabashed with no need of ornamentation to our ruminations, as they are as pristine in their rawest form.
'Unna Kollum podhu avan sirichana. . nee koraikkum podhu avan morachaana' One cannot help but wonder about raging riots surrounding groupisms, people/ caste killings that these lines may project. With 'nee koraikkum podhu' might mean if the rise of people's voice bothers those in the power. Karuppi will become increasingly disturbing to assimilate and digest but sure is to leave you with an internal crisis.
This gets blunter in the later parts where the song touts that not all persons are the same, she should have been cautious. The singer wants Karuppi to get up with his frequent 'endhiri karuppi', but he knows it won't happen, that is why the melancholy. The singer is not worried about her death towards the end, he seems like he is more worried about the events leading to it and unhappy about his inability to rescue Karuppi.
With minimalist instrument work, Karuppi is one track which has maximally used the power of vocals and poignant, piercing and moving lyrical creativity.
Vanakkam Vanakamunga: Voices: Puliyankulam Venmayil, Puliayankulam Kannan, Lyricist: Perumal Vaathiyar
Santhosh is startling in his versatility once again. He's a bit eccentric in compositions, we know that. But when the man decides to go out of the way for a track like this, his 'truth' to the profession shines brightly. Vanakkam Vanakamunga is an earthy welcome song, a sort of a poetic tour of a place, its people and the geography. This slow, rhythmic and earthy song is definitely impressive.
Potta Kaattil Poovaasam: Voices: Yogi Sekar, Fareedha, Lyricist: Vivek
Potta Kaattil Poovaasam is simple, but an emotional ode to love entwined with geography. While Yogi Sekar's voice maintains the earthiness, Fareedha's sweet melancholic and touching rendition makes this a spectacular listen. Santhosh's guitar background score helps buffer and add texture to the song, giving it an urban-rural mix.  Thumbs up for the song!
Engum Pugazh Thuvanga: Voices:  Anthony Daasan, Kallur Mariappan, Lyricist: Chinnasamidaasan, Mari Selvaraj, 
When Anthony Daasan has sung a song, it almost flows smooth and flawless, you can say. And Santhosh has exploited Anthony very well for EngumPugazh Thuvanga. Contrasting Anthony's sharp vocals are the blunt native drums that carry the song's feel, thumping and adding life to the track.  Earthy, culturally rooted style of lines add authenticity to not only this particular track but all the songs of the album.
Vaa Rayil Vida Polaama: Voices:  Prithika, Lyricist: Vivek
It evokes a tinge of sorrow at the same time shows itself to be cute too. Santhosh's grand piano accompaniment juts in and out of layers getting you dizzy with the music. Prithika's vocals fluctuate with so much life and is emotionally rich. This minimalist composition from Santhosh is a must on your playlist.
Naan Yaar:  Vocies: Vijaaynarain, Ananthu, Santhosh Narayanan, Lyricst: Mari Selvaraj
Naan Yaar is an outcast from the album. It doesn't sound apologetic like other tracks. It comes off as a confident track asking for an identity. This identity can be understood as existential from the lines or even in reference to the society. There is angst in the way the singers have communicated the emotions to the listener. In many junctures, the music is upbeat while the rendition falls out and begs for more. It is so like the theme of 'Naan Yaar', trying to break out from the limitations that it has set itself. Most striking of the album after Karuppi.
Pick of the Album: Karuppi en Karuppi
Verdict: Santhosh has efficiently churned out an album which has character, soul and hauntingly affecting.
Rating: 3.75