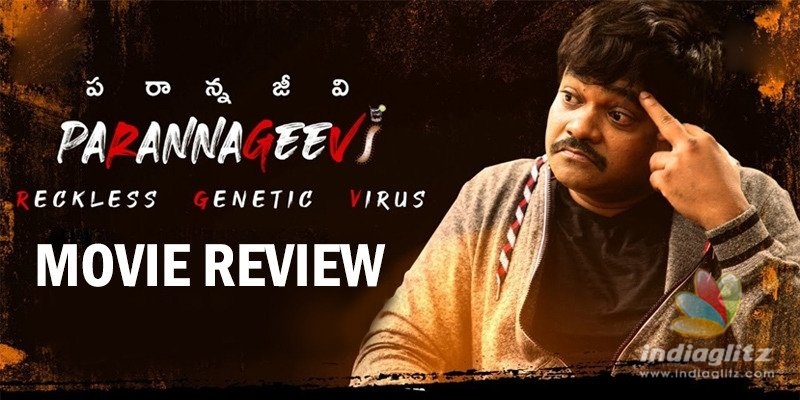 'Parannajeevi' is currently streaming on Shreyas ET on a pay-per-view model.  Each ticket is priced at Rs 100.  Here we present our review of the web-film.
Story:
Director RGV (Shakalaka Shankar) is a womanizer who perpetrates casting couch in the film industry.  Film producer Sekhar (Mahesh Kathi), a fanboy, wants to do a film with him.  RGV starts harassing a wannabe actress named Madhu.  A nocturnal twist leads to troubles in the director's life.  What explains his problems?  The answer is found in the climax of this 43-minute-long web-film.
Analysis:
Made as revenge against Ram Gopal Varma's 'Power Star, 'Parannageevi' (literally meaning parasite) is an all-out anti-RGV film that starts out with a song abusing the controversial filmmaker.  Right from the first scene, Shakalaka Shankar's character is projected as a perpetrator of 'Me Too' crimes in the film industry.  In one scene, he says, "No woman who hasn't slept with me has got a chance to do my film".  To be sure, 'Parannageevi' is based on insider gossip, which is most likely exaggerated and fabricated.  Its very tagline, 'Reckless Genetic Virus', is reckless.
After presenting RGV as a serial womanizer who keeps making false promises to aspiring actresses, 'Parannageevi' moves on to project him as a mean-minded producer who scavenges on incidents like the Disha rape episode.  His servant Mahesh (played by Laxman Meesala) is fed up with his boss's cheapness.  
The plot takes long to thicken even after the entry of Mahesh Kathi's character.  Even at 43 minutes and despite a semblance of a storyline, the web-film is too lengthy.  This is because, scene after scene, it tells the same narrative: that RGV sexually exploits women in the name of film offers, that he is arrogant, that he develops scripts on the fly, that he is unprofessional.  
As for the climax, it has two aspects.  One has to do with a stern warning to RGV from Pawan Kalyan's fans (who populate the movie with high density).  The other one has to do with liberal encomiums for the Jana Sena chief.
Shankar's performance is superficial for the most part, with his mannerisms becoming repetitive.  Mahesh Kathi and others go overboard at times.  
Made on a shoestring budget, the web-film's music and cinematography are elementary.  
Verdict:
The sole purpose of 'Parannageevi' is to project RGV as an exploitative serial womanizer who will turn the film industry into a "brothel house" if not tamed (whatever that means).  The pro-Pawan Kalyan film, directed by the self-proclaimed fanboy Dr. Nutan Naidu, comes with a lame ending as well.
Rating: 2 / 5.0
Showcase your talent to millions!!
Write about topics that interest you - anything from movies to cricket, gadgets to startups.
SUBMIT ARTICLE
More
తెలుగు Movie Reviews
The American Dream
Hero
Rowdy Boys
Bangarraju
Veyi Subhamulu Kalugu Neeku
Atithi Devo Bhava