"Rajini sir will appear in old look for just 20 minutes in the film"- Pa.Ranjith
Monday, June 27, 2016 • Tamil Comments

Listen to article
--:-- / --:--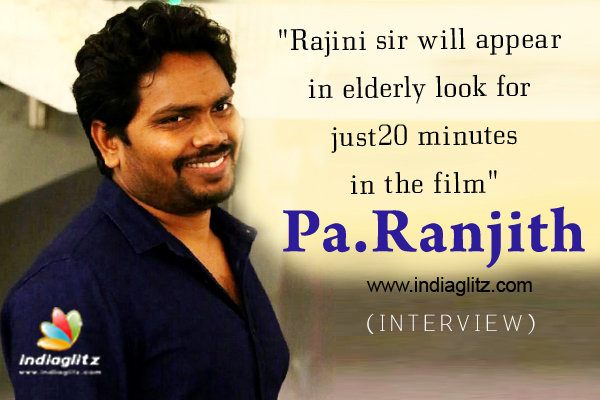 Pa. Ranjtih is now the envy of many. This two-films-old director bagged the golden opportunity to direct the legendary Rajinikanth, who liked his film 'Madras' a lot. 'Kabali', the gangster drama, is slated to be released in July. The Telugu version's audio was released in Hyderabad yesterday. In this interview, the budding creator talks about why Rajini chose to work with him, what went into Rajini's characterization, the reference used to design Rajini's looks in the film, his upcoming movie and so on.
You are now a popular name even in Tamil Nadu as well as other states because you got to direct Rajinikanth. Tell us how you landed this prestigious offer.
Soundarya, Rajini sir's daughter, is my friend. After the release of 'Madras', she called me up and said that her dad wants to work with me. Apparently, Rajini sir had watched 'Madras' twice.
Are you saying that it's only because of 'Madras' that you got the opportunity to direct the Superstar?
Yes, it's because of that film that I am here. I have directed only two films ('Attakathi' in 2012 and 'Madras' in 2014), but with these films, I have gained the experience of working for ten movies.
Did you write the story of 'Kabali' keeping Rajini in mind?
I pick my hero based on the story. It's never the other way round. I don't know how to write a story with a hero in mind.
You are just two films old. Were you jittery when you first met Rajini?
Yes, initially I was scared. But my first meeting with him was a great experience. When he told me, 'I want to work with you. Tell me a story', I narrated two ideas to him. After 'Kabali' was finalized, I started working on the story. Note that Rajini sir always looks for freshness. That's why, he chose a director like me who belongs to the new generation.
What thoughts crossed your mind when you started writing the characterization?
I worked very hard to sketch his character. I went ahead with the faith that his experience will always be there to rectify me whenever I go wrong. The salt and pepper look has become so popular today. Rajini sir will be seen in the old (80s) look for just about 20 minutes in the film. I fell back on his '80s look for the styling of the young Rajini. His image prompted me to be guarded at all times.
What is the story about?
Kabaleeshwaran born in a family which migrated to Malaysia during the British rule. Kabali grows up to fight for the cause of the ethnically Indian workers settled down in that country. It's a mafia don's story in the backdrop of Malaysia. Kabali is a term often associated with goons. But in my film, it's all positive.
How do the looks of the Superstar fit in this scheme?
Rajini sir will be seen in two looks. The looks are there as part of the story. His appearance in the 1978 film 'Mullum Malarum' is the inspiration to one of the looks.
Is it an action-oriented film, considering the genre?
'Kabali' is not just about action. More than action, the emotional quotient is very significant. People will definitely connect themselves to those emotions.
What is your upcoming movie?
I was planning to direct Suriya. I had put the project on hold after 'Kabali' happened. My next film will be with that star. It will be one of the best films in his career. Heroism and action are the most important elements of this film.
What does Pa in your name stands for?
My father's name is Panduraga. That's what Pa in my name means.
Follow us on Google News and stay updated with the latest!
Follow
Actress Photos
Dhanshika
Chandini Chowdary
Samyuktha Menon
Manjusha