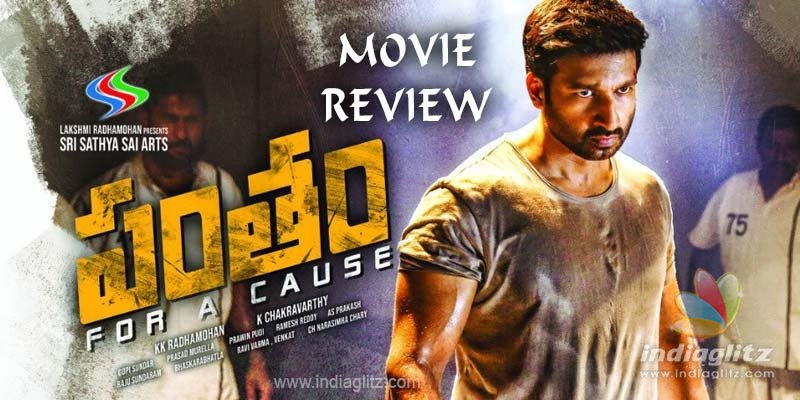 'Pantham', starring Gopichand in the role of a vigilante, hit the screens this Thursday.  Here is our review of the K Chakravarthy directorial.
Story:
Vikranth (Gopichand) is a modern-day Robin Hood who clandestinely steals thousands of crores belonging to corrupted Ministers.  Home Minister Jayendra aka Nayak (Sampath Raj as the film's main villain) is shaken by the mystery man who is robbing him of gigantic amounts.
In some random colony in Hyderabad, Vikranth is bettering many lives by comically using Vadakam (Prudhvi), an aspiring corporator, to bring solar power, etc.  
By interval time, the HM comes to know that Vikranth is the man behind the massive robberies.  The rest of the film is about how Vikranth plays a mind game, explains why he had to become a vigilante, what exactly is his identity, and how he gets the HM convicted.
Analysis:
In telling the adventurous story of a society's guardian, debutant director K Chakravarthy commits the folly that films like 'Nela Ticket' have done in recent times.  The villain, despite being a Home Minister, behaves like a headless chicken.  And the hero is all-knowing and all-powerful.  He has a heartless father, he is a motherless son, and a peerless jockey, among others.  And the maximum the villain is capable of doing, despite being a Home Minister (we repeat), is getting a few unarmed goondas to try to kill the hero.  
Courtroom scenes unfold like a joke.  The Home Minister's celebrity lawyer (Ashish Vidyarthi in a short role) alleges in the court that the world's 10th richest person has made money through foul means and this world's 10th richest person trembles as if he is finished.  How on Earth did such a moron become a multi-billionaire who can keep four Chief Ministers waiting in his lobby for an appointment?  
And it's in these courtroom scenes that the hero achieves greatest things in the shortest possible time, thanks to a judge who wants to retire peacefully by closing a case that will take years in the real world to reach conclusion.  All that the villain, despite being a Home Minister (we repeat, repeatedly), is capable of doing is to surround himself with a few jokers, none of whom advises him that the accused (that is, the hero) can be defeated at his own game by reminding the court that he has left a trail of destruction (including loss of human lives) in getting hold of illegitimate money.
The way billionaires and even frontline Ministers talk in 'Pantham' is to be watched to be believed.  Most of the times, most billionaires know how to talk to their sons.  Do they talk like frustrated nincompoops?  Most of the times, most Ministers know how to behave in front of the media after a bomb blast or a calamity.  They don't talk like insensitive idiots.  Find sensible ways of showing their indifference, their corruptibility.  
And the punch dialogues?  Don't even ask.  In one action scene, Gopichand emotionally says for real that there is a time limit during exams but he has got no limits.  Even our patience has a limit.  
Mehreen Pirzada (always behaving as if her name is a misnomer in her case, her name being Akshara) falls in love with the hero because he is not only a good-hearted fellow but also her fiance (Ravi Varma in a cameo) hails from a family of cold-blooded sadists (an over-used trope that our directors have never been tired of since the days of Prithviraj Kapoor perhaps).  Just before the climax, our hero gets the Home Minister pay Rs 5 crores towards charity and, out of sheer joy, he gets romantic and jives with our heroine, singing 'First Time Ninnu Choosi'.  It's for stuff like this that Mehreen is there in the movie.  
Gopichand's performance comes into its own in the climax.  He is seemingly uninvolved in some portions, especially those rom-com scenes.  Sampath Raj is fair enough.  Mehreen is forgettable.  Srinivas Reddy as the hero's sidekick, Prudhvi as a 'Bakra', Kalakeya Prabhakar and Ajay as baddies, Sayaji Shinde as a CBI officer, Mukesh Rishi as a corporate baron who thanks the heroine for letting him know that the hero is in judicial custody, Tanikella Bharani as a hero-hailing character, Pavithra Lokesh as a lady Srimanthudu, Jayaprakash Reddy as a buffoonic Health Minister Arogya Rao, Kaumudi Nemana as a girl acting too affected don't add much to the proceedings.
If two of Gopi Sundar's songs are good, Prasad Murella's cinematography passes muster.  Prawin Pudi's editing is decent.
Verdict:
A stale Robin Hood storyline, a film that questions the system in an escapist courtroom scene, a hero who wins the war easily because the villain has no head.  This is 'Pantham'.
Rating: 2.25 / 5.0
Showcase your talent to millions!!
Write about topics that interest you - anything from movies to cricket, gadgets to startups.
SUBMIT ARTICLE