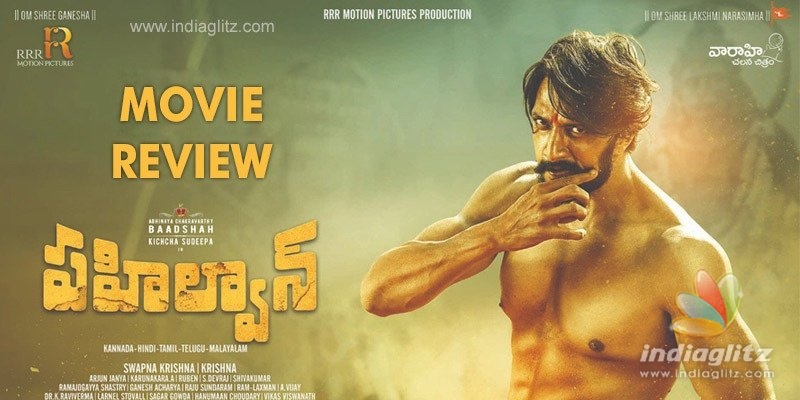 'Pailwaan', starring 'Kichcha' Sudeep in the lead role, is a dubbed film.  This Sandalwood project, directed by S Krishna, is a sports drama.  Here we present its review.
Story:
Krishna (Kannada star Sudeep), an orphan, has a knack for hand-to-hand combat.  He is spotted by Sarkar (Bollywood actor Suniel Shetty) at a young age, gets adopted and trained for years in wrestling.
As an adult, Krishna falls for Rukmini (Aakanksha Singh), whose cash-rich father treats him like dirt.
Besides the above two threads, there is a violent one involving Raja Rana Pratap Varma (Sushant Singh), a king unto himself and treated as a royal par excellence by his people.
Meanwhile, Tony (Kabir Duhan Singh) and a boxing trainer (Sharath Lohitashwa) have their own track.
What happens when Krishna meets the heroine's father, Raja Rana, Tony and the boxing trainer is what the film is all about. Suneil Shetty's character has a game-changing role in his life.
Analysis:
Written by director S Krishna and DS Kannan, what 'Pailwaan' essentially offers is a time-tested formula.  A strict father who has a near-impossible dream, an orphan who is ever-so-loyal to his guardian, a girlfriend-turned-wife whose only purpose in life is to love her husband, and an egoistic villain for whom prestige is everything.  Elements like these are not new and a compelling story can definitely be built around them.  However, 'Pailwaan' fizzles out quite early on despite the obvious advantages.
Sudeep gets to do a role that is too young for him.  He is not that convincing when he shows fear in the presence of Suneil Shetty, who otherwise excels in his role.  Too many moments have the hero act cute (too cute, in fact).
The rom-com track is replete with ultra-familiar ideas.  The heroine (remember Nagarjuna's pair in 'Devadas'?) comes and buys liquor, gutka and cigarettes from the hero for no rhyme or reason.  We are expected to laugh when Sudeep shows shock at this.  His sidekick, an unfamiliar comedian (to the Telugu audience), doesn't want him to get married for a vacuous reason.
Sushant Singh's character comes off as quite caricaturish.  He resorts to those well-known tropes to scare the hero.  There is only so much that you can take.  Kabir Duhan Singh makes his evil intentions too obvious too early in the film.  His villainy lacks life and dynamism, one of the main reasons why the climax is rendered ineffective.
There was enough opportunity to make the climax a stunner but everything gets drowned out in a melee.  The boxing sequences are largely unimaginative, while the kusthi segments are impressive in a halting way.
Arjun Janya's background score works (despite it being a rip-off) but the songs are not appealing.  Karunakara A's cinematography is able, by and large.
The action sequences should have been the film's raison d'etre but they are just OK.  Ram-Lakshman, A Vijay, Larnell Stovall and K Raviverma needed value-addition from the director to their work.
Verdict:
'Pailwaan' is not pedestrian but it is too famliar.  When ambitious films (like this one) are made, the audience expects meaty writing.  The production values are worthy.  However, the Telugu audience doesn't get much in terms of narrational value.
Rating: 2 / 5.0
Showcase your talent to millions!!
Write about topics that interest you - anything from movies to cricket, gadgets to startups.
SUBMIT ARTICLE
More
తెలుగు Movie Reviews
Karthikeya 2
Laal Singh Chaddha
Macherla Niyojakavargam
Sita Ramam
Bimbisara
The Legend