Sentimental, substantial
Wednesday, January 27, 2016 • Telugu Comments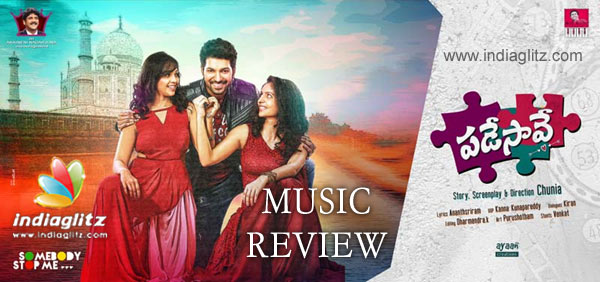 Anup Rubens comes up with an enjoyable album. Anantha Sriram gets a single-card album here.
Rahul Nambiar, Lipsika, Ramya Behara, Haricharan, Rahul Rida, Anup Rubens, and Damini are the singers.
Let's Have Some Fun
Artists: Rahul Nambiar, Lipsika
Lyricist: Anantha Sriram
The lyrics bring out the world view of the lead cast. Anantha Sriram yet again deploys supple language to make a point. As much as the straightforward usages are there (read 'sharing', 'caring', 'feeling', 'celebration', 'education', and so on), the lyrics are sans profoundness. Rahul Nambiar is a treat as ever, so also Lipsika. Anup Rubens could have made the song less boisterous.
Aasa Aasa
Artists: Ramya Behara
Lyricist: Anantha Sriram
Anantha Sriram's music is understated. Ramya Behara with her tender vocals resembling a juvenile's, mirrors the child-like flavour of the number. Anantha Sriram with his poetic lyrics wows. For example, lines like 'chuttu chuttu chindutunna vayasu velugulenno..' are pleasant and lovely.
Nuvvila Nuvvila
Artists: Anup Rubens
Lyricist: Anantha Sriram
This is yet again a lyrics-oriented number with meaning-laden lines from Anantha Sriram. Anup's music and vocals build an intensely emotional high-rise with the lyrics as the ballast. The offbeat vocals bring out the emotional churn undergone by a lover boy before confessing his love. Rhythmical lyrics, nice sound, and good vocals!
Despo Rado
Artists: Ali, Anup Rubens, Rahul Rida
Lyricists: Anup Rubens, Ali
This is a male-dominated item number with a dose of absurd but funny lines coming straight from the original Kalakeya of Tollywood, comedian Ali! The comical number tells the story of Ali, who returns from Dubai, with his desperation intact! Lines like 'etu choosina yisuke, lene ledu ishqe..' are hilarious. Anup Rubens' music is enjoyable and 'ding ding ling ling..' are hummable.
Itu Rava
Artist: Haricharan
Lyricist: Anantha Sriram
This is a story-based song as the content-driven lyrics suggest. Anantha Sriram once again writes profound lines that are easy to understand. Haricharan's formidable vocals are a great asset. Anup Rubens' subtle musical composition makes this a first-rate melody to watch out for.
Chitti Talli
Artist: Damini
Lyricist: Anantha Sriram
The lyrics indicate some churning and the way the song ascends to acquire the quality of the assuring is sentimental and substantial. Anantha Sriram is one unique writer with a rare knack for conveying complex themes in an everyday language. Damini's mellifluous vocals make one want to listen the song again and again, so also Anup Rubens' soft music.
Ilaa Ilaa
Artist: Anup Rubens
Lyricist: Anantha Sriram
The lyrics are laced with meaning, but the lines lack a lilting feel. They are too conversational to be called lyrical. Singer Anup clearly scores over musician Anup!
Verdict: A youthful album that makes sense. All in all, a good package - be it in terms of the lyrics or the music.
Rating: 3/5