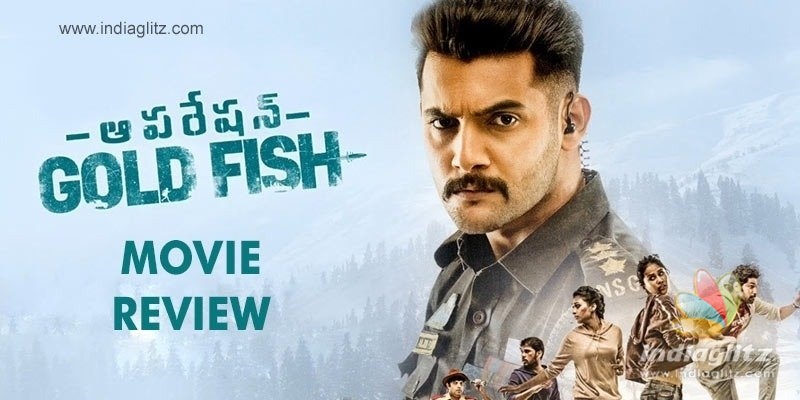 'Operation Gold Fish' hit the screens this Friday.  The film has been funded by the film's some of the important cast and crew members.  Here is our review.
Story:
Back in 1990, Kashmiri terrorist Ghazi Baba (writer Abburi Ravi debuts as an actor) successfully scares Kashmiri Hindus into leaving their homeland.  He creates an enemy in a boy by killing off his parents in cold blood.
Cut to 2019, that kid is Arjun Pandit (Aadi Saikumar), who is not only heroic but also has his personal reasons to be ruthless in eliminating Baba.  All hell breaks loose when Baba is arrested and his protege, Farooq (Manoj Nandam), comes up with a terrible plan to bring the government to its knees.
What is that plan?  How does Arjun Pandit seek to outdo the jihadists?  Can Baba escape capital punishment?  Answers to these questions have to be found in the film.
Analysis:
The film was made much before the abrogation of Article 370 but, coincidentally, it has released after the Indian Parliament diluted the problematic Article in August.  The theme of national integration runs through 'OGF', and at times, it doesn't shy away from taking sides.  The Kashmir jihadi mission, which is essentially driven by theological hatred towards Hindu-majority India, doesn't get any novel depiction.  But in so far as a spade is called a spade, this film doesn't disappoint.
The first act of the film gets its act together.  It establishes tension by first showing how Ghazi Baba and Arjun Pandit became enemies, and how much ruthless the former can be.  Once the terrorists start out with their operation (what Gold Fish denotes is revealed quite early on), the NSG has to ensure that they are ahead of the enemy.
Anish Kuruvilla plays a superior official at NSG and he is that calm-headed boss who appeals to the hot-headed hero to not lose balance.  Rao Ramesh is the External Affairs Minister and despite no much length, he tries to make a mark.  It would have been dramatic had he been shown as the Home Minister.  Probably because of the nature of his role, the writing department (Abburi Ravi designed the script) seems to have made him the less political EAM.  Manoj Nandam is convincing as a terrorist in so far as he keeps that sad face (most terrorists must have been sad souls).  But his dubbing loses sheen as the film progresses, and he changes costumes randomly - from Western to ethnic Kashmiri.  Krishnudu is there for an emotional reason but it's quite convenient to give him that ending; it's as if someone from the economically lower-class segment had to take it, as the well-off ones wouldn't look good for that purpose, you know.  
The rom-com track could have been much better.  The love stories should have been soulful.  Instead of those lame 'Bru-Bra', 'Intermediate-Intercourse' jokes (which are SMS-era jokes, actually), something substantial should have been offered.
After a point, we feel that the film is about four happy souls doing their best to screw national security and a frustrated and impulsive NSG commando helping them do just that!  The mess is because Kashmir and the Minister's daughter are vying for the same thing: Freedom.
The film makes a quick reference to the Balakot airstrikes, and also has a terrorist predict another war between India and Pakistan over Kashmir. These moments should have hit the right notes had the narration not lost steam by then.
The four friends are captives but we don't feel their fear.  They can disappear from the den at will.  The NSG and the government look clueless after a point, and even in this phase, the only one who is sure about his victory is Ghazi Baba!  On the one hand, you show India to be light years ahead of Pakistan and Pak-backed jihadists in dealing with terror.  On the other hand, you show incompetent Ministers and largely average soldiers (with the exception of the hero, of course) in the face of a crisis.
As for performances, they are adequate.  Aadi Saikumar looks confident, the four friends are adequate.  Abburi Ravi looks menacing and with a neatly-etched role, he would have been better.  Nithya Naresh and Sasha Chettri are effortless, so also Parvatheesam.  Karthik Raju is fine.  
Jaipal Reddy's cinematography does justice, considering the kind of locations chosen.  Sricharan Pakala's songs and BGM are good enough.  
Verdict:
'Operation Gold Fish' has a solid premise.  It ticks the right boxes, by and large. With an engaging second half and effective action episodes, it would have been special.
Rating: 2.75 / 5.0
Showcase your talent to millions!!
Write about topics that interest you - anything from movies to cricket, gadgets to startups.
SUBMIT ARTICLE
More
Telugu Movie Reviews
Sapta Sagaralu Dhaati
Changure Bangaru Raja
Mark Antony
Jawan
Miss Shetty Mr Polishetty
Kushi