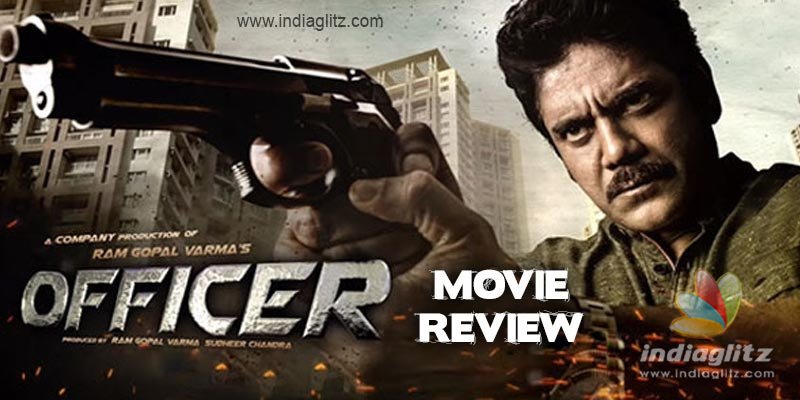 'Officer', starring Nagarjuna in the role of a cop, hit the screens this Friday.  Here is our review of the RGV-directed action drama.
Story:
Widower Shivaji Rao (Nagarjuna) is a duty-minded, upright cop who comes with both ethics and guts.  He is assigned to head a Special Investigation Team to probe into the alleged misdemeanors of top cop Narayan Pasare (debutant Anwar Khan), who comes with the track record of finishing the Underworld in Mumbai.
Shivaji's attempts to implicate Pasare lead to unforeseen consequences.  The arrogant top cop extricates himself out of the legal tangle in no time.  He then decides to clandestinely float a mafia company of his own.  
It's now up to Shivaji to beat Pasare at his own game.  In this, he has to be on the wrong side of the law.  
Analysis:
Call it laziness or whatever, but the fact 'Officer' doesn't show how Shivaji finds out that Pasare is has had nexus with criminals says something about RGV's unserious approach these days.  The entire stretch where the hero gathers clues and evidence is narrated without a dialogue, details be damned.  
When three high-profile murders in Mumbai shake India, this hero with huge stakes in its law and order situation is shown learning about it by watching a news channel.  Even some of the dialogues are clearly outdated, especially the ones between Shivaji and his daughter.  
The hurt rage of the vanquisher (Pasare) of the Mumbai mafia is depicted by showing him as standing in front of the mirror and vowing to strike back.  If this is how they want to show megalomania even in 2018, God save us.
RGV usually avoids run-of-the-mill songs and melodrama yes, but there is an equivalent one to these in his films: yawn-inducing background music.
The chemistry between Shivaji and his colleague (Myra Sareen as a divorcee) starts to test your patience after a while.  This is surprising, given that they are colleagues.  Her reactions every time Shivaji doesn't listen to her are even more ghastly.  And in one of her initial scenes, she reveals that she divorced her husband because she was bored of him.  (RGV should thank Sunny Leone or whoever he venerates that his fans are not like this).  The birthday song is almost B-grade.  
The Bajrangi (played by Srikanth Iyer) track is bland.  There is no edge-of-the-seat experience even when a seasoned performer like Srikanth is on screen.  The audience should have ideally been excited about the prospect of Bajrangi being a double agent.  
The much-touted 'sound effect' goes for a toss, save some halting moments.  The beachside and park shoot-outs don't make the cut in terms of impact, whatever may be their technical quality.  The villain's painful screams too don't help much.  
You don't speak like the '80s era hero while talking to parents over Skype.  This is quite out of place in a 2018 film.  
As heroism goes, Nagarjuna's intense expressions are like an oasis.  He delivers a nuanced performance without going overboard anywhere.  A line here, an emotion there also go into elevating his character.  There is an attempt to make Shivaji look like a naive and incompetent person compared to Pasare.  An underworld gangster even calls him 'Picchodu'.  It's from the pre-climax phase that Shivaji really starts to steal a mark over his bete noire.  'Power shouldn't be concentrated in any one man.  That's the greatness of the system', he says, displaying his sense of wisdom.  
Anwar Khan is decent and his stiffness is welcome. 'Friends should be kept close to us. ENEMIES should be held even closer', he says frighteningly.  The child artist is so very expressive.  Ajay, Sayaji Shinde, and others are passable.
Ravi Shankar's music could have been much better.  The cinematography of Bharat Vyas N and Rahul Penumatsa is efficient here and there.
Verdict:
'Officer' has its moments but overall, it's more a half-hearted exercise.  RGV falters and avoids to tell a gripping tale.
Rating: 2.5 / 5.0
Showcase your talent to millions!!
Write about topics that interest you - anything from movies to cricket, gadgets to startups.
SUBMIT ARTICLE
More
Telugu Movie Reviews
Calling Sahasra
Atharva
Animal
Kota Bommali P.S
Aadikeshava
Sound Party