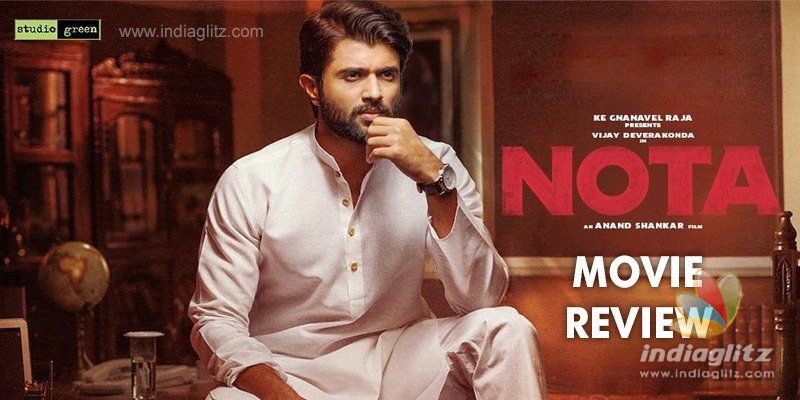 'NOTA', starring Vijay Deverakonda in the lead, hits the screens this Friday.  Here is our review of the entertainer.
Story:
Chief Minister Vasudev (Nasser) resigns from the office as he is facing an investigation into a scam.  The seasoned politician anoints his son Varun (Vijay Deverakonda) as the state's dummy CM.  Varun reluctantly takes up the post, only to discover that his party treats the lives of innocents like All-Out treats mosquitos.
A senior journalist (played by Sathyaraj) has a soft corner for Varun.  As Vasudev gets convicted, he exhorts Varun to rise to the occasion and lead the state ably while staving off the enemies (among them a young woman dynast).
This is when an assassination bid is made on Vasudev, whose backstory is layered.  It's now up to Varun to prevent inimical forces from targeting him, his little sister, and his government.  In this, he gets help from unusual quarters.  
All the while, a powerful Godman seeks to game the system from outside.  
Analysis:
The story of 'NOTA' is not about those familiar corrupted cabals who game the system day in and day out, about whom we all read every day.  While watching 'Bharat Ane Nenu', you didn't find any villain unsettling.  It's because they are all familiar characters.  In 'NOTA', the situation is a bit dicey.  A patriarch who is hell-bent on teaching a lesson to a dynast; a complex web of deceit involving round-tripping and tax havens; heavyweights who seek to topple the system but who are never seen in the foreground.  
If you find this story muddled, there is a reason.  You love things to be more straightforward.  The narration of 'NOTA' may be way too simplistic, but the story is not.  Due credit to the decent story.  
Where the film does a major mistake is in narrating the survival of the accidental Chief Minister Varun amid consummate antagonists.  Suddenly, a rival reaches out to the much-troubled CM.  It's almost as if she is attracted to him!  A political enemy may want to end someone's career but why would he or she commit the historic blunder of rising a smart rival's profile and risk her career?
Suspects simply keep talking about their plans on phones and the CM doesn't even think of shadowing them until it's too late?  For his advice, he just has a journo and nobody else?  Round-tripping involving thousands of crores is narrated without any sense of edginess.  A Godman who is seeking to loot Rs. 20,000 crores looks like a caricature straight out of an ETV serial.  
The CM is moved by the death of a girl, by the impending floods, so on and so forth.  Again, hackneyed ideas that have been done to death.  Why on earth is he not moved by major problems, especially when he is shown to be someone large-hearted enough to fund orphanages?  
Varun is introduced as the one who has been leading his party's youth wing for years and there is no counter-question from the media.  The outgoing CM speaks like a petty politician, eerily asking his supporters not to immolate themselves for Rs. 5 lakhs ex-gratia.  A veteran politician who has been the old CM's trusted lieutenant finds the hero's struggles with 'pancha kattu' so cute.
The whole second half lacks a single hero-elevation moment worth its sal.  But for Sam CS's background music (that running score), nothing is there to elevate him.  
Director Anand Shankar does pen some really witty scenes here and there.  There is this scene where the clueless new CM is questioned by the opposition about his credentials.  At this, the young CM flips TV channels and asks his friends to take comfort watching his party's channel.  
The bus torch scene is very emotional, dead drop serious and Vijay's intensity is on display here; he silences those annoying media personnel with just "SHHH" and shows how's its done. Now, this is the entry of Rowdy CM and the wait for scenes like this becomes never-ending. Anand could have capitalized this scene and concentrated more on how the Rowdy CM cleans up the current political mess with his raw attitude; however, there is very little of Rowdy CM and more of Tamil Nadu's political references. There is everything from resort politics to the rumours that surrounded Jayalalithaa's hospitalization, trust vote (the scene is too short for its own good), and Chennai floods. It's not an exaggeration to say that Anand Shankar has written the script between these events.
Vijay Deverakonda gives a bang for the buck in some scenes. But it is funny that the movie was promoted as a bilingual; it was clearly shot only in Tamil.  At places, because of the bad lip sync, the hero looks out of place.  Sathyaraj and Nasser are two pillars of NOTA, they use their experience to weigh their characters.  Mehreen is wasted along with her dubbing artiste.  None of the other actors makes an impact.  
Sam CS's riveting BGM is a big plus and serves the thump to the Rowdy CM. The sets of NOTA were too mediocre, the bus torching, CM's press conferences and flood scenarios looked very artificial.  The cinematography passes muster.
Verdict:
'NOTA' has a decent story but the narration falls flat.  Too less of Telugu nativity does the film in.  Deverakonda is able.
Rating: 2.5 / 5.0
Showcase your talent to millions!!
Write about topics that interest you - anything from movies to cricket, gadgets to startups.
SUBMIT ARTICLE
More
Telugu Movie Reviews
Calling Sahasra
Atharva
Animal
Kota Bommali P.S
Aadikeshava
Sound Party