Much wanted music
Wednesday, June 28, 2017 • Telugu Comments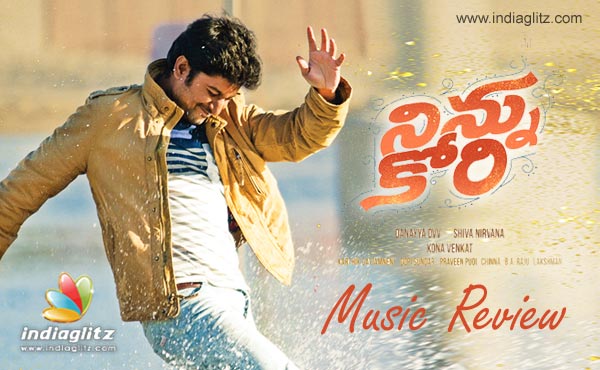 'Ninnu Kori' has music by Gopi Sundar, who has earlier composed for two of Nani starrers - 'Bhale Bhale Mogadivoy' and 'Majnu'. Karthik, Sid Sriram, Arun Gopan, Haricharan are the male singers, while Chinmayi is the sole female voice heard.
The four songs have been written by four different lyricists, namely Ramajogayya Sastry, Ananth Sriram, Srijo and Bhaskarabhatla.
Unnatundi Gundey
Artistes: Karthik, Chinmayi
Lyricist: Ramajogayya Sastry
Gopi Sundar's songs have this quality of fondling the best of our memories, especially if you are talking about those with an ear for music. 'Unnatundi Gundey' not only draws spiritual essence from Maestro Ilaiyaraja's repertoire, but also has musical references to 'Majnu' here or 'Premam' there. Karthik is far more recognizable here than is Chinmayi, who changes her style for good. Ramajogayya Sastry's lyrics are poetic and touching at once.
Adiga Adiga
Artiste: Sid Sriram
Lyricist: Srijo
The emotionally intense song mirrors the longing of the lover boy in ample measure, successfully positioning 'Ninnu Kori' as an out-and-out, serious-minded romantic drama (as against a halting rom-com).
Sid Sriram's vocals are eminently Kollywoodish/Mollywoodish. This style of offbeat singing became many a Tamil director's choice in the last decade. Since Gopi Sunder is the one at the helm, he has brought back the genre. As long as it doesn't seem affected or offbeat for the sake of it, it's fine.
Srijo's lyrics abound in both straightforward meaning as well as profundity. Thanks to the music director's soft tunes and understated composition, the lyrics are properly elevated.
Once Upon A Time Lo
Artiste: Arun Gopan
Lyricist: Bhaskarabhatla
It seems debutante director Siva Nirvana found 'nirvana' in Kollywood-style break up numbers. For the uninitiated, they come with some sine qua non elements. The jilted lover has to invariably booze, break into a folk dance, and everyone around has to behave as if they were born to feel his pathos! This is a standard style of anti-duet millions love as a matter of routine.
Arun Gopan's vocals ensure it if you have any doubts whatsoever. Gopi Sundar doesn't make it sound too dark and that's a plus. Bhaskarabhatla's contemporaneous lyrics help matters.
Hey Badhulu Cheppavey
Artiste: Haricharan
Lyricist: Anantha Sriram
As lyrics go, this is way too heart-touching. If the lyrics milch the pathetic state in which the lover boy is finding himself, Gopi Sundar ensures that there is an undercurrent of energy throughout. That is turning out to be the best aspect about his style of music.
Anantha Sriram's rhyming words (read 'Adigedi', 'Naligedi') are heart-rending. His predicament is calmly mirrored by the line where Haricharan sings about having to choose between two paths strewn with thorns.
Verdict: True to the genre, the album of 'Ninnu Kori' comes with pure love-oriented songs. Of course, three-fourths of the songs needn't have been boy-oriented, but that's fine. For those of you who want to enjoy lyrics as well as melody, this is your kind of album.
Rating: 3.25/5