Niharika on doing a Pawan, link-up rumours, playing a comedian, etc
Thursday, February 8, 2018 • Telugu Comments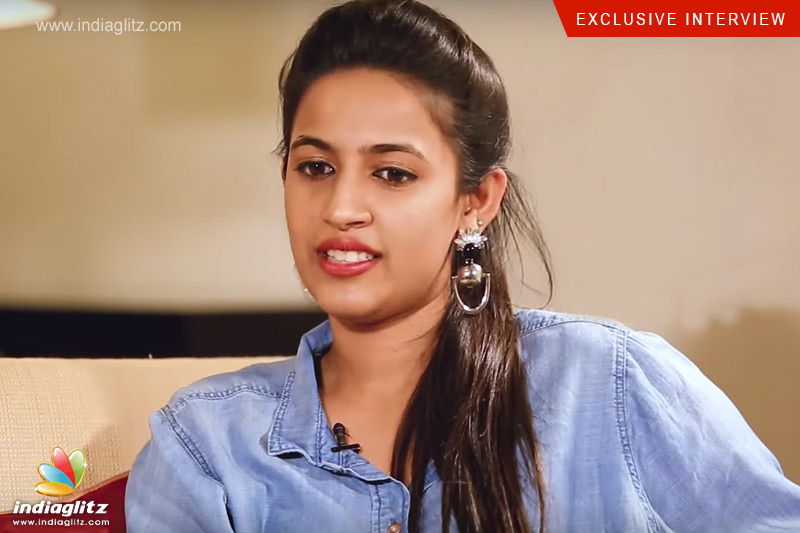 Niharika Konidela's first Tamil movie, 'Oru Nalla Naal Paathu Solren', released recently. In this exclusive interview with IndiaGlitz, she talks about the movie, how it was doing a Power Star for a brief, the boon of the second film in Mega family, link-up gossips, and more.
How has the response been to you first Tamil movie?
It's been great. Everyone is complimenting me on my performance. They are telling me I have done a nice job. I am very happy. I watched it at Sathyam Theatre. The excitement among the audience was palpable. I experienced the same high that I would have whenever I watched the movies of Pedananna (Megastar Chiranjeevi). As you know, there are quite many Telugu dialogues in the second half.
And you have imitated Pawan Kalyan in the movie. Was it difficult? Do you think you were close?
Others should tell me how close I was. It's not really his style that I tried to ape. The way he twirls his mustache in 'Katamarayudu' is what I tried, although I don't have a 'meesam'. (Laughs).
Your debut movie in Telugu, 'Oka Manasu', was poetic. It didn't take off. Your brother, Varun Tej's first movie was also a flop. He started picking up later. Do you think the same is happening to you as well?
Maybe. For Ram Charan, too, it's the second movie ('Magadheera') that was really big. It seems it's like that in our family. It's good.
It's commonplace for the media to link-up a lead pair. It has happened in your case as well. After 'Oka Manasu', they linked you up with Naga Shourya. How do you see all this?
There is nothing wrong being friendly with your colleagues. Software engineers do it and everybody else does it. I don't mind any rumours as you really can't do anything about them. There were rumours that I was going to marry my cousin (Sai Dharam Tej). Inka entha chandalam asalu! I was so angry and so irritated. But can I do anything about them? I can't go on giving bytes.
For those in the media, such gossips are a matter of survival. And people read them. My life doesn't change because of such rumours. I am not losing any opportunities.
Don't you want to put a full-stop to such rumours?
One good thing about all this is that today's hot news is tomorrow's old news. Nobody cares about anything for too long. Light teeskukovali! Do you remember what was the most popular rumour in 2016? Do you remember which pair was linked-up in 2017? After two months, everybody ignores such news. Everybody has own life. Once we switch off our mobiles, we don't give a damn about the society.
What is your next Telugu movie?
It's called 'Happy Wedding'. The entire shoot is over. Director Lakshman has done a great job. I am paired up with Sumanth Ashwin. It could release in March.
You are known for your spontaneity on TV shows. Don't you want to play such roles on the big screen?
I love to do. My character is of utmost importance to me. I don't care if it's negative or positive, bubbly or otherwise. I should travel with the story and that's what matters to me.
Comedy has become too important these days. In fact, your first film failed miserably also because it had no comedy. What is your opinion? Can we expect to see you in comedic roles?
Because my first movie bombed and it had no comedy, I think it's very important. As a woman, I did 'Oka Manasu' because I loved the character. I knew that experiments don't always work. And my first film didn't. I always prefer comedy. I see myself as a small comedian. I enjoy comedy as an audience.
Who is your favourite comedian among the current crop?
Of late, main leads are doing most of the comedy. That's the trend in Tollywood. Their characterizations are funny. Brahmanandam garu is one comedian I remember. In the last 6-7 years, a few great comedians have died. It's a huge loss. Yes, a lot of young talent are coming now.
Actress Photos
Sakshi Agarwal
Hamsa Nandini
Hebha Patel
Avika Gor