Powerful lyrics balanced on strong music
Monday, May 20, 2019 • Tamil Comments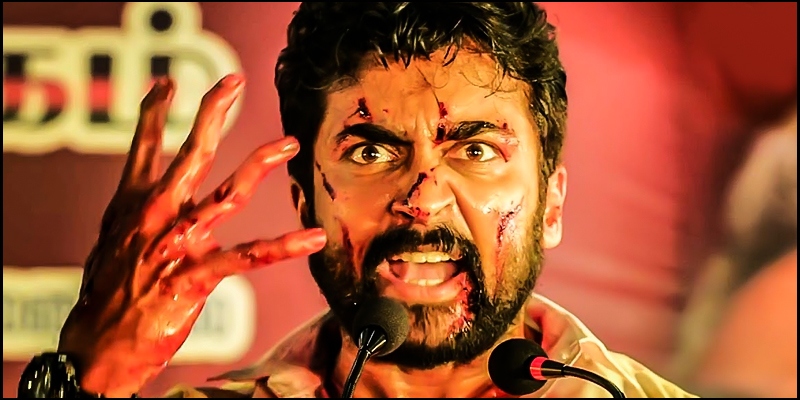 NGK : Powerful lyrics balanced on strong music
For music fans out there, especially Yuvanistas, the most awaited time has come finally with the release of NGK music album. And more to wonder since it is a Selvaraghavan-Yuvan combo out of which a many delightful albums have sprung out. What more the album has a bunch of lyricists including the director penning for one of the tracks. We think it adds versatility and texture to the album. Before you go grabbing your earphones here's a take at the album!
Composer: Yuvan Shankar Raja
Thandalkaaran
Singer- KG Ranjith
Lyricist- Kabilan
'Who's this Thandalkaaran?' we ask once we listen to the track. But moving on, the track has seriously some verve, a moderately paced and lazily high on metaphors. From aadhar to blinding issues of the society you've got everything in here. And Ranjith's vocals…splendid. And we're sure you'd love the play of powerful metaphors by lyricist Kabilan like 'butterfly' and 'chamelion' with respect to lines that speak about how the establishment is ruining the country. Well, for a track that is so high on meaning, it comes off really enjoyable as well.
Anbae Peranbae
Singers- Sid Sriram, Shreya Ghoshal
Lyricist- Uma Devi
Two high points of the track- Uma's poetical mastery and Yuvan's melodious rendering. One doesn't overpower the other and there is a delightful balance. Especially, the way prelude carries you into the track and again weaves you out with a pleasant interlude. Shreya's piercingly vocals and Sid's smooth melody is a definitely proper antidote to your boring evenings.
Pothachalum
Singer- Sivam
Lyricist- Selvaraghavan
Well, you asked for it. Seems like Yuvan doesn't like disappointing his fans. Pothachalum sounds like it was inspired straight of that The Animal tracks. It's blatantly furious, in your face and demands a hear. Percussions amp up the energy levels to the stratosphere while the composing sends you into a trance. Minimum in lines, maximum in power. Guess we should thank Sivam for singing and winging it like that!
Thimiranumda
Singer- Jithin Raj
Lyricist- Vignesh Shivn
Yuvan has gone crazy in a good way for this track. A slow spiritual beginning developing into a mass of energy is how we can describe the initial portions of the track. And we're impressed Vignesh Shivn, the coinage of 'thimiranumda', is too cool and sexy for a track rightfully elaborating on the themes of rising above when the situation demands. If you're wondering if this track will be a brother to 'Pothachalum', you're somewhat wrong and right. Thimiranumda is a bit stretchy with slowness in between parts, but hey all forgiven just for the lines that slap sense and inspiration.
Pick of the album: Thandalkaaran
Verdict: A rejuvenated Yuvan-Selvaraghavan combo that balances music on empowering lyrics.
Rating: 3.25