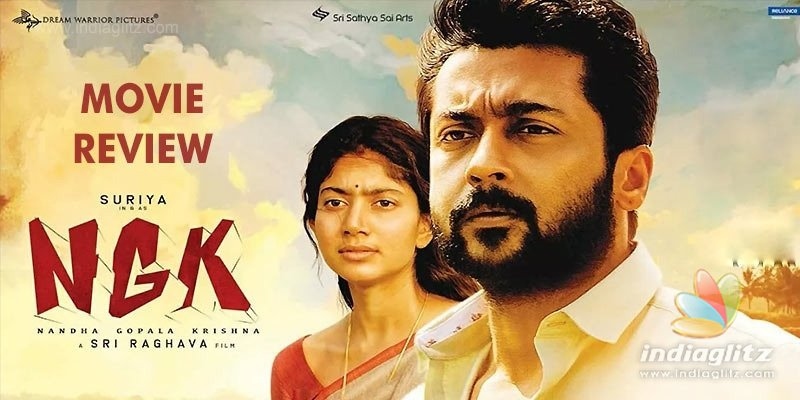 'NGK', starring Suriya, Sai Pallavi, and Rakul Preet Singh, hit the screens this Friday.  Here is our review of the political thriller.  
Story:
Nandha Gopalam Krishna aka NGK (Suriya), an M.Tech graduate turned organic farmer, is pushed into politics for the welfare of his people.  He joins a local MLA (played by Ilavarasu) and slowly learns how to get along in the dirty world of politics.
He also gets to know the opposition leader (played by Ponvannan) and Chief minister Adi Narayana (played by Devaraj) and their notorious ways.
As NGK rises, he invites the wrath of both the leaders, and when they target him, the hero has other plans.  How NGK retaliates, and how he schemes and makes clever moves despite setbacks, and whether he succeeds in his political mission is what the rest of the film is about.
Analysis:
On the face of it, 'NGK' tells the story of a social activist who reluctantly becomes the grassroots activist of a political party, only to go on to send shivers down the spine of even the Chief Minister in no time.  Through his not-so-smooth journey, he crosses paths with Vanitha (Rakul Preet Singh), a powerful political PR strategist who can gobble up governments and resurrect dwindling careers with her smarts.  
Director Sri Raghava (aka Selvaraghavan) narrates the story with a plus and a minus.  The plus is that there is nuance in the way many things unfold.  The minus is that there is too much of everything, including Tamil nativity.  
Nuance: Take for example the way Gopalam's organic farming mission in the village irks vested interests.  This is the reality of Indian villages.  Goonda elements with connections to political networks stall reforms in agriculture, threaten change-makers and do worse.  They are bloody, they are violent.  Our villages are not innocent places which can be easily reformed by a suited and booted CEO who parachutes himself from the US and starts giving gyaan to the Chief Minister in a speech.  Such things happen only in a 'Maharshi'.  Just see how a councilor tames the District Collector in 'NGK'.  This is how power structures work.  The way Suriya's character is shown to realize the importance of political power is refreshing, although it's unconvincing that a social activist, a highly educated one at that, wouldn't know this much.  
Too much is too bad: Herein lies one of the many problems with 'NGK'.  Many scenes mercilessly overstay their welcome.  The characters talk and talk and talk.  And when Suriya is around, we see not one actor but three in him; in some scenes, it's Suriya whom we see, in others, it's either Dhanush or Karthi.  Three in one is too much, isn't it?  The Tamil nativity greets the Telugu audience the way Stalin whole-heartedly and lovingly greeted YS Jagan at the swearing-in ceremony.  But it greets too often, too indulgently, too religiously.  
After a point, Suriya's character starts seeming more confusing than intriguing. In the second half, the film takes a dive into a larger-than-life realm. Couldn't the scenes have been brief? Did the conversations need to be a mix of mundane and substantial most of the times?
The characters behave with a sense of conscious exaggeration. Sai Pallavi plays a beloved and worried wife of NGK.  Her pain comes through in an unexpected way in one of the moments.  It's actually heart-touching although the Telugu audience may find it a bit over-the-top.   The changing equations of the hero with his family are subtly portrayed.  Remember, Sri Raghava's heroes are a bit deviant and they don't get along well with family members at times.    
Yuvan Shankar Raja's BGM is quite unsettling initially.  Sivakumar Vijayan's cinematography is top notch, as it captures the action episodes and the violence on screen effectively. Editing by Praveen KL could have been better, as several sequences extend longer than required.
Verdict:
'NGK' goes for a toss with its larger-than-life moments.  There definitely are some true-to-life scenes but they are few and far between.  The rise of NGK in the filthy and merciless world of politics is hardly convincing.
Rating: 2.5 / 5.0
Showcase your talent to millions!!
Write about topics that interest you - anything from movies to cricket, gadgets to startups.
SUBMIT ARTICLE