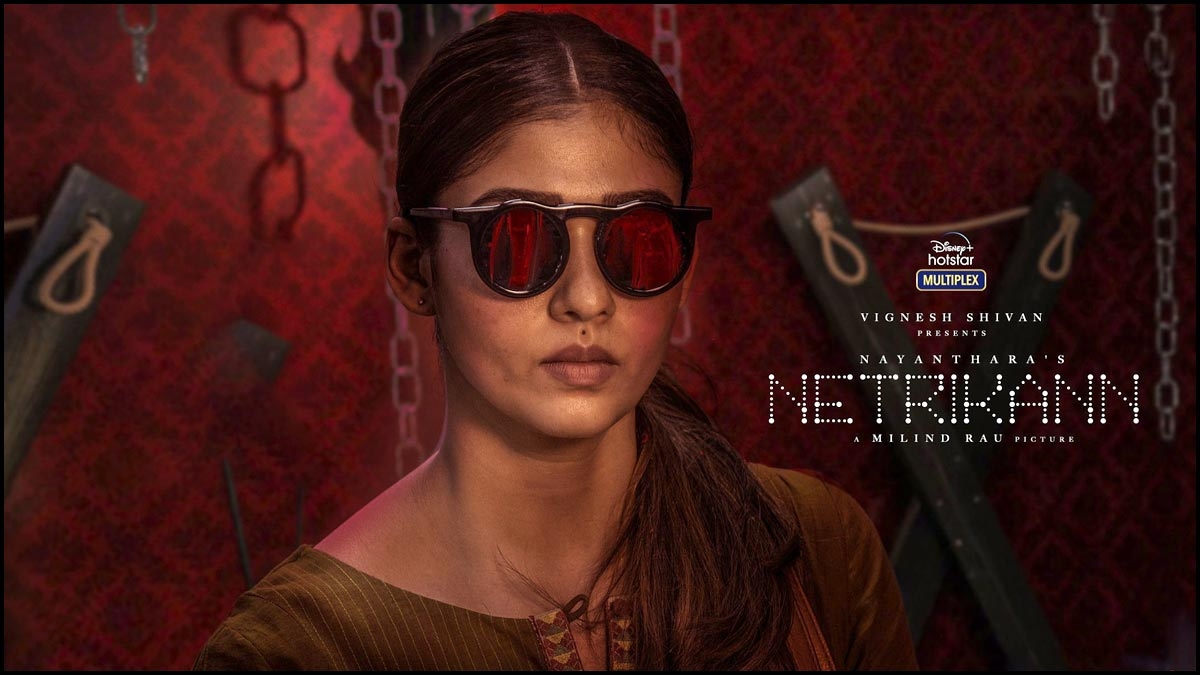 Netrikann - Nayanthara battles alone to save this bland thriller
A decade ago Korean films caught the attention of film buffs all over and quality films came from the country.  During that fad, especially among filmmakers, a few mediocre films got more respect than they deserved and 'Blind' (2011) was one of them.  'Netrikann' is the official Tamil remake and it remains to be seen if it lights up the audiences' eyes or make them turn away.
Durga (Nayanthara) a CBI officer meets with a tragic accident in which she loses her younger brother and her eyes as well.  As she waits for transplants she encounters and becomes the only witness to a serial rapist responsible for the disappearance of several girls in the region.  The pervert now has his eyes on her and goes after her.  Does the blind Durga manage to escape from him and save the girls is what the rest of the screenplay is about.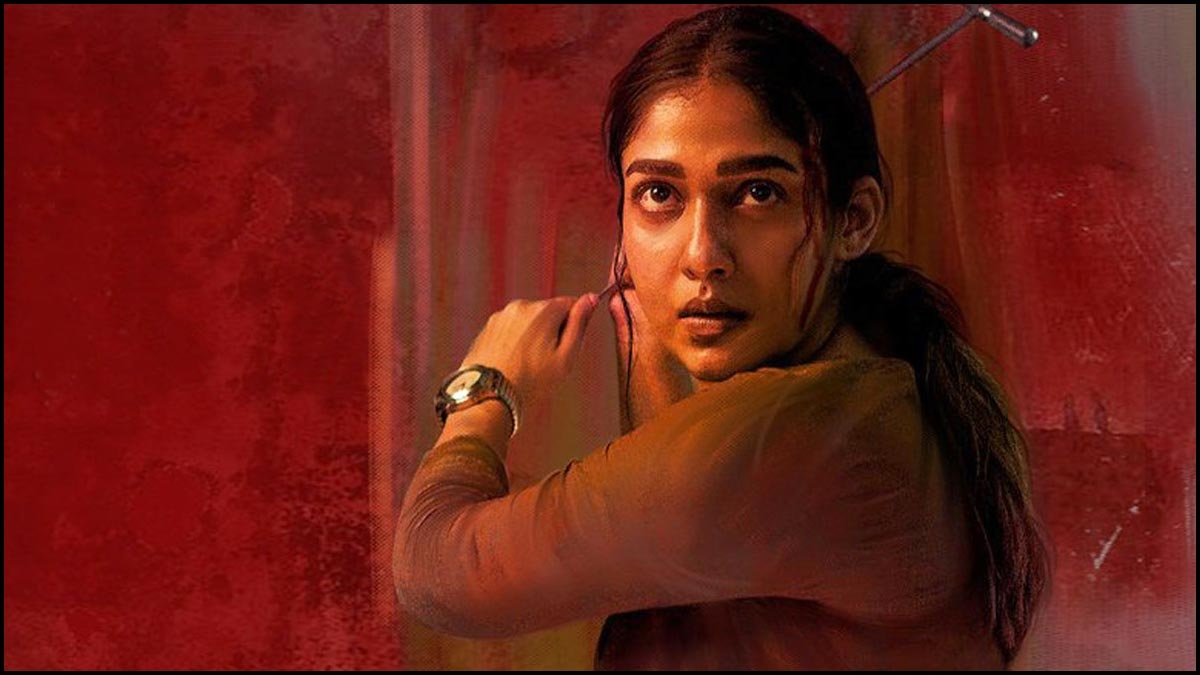 Nayanthara has given her all to make Durga work and succeeds to a certain extent only, chiefly due to the bad writing and weak characterisation.  Vignesh Shivan the producer of this film extracted the most memorable performance from Nayan in 'Naanum Rowdy Dhaan' as the hearing- impaired Kadambari.  Some of that input could have come in handy here to turn Durga into a much more impactful character. Her fans can take solace from her powerful emoting when she reacts with anger to the villain's perception of good and bad women which is a rare theater erupting moment in the film.  Manikandan as the bumbling cop and 'Vada Chennai' fame Saran as the new found younger brother are both victims of the writing and are mere caricatures.  Ajmal who played the brilliantly written Kiruba in 'Anjaathey' fails to bring anything new to the cliched serial rapist even with his BDSM backstory.  His 'Dark Knight' like rambling in the police station and the 'Terminator' like resurrections in the climax evoke at best some tired laughter.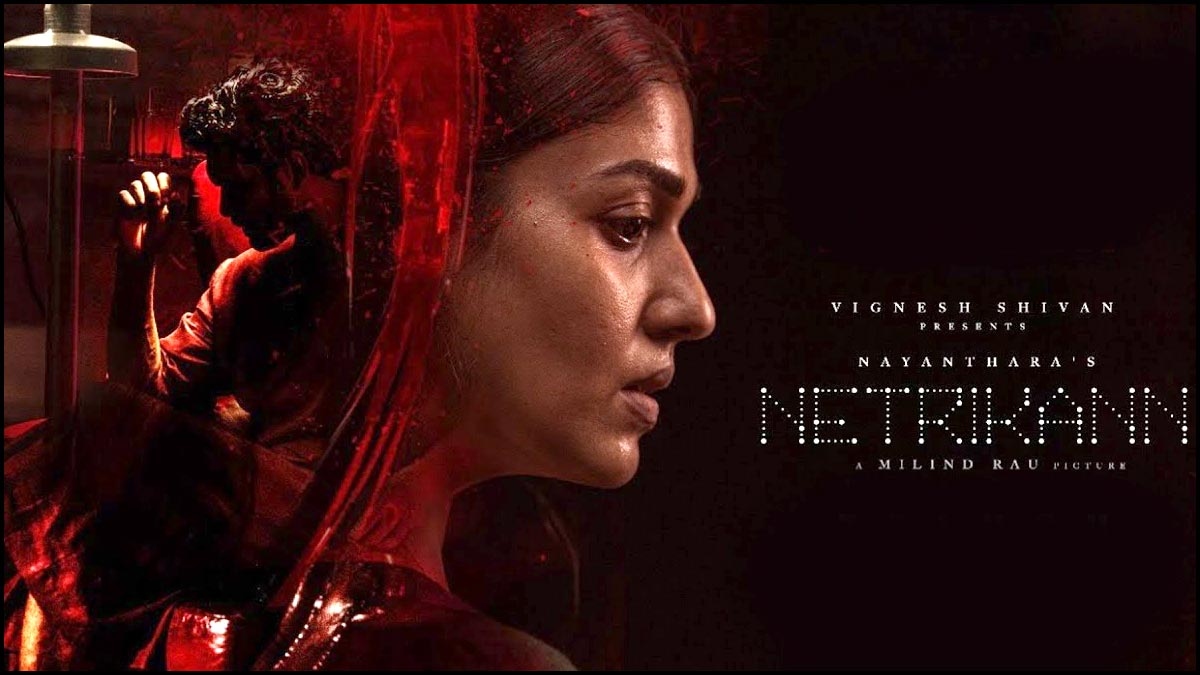 What works best in 'Netrikann' is the blind protagonist angle which keeps the audience interested as to how she will vanquish the evil villain.  The scene in which Nayanthara escapes from Ajmal with the help of Saran's instructions through the mobile phone is an edge of the seat instance.  
'Netrikann' suffers from gaping logical loopholes firstly making a complete mockery of police procedures, throwing in a five star resort like orphanage, characters beaten up within inches of death resuming normal life quickly and repeatedly at that.  The honest cop is first stabbed in the neck by the villain who then bashes his head to a pulp with an iron gate and he still manages to send a voice message.   Most importantly the entire Chennai population for some reason have deserted the city so that the characters can go about as they please.  The scenes are stagey, dialogues contrived and there is a complete lack of motives for the three main characters to interact with each other.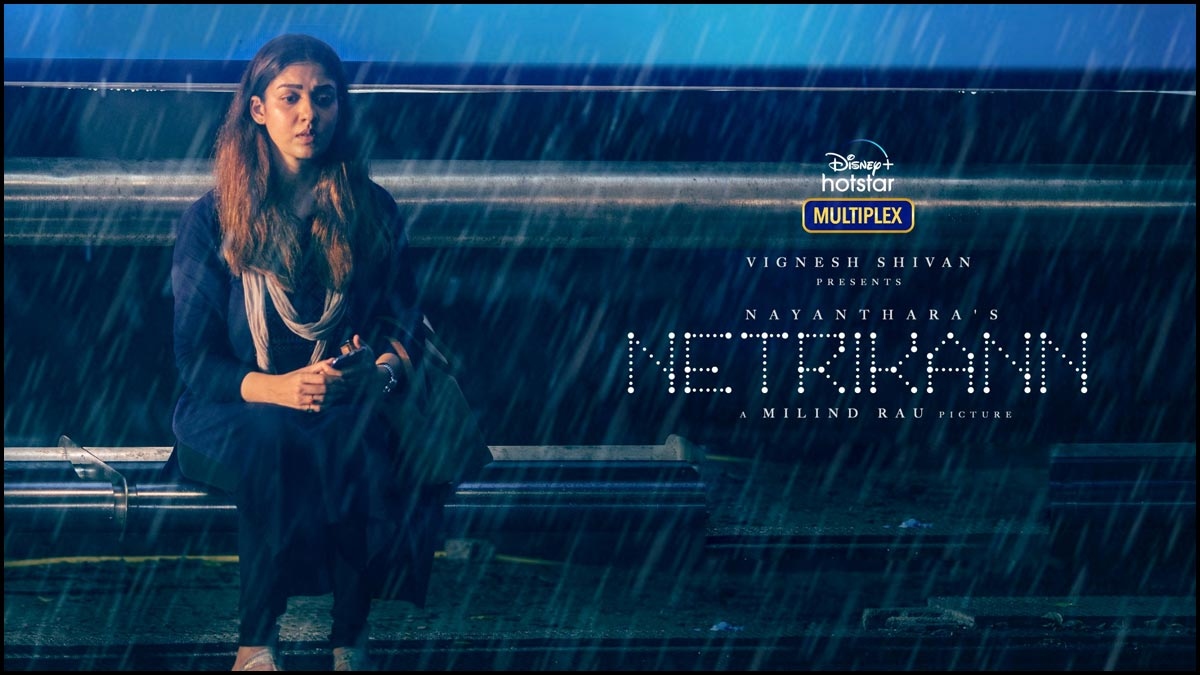 R.D. Rajasekhar's cinematography is a major plus for 'Netrikann' keeping the mood pensive and creating an element of uneasiness.  The hazy images from Durga's point of view and the reddish hue for the rapist's lair give the desired results of intrigue on screen.  Girrish Goplakrishnan's music is passable. The film is  Vignesh Shivan and Nayanthara's first production venture under their banner Rowdy Pictures signaling that they are opting for offbeat and challenging scripts rather than the mediocre which is what Kollywood needs.  
Director Milind Rau's debut movie 'Aval' starring Siddharth and Andrea is one of the best pure horror films in years and his second venture carried high expectations.  Unfortunately, it is hard to believe that he helmed his sophomore project.
Verdict : Go for this one for Nayanthara's one-woman show
Rating: 2.25 / 5.0
Showcase your talent to millions!!
Write about topics that interest you - anything from movies to cricket, gadgets to startups.
SUBMIT ARTICLE
More
Telugu Movie Reviews
Heads & Tales
Natyam
Most Eligible Bachelor
Maha Samudram
Konda Polam
Republic