That local flavour
Tuesday, January 17, 2017 • Telugu Comments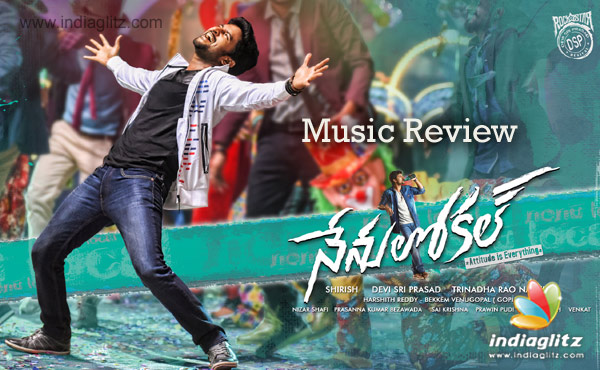 Music-directed by the electrifying talent Devi Sri Prasad, this album comes with a dose of youthful numbers. All the songs are penned by Srimani, but for one, which comes from Chandrabose. Sagar, Naresh Iyer, Manisha Earabathini, Kapil, Sameera Bhardwaj, Prudhvi Chandra, and Javed Ali are the singers.
Next Enti
Singer: Sagar
Lyricist: Chandrabose
For an actor of Nani's image and stature, this one is like being forced to look younger. Conceptually, 'Next Enti' is at the level of a Tarun number of early 2000s. Chandrabose's lyrics are appealing in its everyday, conversational language; bringing in Einstein is inventive. Sagar's vocals are too youngish, and deliberately so. Devi Sri Prasad clearly draws from some of his own beats. The instrumentation gives enough space for the actor in Nani to make peculiar expressions. All in all, a peppy number.
Arere Yekkada
Singers: Naresh Iyer, Manisha Earabathini
Lyricist: Srimani
DSP chooses to go violin and more for this romantic duet. His instrumentation reminds one of a song from '100% Love' to an exhilarating effect. If Naresh Iyer's vocals are mainstream, Manisha's offbeat vocals offer a refreshing sound. Perhaps, the idea was to suit Keerthy Suresh's persona. Srimani's lyrics typically draw from Nature and natural beauty, imbued in romantic temperament.
Disturb Chestha Ninnu
Singer: Prudhvi Chandra
Lyricist: Srimani
The playful, good-hearted stalker who is conscious of the fact that the girl enjoys his 'disturbance of India' ('Premikudu'-style) draws his inspiration from Ramayanam and the Krishna-Radha love saga, just as any self-styled lover boy would/should. Srimani's lyrics largely follow a predictable template. On the other hand, DSP thankfully chooses Prudhvi Chandra and not Sagar! Prudhvi's vocals are mildly offbeat and majorly boisterous while being subdued.
Champesaave Nannu
Singers: Kapil, Sameera Bhardwaj
Lyricist: Srimani
DSP is at his 'jalsa' self, if one may put it. The instrumentation is reminiscent of Devi's famed instrumentation of yesteryear, while also being a cross between himself and Ramana Gogula's style of music. May be, it shouldn't have been that noisy. Kapil and Sameera Bhardwaj steal a march with their soothing vocals. Srimani's lyrics are imaginative, especially lines like 'Chethi lo na cheyyesi, dooramantha cheripese, roju kosam pranam icchela..' are very good.
Side Please
Singer: Javed Ali
Lyricist: Srimani
Trust Javed Ali to deliver a number of this sort. He is at his usual best, although the DSP magic is totally missing. Srimani's lyrics are mediocre and don't throw up any new ideas. All in all, the song fizzles out midway, the only hope being that choreography and visualization would be the saving grace.
Verdict:
'Nenu Local' sees Devi Sri Prasad revisiting his own instrumentation to a certain effect. The lyrics and the singing talent do justice.
Rating: 2.75/5