Virile
Thursday, November 24, 2016 • Tamil Comments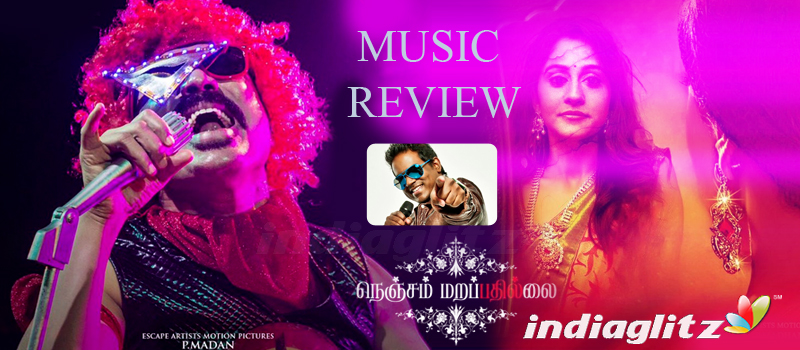 Most often perceived to be far ahead of times, Selvaraghavan is critically acclaimed for the unique thoughts he throws light on, and when it is SJ Suryah's choice, you can be sure that the movie is bound to be complex stuff. Dealt purely from the masculine point of view, here's the album of Nenjam Marapathillai, as Yuvan etches his mark again.
1. Good, Bad, and Ugly - Listen Here
The opening track of this movie is an instrumental thematic score. Befitting the title of the movie, the song is at par with the emotional gush from within, when long sunk deep memories surface. And as the title's track suggests, the tune grips along, reactionary of, all the three responses each. The song opens as a lilting, lullaby-like hum. As it flows, the song turns a new leaf, gathering bass and volume in orchestra, becoming stronger with each second. Along the way, the song that stuck to violins, guitar, and piano, turns around to greet with drums as well, and a little flute. In the end, all the score comes to a halt, as the song ends in a straightforward hum, like the beginning.
2. Kannungala Chellangala - Listen Here
Singer: Yuvan Shankar Raja
The title itself says that it is a tribute to Kaviarasar Kannadasan. But if that's what you expect end-to-end, then we must caution you for the preluding and appending musical narrative. Quirky and catchy, the first stanza is purely subjective. It is the second stanza which is the real tribute - a couple of lines from each of his many songs are rendered in a comprehensive tune that fits them all. What is catchy of all, about this song, is the flute based relief sprinkled on with beats. Opening in jazz genre, and ending in the flute tune, the song is deceptive yet promisive at each level.
3. Maalai Varum Vennila - Listen Here
Voices: Dhanush, Yuvan Shankar Raja
Lyrics: Selvaraghavan
Like the name suggests, the song begins to put you on an intoxicating trans like the picture of a bright moon on a clear night sky would evoke. It is almost impossible to tell one's voice from another's, in this track, as Dhanush and Yuvan have mutually complementing rendition style. The opening lines are thrown in, quite on a surprising note, as the high pitched starter is a crowd pulling strategy. The song is predominantly in melodic lines, but has a jazz finishing touch. However the lyrics are much more diverse - from love struck to taunting. Set on a melodic tune, but with a diverse background, the song finds its way into multiple genres, soothing to the ears, nonetheless.
4. En Pondaati Ooruku Poita - Listen Here
Voices: Yuvan Shankar Raja, SJ Suryah
Lyrics: Selvaraghavan
Don't be deceived by the melodic beginning, as the song takes a swift turn to techno. This one is a hatred song of sorts, under the cosy wrap of a man's freedom in his lady's absence. Descriptive of the typical behaviour of many men who are waiting for the opportune moment like this track's hero was blessed with, the song captures how intimidated married men feel in the presence of their wife. On an inebriating series of beats and guitars, with a makeshift sort of relief midway, at the return of a feared wife, 'En Pondaati Ooruku Poita' has a purely misogynist approach to the whole melodrama about husbands' haven, at the absence of their wife.
With three out of four tracks taking a masculine point of view, sparing just one, which again, is due to the lack of lyrics at all in it, Nenjam Marapathillai sure does seem like a male-centric movie. This translates to higher care precautions by Selvaraghavan, in order that the movie is women-safe. Having established that, there is no contesting the fact that Yuvan's music is a show stealer, making his way to a comeback.
Rating: 3/5
Verdict: Yuvan nails it again!