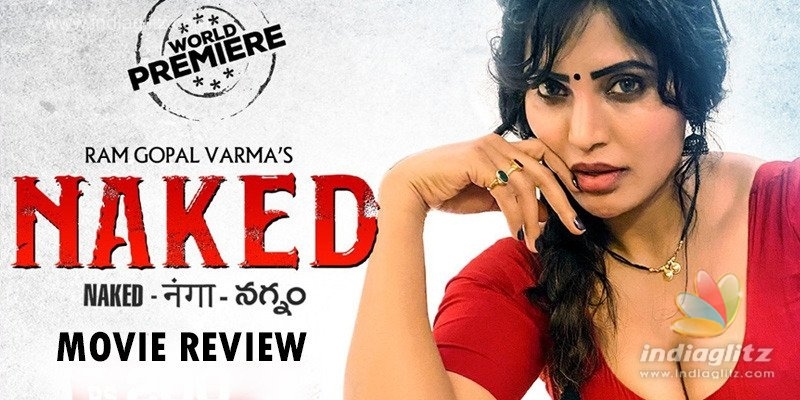 'Naked', the web film, is out.  Described as the story of a married couple in whose house a servant boy works, it's a little less longer than most of the short films available on the Internet for free.  Here is our review.
Story:
A married woman (debutante Sweety) is lusted by Jamaal, her domestic help.  Her husband (Deepak) is a busy businessman.  There are differences between the couple and they seem to be small.  But then, when he is out of home, anything can happen.  What do Jamaal's sexual fantasies for his employer lead to?  That's the climax for you.
Analysis:
Currently streaming on Shreyas ET, 'Naked' is out in Telugu, Tamil, Hindi, Malayalam, and Kannada.  Ram Gopal Varma could have made it in the world's hundreds of languages with practised ease this Covid-19 season, for there are only a few lines, if anything, at all.
The proceedings, eerie for the most part, are filled with sound and weird shots.  RGV's forte lies in hard-selling poppycock as 'hatke' stuff and this one is no different.  When your customer is shelling out Rs 240 per view, the least she would expect is a one-hour long movie.  RGV has always been a controversial director and with 'Naked', he becomes a controversial producer as well.
There is nothing much to comment on the content, which is lazy and low-brow with gay abandon.  At least 50% of it is naked voyeurism and naked mindlessness.  
The viewer expects the short film to come into its own at least in the climax.  There too, what we have is some lame twist.  In fact, some free-to-view Hindi-language short films dealing with infidelity have far more depth nowadays.  On the one hand, we have creative, aspiring filmmakers offering a bang for zero bucks.  On the other hand, we have RGV, trying to profit by selling soft porn.
Sweety, to be fair to her, proves to be a good find.  While the pre-release material projected her as a junior Shakeela, with all those sultry poses, she actually comes with some appeal and seems to have got a performer in her.  The male artist is forgettable, except when he looks like Saptagiri Lite.  
The technical aspects are elementary and the less said about the one-note score, the better.
Verdict:
With no emotional arc and even a respectable run-time, 'Naked' is a colossal dud.  It's one-note and voyeuristic.  RGV hard-sells unmitigated cheap stuff.  His emptiness is naked.
Rating: 1 / 5.0
Showcase your talent to millions!!
Write about topics that interest you - anything from movies to cricket, gadgets to startups.
SUBMIT ARTICLE