A Vishal-Shekhar album
IndiaGlitz [Monday, April 23, 2018 • తెలుగు] Comments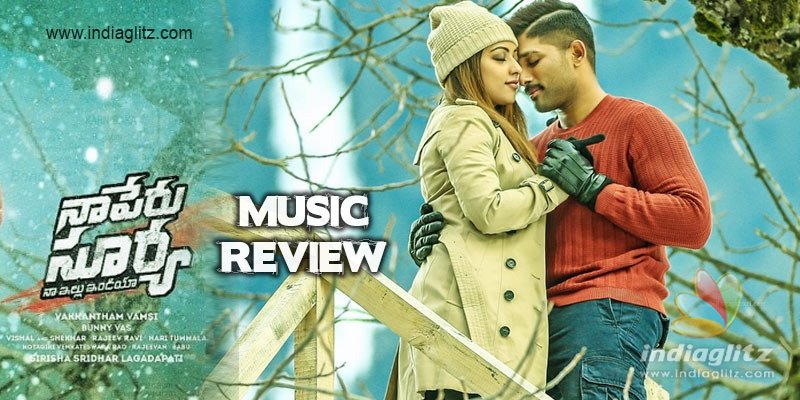 The songs of 'Naa Peru Surya' are being released one song at a time.  Composed by Bollywood's Vishal-Shekhar, so far, three songs have been unveiled.  Here we present you their review.
Sainikaa
Singer: Vishal Dadlani
Lyricist: Ramajogayya Sastry
Vishal Dadlani and his partner Shekhar Ravjiani introduce the Telugu audience to a fresh sound.  For once, a tribute to the soldier doesn't smack of a music that seeks to melodramatize.  It's free from old-fashioned influences, although the lyrics don't entirely break with the past.
Ramajogayya Sastry pens such rousing phrases as 'Poratam neeko veduka' and 'Dehamtho velipodhee katha, Deshamlaa migiluntundhigaa'.  'Bathuke vandemaataram' takes the cake.  The soldier is a soldier not because he couldn't find some other job, we are told for good.
If he is electrifying as a musician, Vishal is booming as the song's renderer.  The passionate singing is yet another plus of the patriotic number.  The voice also serves the purpose of making it a non-hero number.  It's about many heroes and their heroism.
Lover Also Fighter Also
Singer: Vishal Dadlani
Lyricist: Ramajogayya Sastry
'Lover Also Fighter Also' comes off as a song that can help the dance choreographer deliver the best steps with Bunny in tandem.  But only that much can be said about it.  The tuning and the graph of the number are fit for a medium-range hero, not a superstar.
Ramajogayya Sastry's lyrics pass muster.  'Chalo chalo chero sagam thappuga' and a couple of other phrases are penned fairly well and that's all.  Crooned by Shekhar Ravjiani, the song is in the mould of a jarring experiment.  If the picturization works, it will be a relief.
Beautiful Love
Singers: Armaan Malik and Chaitra Ambadipudi
Lyricist: Sirivennela Seetarama Sastry
'Beautiful Love', penned by Sirivennela Seetarama Sastry, comes with easy-to-understand English-language lines but difficult-to-conceive rhyming Telugu words.  Laced with a romantic feel, this particular line stands out: 'Venakadugeyaka nirantharam, mana prema pravaham manoharam'.   The writer balances it out with such simple lines as this: 'Mana kadha beautiful love, padha padha find the meaning, live the feeling of beautiful love.'
Armaan Malik and Chaitra Ambadipudi croon it to a melodic effect, the latter's voice being a throwback to old-fashioned vocals.  Vishal-Shekhar start out with an uplifting output for the 'Pallavi', only to falter with the stanzas.
Maya
Singers: Arijit Singh, Ramya Behara
Lyricist: Ramajogayya Sastry
The song follows a folkish path.  Vishal-Shekhar duo deploy Kazoo, Guitars, Bass, Live Rhythms & Percussions, among others, to make it a scintillating technical output.  If Arijit Singh's voice adds to the song the quality of non-Telugu nativity, Ramya Behara is there to take care of nativity. Ramajogayya Sastry's lyrics are laden with simple yet evocative meaning.
Yenniyello Yenniyello
Singer:  Malavika
Lyricist: Ramajogayya Sastry
The short song comes with both festive vibes as well as seems to supplement the story.  Malavika's voice is apt for such a number.  Once again, the lyricist infuses lyrics that strike the right native chords.
Iraga Iraga
Singers: Rahul Sipligunj, Mohana Bhogaraju
Lyricist: Ramajogayya Sastry
What is a Bunny movie without a special song?  And what is a special song without the familiar vocals of Mohana Bhogaraju?  In addition, you have Rahul Sipligunj, a full-on gusto singer.  Sastry's lyrics make the right Bhaskarabhatla noises.  As against most other songs in the album, Vishal-Shekhar go in for Tollywoodish masala here.
Verdict:
A mix of influences and genres dot the album.  The Vishal-Shekhar duo succeeds with intensity.  However, at least three songs are found wanting.
Rating: 3/5