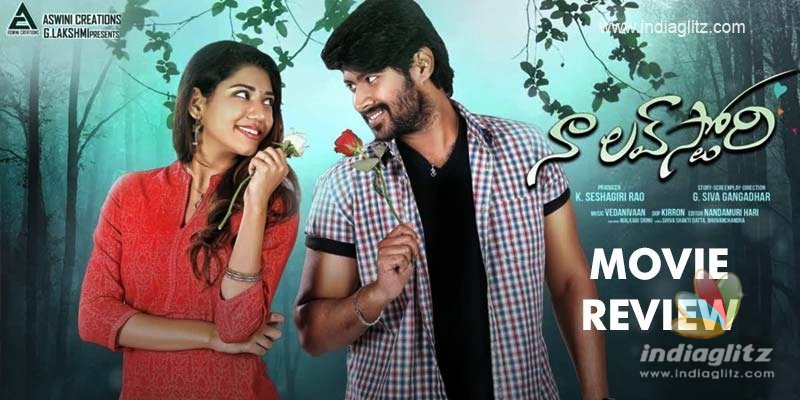 'Naa Love Story', starring debut actors Mahidhar and Sonakshi Singh Rawat, hit the screens this Friday.  Here is our review of the rom-com.
Story:
Prashanth (debutant Maheedhar) is an easy-go-lucky guy, constantly prodded by his father (Madhu Thotapalli in a full-fledged role) to enjoy life, find a girl, get married and think about a career later.
Enter Nandini (debutante Sonakshi Singh Rawat), a youngster yearning for little freedoms.  Her father (played by 'Amrutham' fame Siva Narayana) is conservative and patriarchal to the core.  
Prashanth falls in love with Nandini before it's too long.  She reciprocates her love after initial hiccups in their relationship.  Meanwhile, she is also hotly pursued by a bunch of well-networked rogues.  
A small misunderstanding and a break-up follow between the lead pair.  Meanwhile, the fathers of the lead pair also fall out.  But in the climax, all is well that ends well.
Analysis:
Debutant director Shiva Gangadhar tells a template-driven story with the new hero Maheedhar.  The father-son bond is built carefully in the initial scenes.  The talented Madhu Thotapalli pampers his son like a fantastical father and that's purely meant for entertainment.  
As Sonakshi enters the screen, she brings along doses of oomph and glamour to the proceedings.  The way this much-repressed girl experiences freedom when her father is not at home is realistic.  The girl enjoys her own body when she is alone.  The emphasis on her body takes the form of a visual depiction.  
The rom-com track comes with its share of foibles.  The film should have depicted the rom-com track without those doses of forceful kisses.  The way Prashanth is seen as the best guy out there would have sounded convincing had he shown remorse for his behaviour.  
The story comes of age in the climax when the heroine expresses her suppressed emotions in front of her father.  Her frustration at being regimented by her father for 20 years comes out in this portion.  Shiva Narayana's misogynistic thinking comes with a you-will-die-if-you-party 'chadastham'.
The comedy track involving Madhu Thotapalli and Shiva Narayana, who mistakes the former for his homosexual suitor works to an extent.  The length of this track in the second half should have been cut short.  The track involving the villains is too underdeveloped for this day and age.  
Chammak Chandra's comedy passes muster.  None of the hero's friends is a familiar face.  
As for the performances, Maheedhar needs to improvise himself in his future films.  He looks like Prabhas in many angles.  Sonakshi is beautiful and only needs to get rid of her stiffness in heavy scenes.  The others are OK.  
Vedanivaan's music should have been better.  The cinematographer captures the apartment backdrop with a familiarity.  
Verdict:
'Naa Love Story' is a formula-driven story wherein love has enemies in the form of lechers and parents.  It's victory in the end for lovers, but not before they go through a lot of troubles in the backdrop of a series of apartment blocks.
Rating: 2 / 5.0
Showcase your talent to millions!!
Write about topics that interest you - anything from movies to cricket, gadgets to startups.
SUBMIT ARTICLE
More
Telugu Movie Reviews
Peddha Kapu 1
Skanda
Chandramukhi 2
Sapta Sagaralu Dhaati
Changure Bangaru Raja
Mark Antony