MUST-READ Highlights: Politics, hail Telugu pride, NTR & Balakrishna
Tuesday, December 27, 2016 • Telugu Comments

Listen to article
--:-- / --:--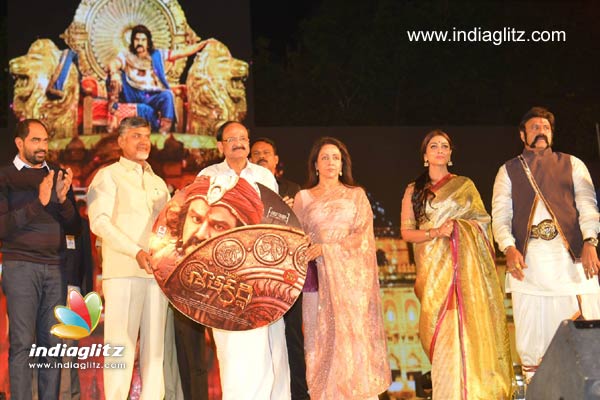 'Gauthamiputra Satakarni' Audio Launch (Set 1)Gallery
At the audio release function of 'Gautamiputra Satakarni', the speakers were all hail for Telugu pride, the legendary NTR and Balayya Babu, besides spicing up their speeches with a touch of politics. Here we present you the highlights you can't miss:
Hon'ble AP CM Chandrababu Naidu's speech was peppered with grand predictions for Balayya's 100th film ('It will run for 1000 days'), besides invoking the legacy of the Satavahana king Gautamiputra Satakarni. On the one hand, Babu expectedly recalled the legacy of the legendary NT Rama Rao, and on the other, talked about the historical necessity to build Andhra Pradesh into a model State.
After thanking director Krish and his producers for making the movie possible, Balakrishna quoted one of the most famous Nandamuri quotes ever: 'Nidrapothunnapudu kanedi kala. Nidrapothunna samajanni nidralepedi kala', he said, the first 'kala' meaning dream and the second one meaning art.
The Nandamuri Nata Lion was at his humble best when he attributed his success both as an actor as well as a politician to his parents (whom he called 'Punya Dampatulu') and fans.
Balayya also made it a point to give Hema Malini her due. "There wouldn't have been 'Sri Rama Rajyam' but for Nayanthara, and there wouldn't have been this film but for Hema Malini," Balayya said.
Union Minister Venkaiah Naidu fittingly invoked Telugu pride on the occasion. "We have to learn and sustain the history/legacy of our ancestors. Films are usually made for entertainment. But they are rarely made for spreading knowledge. Since this film brings forth the knowledge of our history, I decided to make it to this event today as soon as Balakrishna invited me," Naidu said.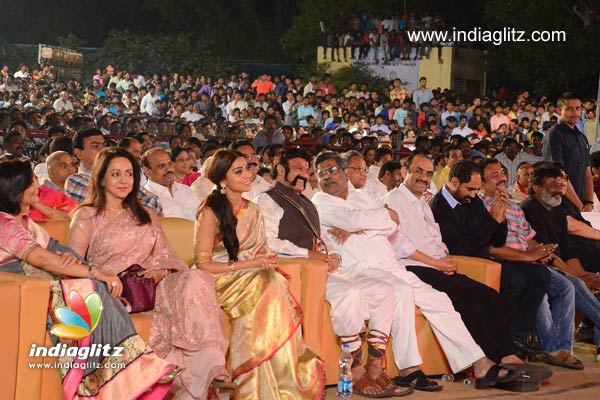 'Gauthamiputra Satakarni' Audio Launch (Set 2)Gallery
It was as if the BJP minister was repeating the famous Narendra Modi call for 'Congress-mukth Bharath' when he said, "It was NTR who saved the people from the Congress."
What was common in the speeches of the two Naidus was their wish that, a la 'Legend', 'Gautamiputra Satakarni' too will have a glorious 1000-days run!
Krish's speech was more about the great personality about whom the film is. "When a Museum in London is preserving Satakarni's legacy, why is it that our own people don't know much about it? Had he been a Roman Emperor, many films would have been made on him and some of them would have gone on to win the Oscars. Legend has it that Shivaji's mother used to tell the Maratha warrior about Satakarni's heroism," the 'Kanche' maker said.
Sai Madhav Burra's speech left Balayya's fans a happy lot. "Writing dialogues for a roaring lion is no ordinary thing. None else but Balakrishna alone could have essayed this role. It had been my dream to pen dialogues for a movie of his. It has finally come true."
But the below quotes will have Balayya's fans feel proud for many years:
'Chali lo saitham vedi puttinchali ante Balayya dialogue cheppali'
Boyapati Sreenu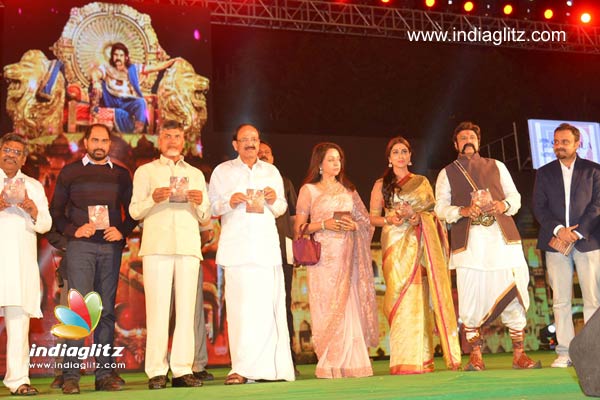 'Gauthamiputra Satakarni' Audio Launch (Set 3)Gallery
'Satakarni ante choopu theekshananga undali. Nadusthunte kagada raguluthunnattu undali'
Krish
'Garjinche simhaniki matalu rayadam ante matala?!
Sai Madhav Burra
'If Satakarni were to come today, people might tell him that it's Balakrishna who is the real Gautamiputra Satakarni'
Sirivennela Seetharamasastry
'It's NTR who comes to our mind when we think of Rama and Krishna. After this film, Balakrishna will come to our mind when we think of Gautamiputra Satakarni. Our Balayya Babu is a beautiful and dynamic hero'
Follow us on Google News and stay updated with the latest!
Follow
Actress Photos
Rashi Khanna
Keerthy Suresh
Yaashika Aanand
Aishwarya Dutta