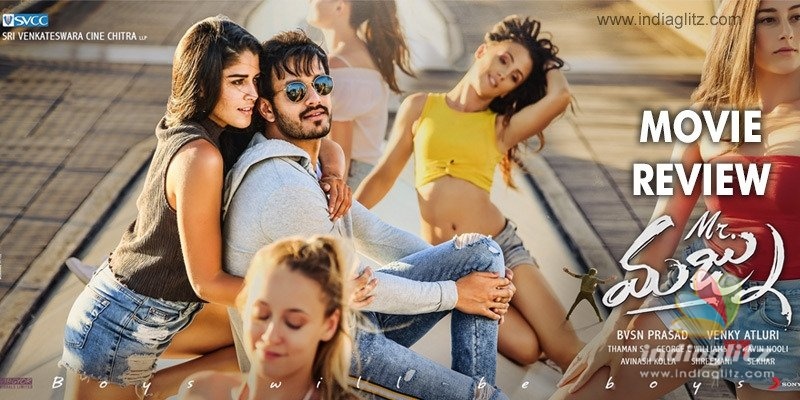 'Mr. Majnu', starring Akhil and Nidhhi Agerwal in lead roles, hit the screens this Friday.  Here is our review of the rom-com.
Story:
Vicky (Akhil Akkineni), a compulsive playboy, woos Nikitha (Nidhhi Agerwal) in London.  The scene shifts to India when Vicky comes home to attend his sister's wedding.  Turns out that the much-peeved Nikitha is actually the bridegroom's sister.  
Somehow, the heroine starts enjoying the hero's company.  It's a matter of time before she falls in love with him.  But Vicky being Vicky, he is scared of long-term relationships.  This is when Nikitha pursues hard and the duo decides to try a short-term relationship for two months, which leads to some unforeseen consequences.
What are those consequences and how do the duo cope up with the attendant issues?  Will they ever live happily ever after or find their separate paths?  That's the second half.
Analysis:
When your hero is flawed, Telugu film writers use clever tricks from the mediocre playbook to make him appear enormously lovable, monumentally acceptable, super cute, a great guy next door and more.  Is the hero a flirt?  Let's make him motherless; let's make him fondly remember her in a sentimental scene, preferably in the climax.  Is the hero a dullard in academics?  Let's show him as a large-hearted guy who can sacrifice anything for a family member.  And, yes, the one hardworking guy who went to IIT and IIM (becoming bespectacled in the process) in the family should be shown as a mean son.  This makes our good-for-only-casual-sex hero look like a martyr in comparison.   "Boys will be boys" and Tollywood will be Tollywood.
Writer-director Venky Atluri (of 'Tholi Prema' fame) had a checklist while developing the script.  Show the heroine as a marriage-ready, waiting-for-Rama girl.  Check.  Have the elders at home ask the hero to take her for shopping.  Check.  The one match that the heroine's elders try to get her from Dubai has to be a mean-minded liar.  Check.  The heroine's friend has a love problem and the hero solves it in less than 2 minutes.  Check.  A broken doll that signifies a broken heart.  Check.  A hero who says 'Are my eyes lying?'.  Check.  A sister who tells the heroine that her brother may be a ladies man but he is a gentleman.  Check.  A hero who makes friends without minding class differences.  Check.
When Nikitha has to show how mad she is about Vicky, she behaves eerily.  When Vicky has to show how much he loves Nikitha, he is shown asking her to look into his honest-like-Anna Hazare eyes.  Conclusion: Nikitha is bumbling, Vicky is coming-of-age.  That's the level of narration that 'Mr. Majnu' shoves down our throats.
What is so brilliantly special about a guy saying that not all girls are born for him?  That's something even a kid is supposed to know.  A compulsive flirt can and does move on.  What's so high-minded about it?  And guess whose mistake it is if our hero is a Raja of casual sex?  It's the girls' sin.  As Priyadarshi's character says, "They get physical pleasure from him because they come to him expecting only that".  
In how many films are they going to show a fight over a bad guy character-assassinating the heroine?  In how many films are the hero-heroine duo going to travel together by air, either by accident or by design?  In how many films are the directors going to be done with the hero's family forever after using uncles and aunties as props to showcase the hero's nobleness or heroism or both?  
If the writing is way too hackneyed, the performances are average.  Akhil needs to improve his bandwidth.  Nidhhi struggles in heavy scenes.  Subbu Raju and Raja, Rao Ramesh and Naga Babu, Pavithra and Jayaprakash don't make any impact.  Hyper Aadi as a fraudulent guy is hardly comical, so also Vidyullekha Raman with her exaggerated expressions.  The idea of a toddler comprehending big things around him is absurd.  Kailash Reddy (son of late Siva Prasad Reddy of Kamakshi Movies) debuts with the film.  
SS Thaman's songs (the title track especially) are impressive, so also his BGM.  George C Williams' cinematography is adept.  Other technical departments do a notable job.
Verdict:
'Mr. Majnu' is a predictable film riddled with known lines, familiar situations, convenient cliches and some laughable tropes.
Rating: 2.5 / 5.0
Showcase your talent to millions!!
Write about topics that interest you - anything from movies to cricket, gadgets to startups.
SUBMIT ARTICLE
More
Telugu Movie Reviews
7 Days 6 Nights
Chor Bazaar
Sammathame
Kondaa
Godse
Virata Parvam