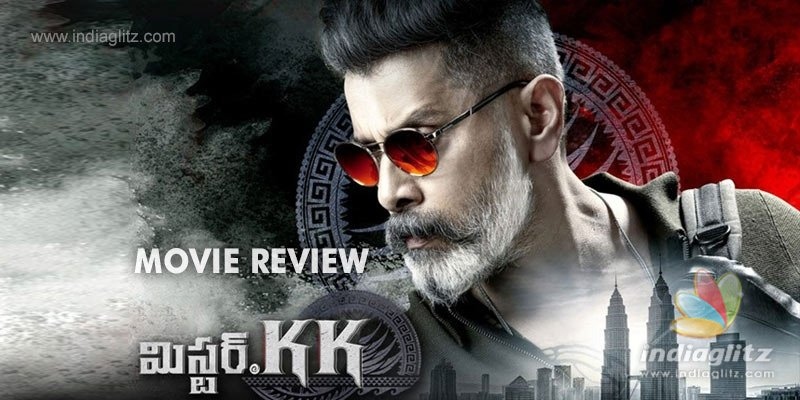 'Mr. KK', starring Vikram in the lead, is directed by Rajesh M Selva.  It hit the screens this Friday.  Here is our review of the action flick.
Story:
Vasu (Abi Hasan) and Adhira (Akshara Haasan) begin their life in Malaysia, and as they are expecting their child, enters KK (Vikram), who is wanted by a gang.  Vasu, a junior doctor, is forced to bring out an injured KK from the hospital and in his attempt, he gets framed.
As cops are on the hunt for KK and Vasu, they realise that there are moles within the department as well, and now it's up to KK and Vasu to escape from the threats and rescue Adhira.  
There is also another layer to the story that comes in the form of an industrialist's murder.  
Analysis:
The first half moves on an okayish note.  It's not exactly gripping but at least it generates some hope.  KK is chased by a gang, and the situations leading Vasu to cross paths with him are narrated well.  Though the sequences that follow are quite predictable, the interval bang passes muster.  
The second half begins with the reveal on how KK and Vasu were framed, and turns to KK vs the dirty cops angle.  It is filled with action episodes throughout. The overdose of firing and lack of interesting scenes mar the impact in these segments.  
The biggest drawback is that the audience doesn't understand whose story she has to follow.  Is it Vasu's or KK's?  KK is forgotten almost every now and then.  Vasu and his trauma over his missing wife get disproportionate attention.  
The last 20 minutes is chaotic.  It is hard to sympathize with a screenplay that has a very impersonal feel to it.  
Director Rajesh M Selva has taken inspiration from the 2010 French thriller 'Point Blank'. With the tension set up right from the entry of Vikram, the movie moves is blighted by issues of predictability.
Chiyaan Vikram as KK is perfect as the double agent turned crook, and his stunning physique and looks ooze swag. The actor excels in action episodes, making it believable when he takes down anyone coming his way. Abi Hasan as the innocent who gets framed, gives a neat performance, conveying the fear and emotions well. Akshara Haasan as the damsel in distress doesn't get much scope though she is good in the emotional act.  Lena is underutilized, while Vikas and Jasmine look menacing, although cliched.
Ghibran's background score is pulsating but after a point, it actually gets noisy.  Cinematography by Srinivas R Gutha captures the action sequences well.  Praveen KL's editing comes with its share of hits and misses.  
Verdict:
'Mr KK' struggles to make an impact.  If you go expecting an all-out treat from Vikram, you will be in for a shock.  The story narration is confused; whose story the film is telling becomes difficult to be ascertained.  Merely neat technical output can't salvage a film.  This one is an underdeveloped, unIndian thriller.
Rating: 2 / 5.0
Showcase your talent to millions!!
Write about topics that interest you - anything from movies to cricket, gadgets to startups.
SUBMIT ARTICLE
More
Telugu Movie Reviews
Kota Bommali P.S
Aadikeshava
Sound Party
The Trail
Spark
Sapta Sagaralu Dhaati (Side B)