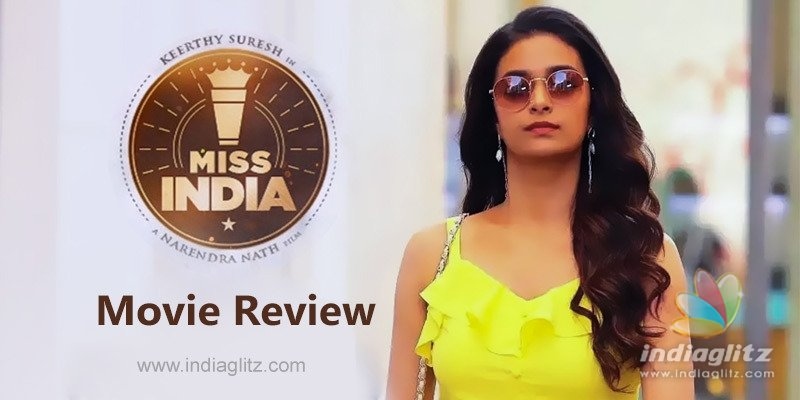 'Miss India', starring Keerthy Suresh in the lead, is currently streaming on Netflix India. Here is our review of the latest OTT release.
Story:
Manasa Samyuktha (Keerthy Suresh) grows with the dream of becoming a businesswoman. Inspired by her grandfather (Rajendra Prasad), who makes herbal chai and treats patients in a village near Vizag, she sets up an Indian chai joint in the US. While she meets some well-wishers in her journey, Samyuktha is also challenged by a ruthless, sexist businessman named Kailash Shiv Shankar (Jagapathi Babu), the owner of a coffee chain in the US. How she overcomes his machinations to establish her clout in the tea-selling sector is the crux of the second half.
Analysis:
Some movies are just two-hour long trailers. 'Miss India is an unabashed 136-minute trailer. There is nothing in the movie that was not already shown or hinted at by the trailer. You can literally imagine the nature of the pseudo-mercurial conversations between the protagonist and antagonist. And having seen Jagapathi Babu in films like 'Nannaku Prematho', you can also predict how many times he will smile menacingly in the presence of our know-all, super-confident heroine.
For a semi-corporate drama, the writing and execution are so lazy that the villain's downfall is shown in the form of newspaper clippings in a span of 20 seconds! And the heroine's rise is shown in the form of montage shots and slow-motion walks every now and then. If you are wondering where is the actual rivalry, it is between coffee and chai! Coffee is the real villain of the movie. Keerthy Suresh's character mouths anti-coffee banalities more than anti-Kailash Shiv Shankar statements or her business plans in the movie.
There is a semi-love track that is weirder than what a mixture of coffee and chai would taste like. Naveen Chandra (as Vijay Anand, a rich man) and Keerthy Suresh glorify India, advertise about America, review chai and coffee rather than talk like adults who have a life ahead of them. Sumanth Sailendra, the other Mahatma in the life of the blessed businesswoman who wins a lottery of one million dollars just at the right time, plays a venture capitalist who fades into oblivion (like Naveen Chandra's character) after serving his purpose of helping the protagonist get miraculously rich.
The family scenes reek of the 1990s feel. Rajendra Prasad is that blessed grandpa who dies in sleep because his grandson just landed a job in the US (not kidding!). The mother (Nadhiya) mouths atrociously outdated lines. The sister elopes, the father (VK Naresh) has got Alzheimer's (only to be mocked), and the brother (Kamal Kamaraju) is a Dasara Narayana Rao character who knows no sensitivity.
After 'Penguin', Keerthy Suresh delivers a solid performance. It's her conviction that keeps the film alive on life support. The rest of the performances are either caricaturish or too lame. Pujitha Ponnada and Divya Drishti (who was recently seen in 'Colour Photo') are convincing, though.
S Thaman's background score and songs are a plus. The cinematography is somewhat inconsistent.
Verdict:
'Miss India' is a simplistic corporate-cum-family drama that suffers from a lack of even half-decent ideas. The situations are shoddy, the characterizations are underdeveloped and the climax is way too hurried.
Rating: 2 / 5.0
Showcase your talent to millions!!
Write about topics that interest you - anything from movies to cricket, gadgets to startups.
SUBMIT ARTICLE
More
Telugu Movie Reviews
Karthikeya 2
Laal Singh Chaddha
Macherla Niyojakavargam
Sita Ramam
Bimbisara
The Legend