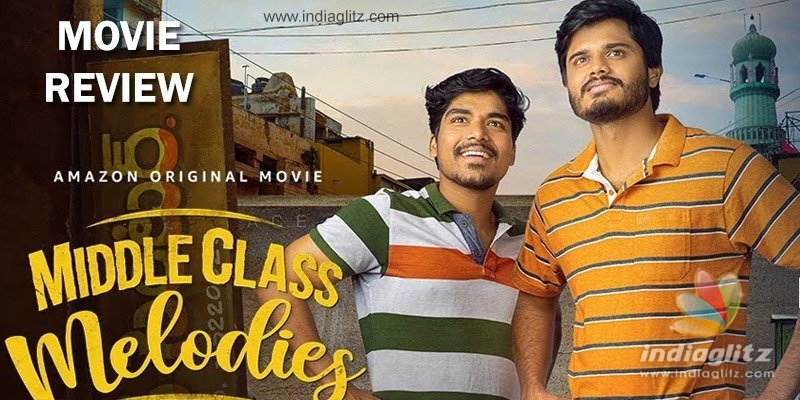 'Middle Class Melodies', starring Anand and Varsha and a range of unfamiliar faces, is now streaming on Amazon Prime Video. Here is our review of the latest OTT release.
Story:
Raghava (Anand Deverakonda) hails from a middle-class family wherein his irate father (Goparaju Ramana) thinks of him as a good-for-nothing loser. Raghava's dream is to take the taste of his Bombay chutney to Guntur. He is in love with Sandhya (Varsha Bollamma), his 'Maradalu', whose father looks down upon the male lead's family for some reason. How the youngster sets up a tiffin centre in Guntur by braving all setbacks and comes out with flying colours, proving the sceptics wrong, is the crux of the film.
Analysis:
With films like this one, which think they are doing a huge favour by looking laid-back, the biggest issue is not whether there is a gripping story. Rather, it is about whether the film will stop making a mountain of a molehill at least in the second half. Directed by debutant Vinod Anantoju, 'Middle Class Melodies' sets its story in a small world that seems smaller than it actually is.
There are some stubborn constants in the movie. Like how the male lead's father keeps shouting at him in a Raghu Babu-esque voice and with a Posani Krishna Murali-esque attitude. In fact, almost everyone with dyed hair is seen shouting in the movie. After a point, it gets too monotonous because the elders come across as prisoners of their own self-image.
The 'Mollywood Melodies' indulges in smallness and that's not necessarily bad. For example, there is a sensible track involving the male lead's loyal friend (played by Chaitanya Garikapati) and a poor salesgirl (played by Divya Sripada). But the track comes undone by a weak sense of comedy. The silences don't carry magic either. Talking of silences, Varsha Bollamma's shyness works wonders in the 'Sandhya' song and that's all there is to it. Even the main love story leaves the audience with a sense of 'They will invariably get married because Raghava Tiffin Centre rocks' feeling in the air.
There are some things that should have been delivered as a series of dialogues/conversations. There is too much showing in the movie. And Raghava Tiffin Centre doesn't really seem to face any insurmountable challenges. Amidst all this, Janardhan Pasumarthi's dialogues don't deliver goods.
It would have made sense had the male lead's father's irritation looked believable. There is absolutely no spectacular reason why he should see his son as incompetent when he is a good cook.
Everything said, there definitely are a few high moments. What happens when an astrology-obsessed character has a moment of realization? What happens when an honest man who goes out of his way for the sake of his people goes bankrupt? These scenes come with unique sensibilities, much like how 'Care Of Kancharapalem' was all about.
Anand Deverakonda, to be sure, is not the whole and sole of the movie. He is one of the characters. The second-timer looks not-so-convincing, to be frank. Varsha Bollamma does try to look too cute at times. The many character artists, especially the parents of the lead pair, are decent.
Sweekar Agasthi's music is apt for the genre and mood of the film. Sunny Kurrapati's camera work is satisfying.
Verdict:
'MCM' has a pretty sub-par story. Sans cinematic highs, it suffers from a Mollywood hangover.
Rating: 2.5 / 5.0
Showcase your talent to millions!!
Write about topics that interest you - anything from movies to cricket, gadgets to startups.
SUBMIT ARTICLE
More
Telugu Movie Reviews
Ahimsa
Nenu Student Sir
Pareshan
Boo
Mem Famous
Malli Pelli