Get ready to be blown away
IndiaGlitz [Wednesday, August 23, 2017 • தமிழ்] Comments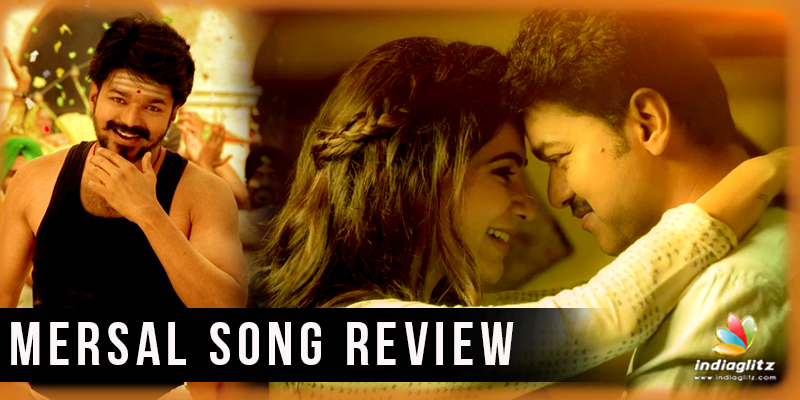 Rahman joins with Vijay after a while, with only four songs in the kitty Mersel promises a mass experience in terms of audio with ARR's experienced taking lead. Atlee has directed this movie which also has Sj Suryah, Kajal, Samantha and Nithya Menon in the lead cast.
Mersel Arasan: A clean bolted Intro song
Similar to Aalaporaan Tamizhan, this track too shoots off with ARR's vocals only to pass on the baton to GV and Naresh Iyer. The track unlike the rest of the numbers will require patience to grow into your senses, it's not that vibrant and rather gets monotonous after a minute. Mersel Arasan has a Middle East touch, also goes around the usual folk with getting into trumpets and mass setup. The track is heavily influenced by mass as the orchestration is evident with its stance and beats, still ARR's touch brings some class into its otherwise overdone rhythm. For a title track that goes high on techno, it surely is an average number compared to the other tracks.
Aalaporaan Tamizhan : Get ready to be blown away
Vijay's Aalaporaan Tamizhan is out, and boy we can't get enough of AR Rahman already. The song is juxtaposed with magical nativity that dwells hard into the pride of Tamil culture. Starts on a vibrant note, the opening song is colloquial mix of folk upped electronically by the Oscar winner. With an array of singers – Pooja, Deepak, Kailash Kher, Sathyaprakash take the lead in this highly energetic number.
With tabla, tavil and heavy drumming climaxing the bass level, the mild transition comes with gentle flute and Nadhaswaram which is soothing to listen. The song itself competes between the instrumentation and lyrical department as the verses dig deep into the sands of a tamizhan's history and takes pride in revealing the richness it brings to one's identity. ARR visits folk occasionally, when he does its innovation and freshness at its best.
Macho: Get ready to do the swag
A full on western youthful track with ARR holding his surprises on techno wave for his favorite singer – Sid Sriram and he continues to surprise with ease. Sid's romantic yet quivering vocals is aided by Shweta Mohan's trendier voice. The guitars fly around this track and we are promised with some electronic techno thuds for a colorful visuals. The peppiness of the song is simply superb, ARR has made this track with a lot of liveliness to tailor the needs of the youth. Overall yet another mersel song indeed!
Neethane : When love is in the air
After Aalapora Tamizhan turned out to be a blockbuster for its high voltage, the shift to melody in Neethane is mesmerizing and will make you go on repeat. Shreya Goshal takes lead and brings that softness of a blossoming love in her vocals even as AR Rahman's surprisingly interferes on a good note as both of them play with the medley on a promising note. Both their vocals are contrast, yet that is balanced craftly showing the magnitude of ARR's experience.
The Veena is divinely melodious even as the strings continue to play along with the beats in the background. Neethane scores on all levels, Vivek's simplistic romance dwelled lyrics creep into our minds slowly as the first time listen would definitely go to Shreya Goshal's honey coated voice. Before stepping into the first interlude, ARR hums Yaache Yaache so very beautifully and Shreya responds even better with Yaale Yaale.
Verdict : Mersel's album is a mixture of mass and class, the experience of ARR brings color to Vijay's powerful screen presence. The 4 tracks are innovative and is a must listen for any ARR fan
Rating : 3.25 / 5