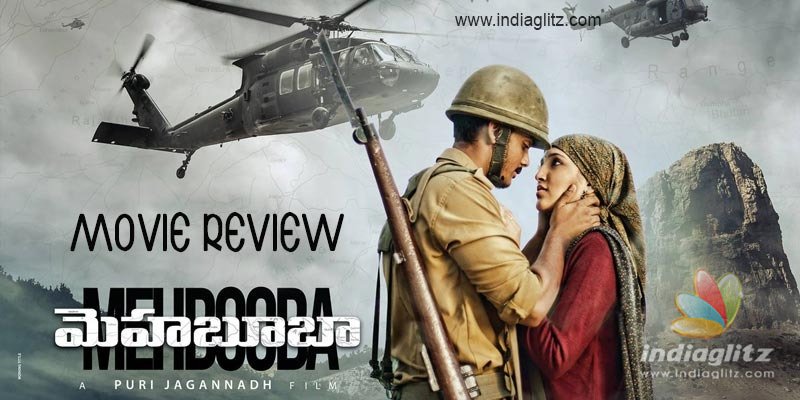 'Mehbooba', starring Akash Puri and Neha Shetty, hit the screens this Friday.  Here is our review of the Puri Jagannadh-directed movie.
Story:
Roshan (Akash Puri) in India and Afreen (Neha Shetty) in Pakistan have always grown with memories of their respective past lives.  If the former was a soldier, the latter was a girl caught in the quagmire of the Indo-Pak war of 1971.  As the two warring countries fought at the border, they fell in love with each other but were separated by circumstances.  Before he died in his previous life, Roshan took a vow to be reborn for obvious reasons.
Cut to the present day, Afreen comes to India to pursue higher studies.  She falls in danger.  He saves her.  They belabour to meet each other again.  They do so one fine day.
But then, Afreen has a fiance problem.  He (Vishu Reddy) typically screams and occasionally abuses her.
The rest of the film is about how the love story of the Roshan-Afreen duo becomes India's 'Izzat ka sawaal' and Pakistan's nuisance.
Analysis:
The surreal confidence with which Puri Jagannadh's heroes go about their ways, whether it's dismantling a mafia, bringing back black money or doing a 'basthi me sawaal' in Pakistan, is mind-boggling.  There was a time when his hero would passingly say in a song that he can stunt even Bin Laden.  That was in 'Pokiri'.  Films like 'ISM' and 'Mehbooba' are an extension of such a mediocre sentence in a mass-masala song.
Puri's heroes are known for their impatience and cheekiness.  Waiting is not in their blood.  So, it's pertinent to ask this: What happens when such a director writes a story where the boy has to wait and wait for years to meet his girl from the past life?  The writing turns out to be so out-of-order that one almost sees Puri trying to be someone he cannot be.  The boy picks up a Hindi melody from his past life.  His mother is shocked.  'When did you learn Hindi?' she asks him.  He looks at her as if he has been possessed by some ghost.  Forget losing the plot, in making this atrociously-written Past Life Regression-driven love story, Puri tries to adopt sensibilities he is simply incapable of surviving.  He is too small for them.
The makers have proudly said that there is a twist in the tale.  We waited for the twist to arrive almost till the end, only to realize that it was delivered a few minutes into the second half.  We wouldn't like to reveal the joke of a twist, but suffice it to say that it's not only pointless but also turns out to be one idea that robs the film of any semblance of emotion that might be there.  (Hint: It has to do with the hero's character).
The 1971 war comes to an end.  By then, our girl and boy are deep in love.  As India and Pakistan decide to pack up, you have to listen to what our lovers tell each other.  'Shit! War has concluded.  How great it would have been had it continued so that we can love each other in its backdrop!' This is what the heroine says (almost).  It's one thing to be immature.  It's another thing to be a Puri-ist.
Our boy, in the present day, gears up to win back Afreen.  One tweet and the whole of India (except Sushma Swaraj) is with him.  If this is not enough, a female soldier threatens to finish the whole of Pakistan (much less a full-blown war) if the hero were to be harmed.  This is the world of Puri-isms.  Anything is possible.  Any dam thing is possible.
At least the climax would have been salvaged had the now-irrelevant past life not been overstretched long after it becomes clear that the heroine died somehow and the hero too died somehow.  That's why they were reborn, if we are not wrong.  How they died is not of much interest, for their present-day villains are no more than dumbed down versions of the blandest of Telugu cinema antagonists whose sole purpose is to shout, scream, shout, scream.
Puri tries to package his hero cleverly but not no much avail.  So, this guy can turn a vandal if you throw waste papers on the corridor.  He almost trivializes the 'Save The Tiger' campaign.  Caught amidst jingoistic Pakistanis, he does a Sunny Deol in the climax, a la 'Gaddar'.  His heroine, caught between almost roguish Indian girls and violently fanatical Pakistanis, weeps and weeps.
As performances go, Akash Puri makes a decent debut.  Nothing more can be said.  Neha Shetty needs to find a script that doesn't ask her to cry in the same way whatever may be the situation.  Vishu Reddy plays an underwritten, insipid character.  Murali Sharma as the heroine's Orthodox dad is good.  Sayaji Shinde, Srikanth Iyer and others fit the bill.
Sandeep Chowtha's BGM is fine and his good songs are largely wasted.  Vishnu Sharma's cinematography is impressive.  Anil Paduri's VFX is deft, while Junaid Siddiqui's editing is efficient.  Real Satish's action choreography and Jani Sheik's art direction are so-so.
Verdict:
'Mehbooba' lacks an emotional anchor.  Puri treats a serious subject like a joke (almost).  He seems to have serenaded with sensibilities he doesn't deserve to dabble in.  Most of the scenes overstay their welcome and outlive their utility in no time.
Rating: 2 / 5.0
Showcase your talent to millions!!
Write about topics that interest you - anything from movies to cricket, gadgets to startups.
SUBMIT ARTICLE
More
Telugu Movie Reviews
Peddha Kapu 1
Skanda
Chandramukhi 2
Sapta Sagaralu Dhaati
Changure Bangaru Raja
Mark Antony