Meenakshi the daughter of Dileep bonds with Kavya Madhavan
Friday, November 25, 2016 • Malayalam Comments

Listen to article
--:-- / --:--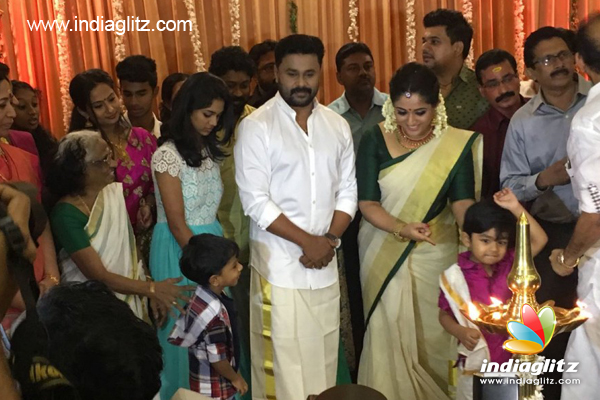 Finally putting an end to speculations Dileep announced his wedding as promised earlier in an interview. But rumors were rife about the impending wedding. Even there were hints given out by the actor during his recent interviews. A photo shoot that appeared in a leading daily showed their closeness and chemistry.
Many who attended the wedding didn`t have much clue until they arrived at the venue. This was told by actress Menaka, as her husband didn`t reveal it until she reached the hotel. She told that it must because he thought that she might share it to someone and might get leaked as women find it difficult to keep secrets.
Even outside the hotel it was written Cinema Pooja`. Until yesterday Dileep was in Bahrain, even his close friends didn`t know about the wedding. He just asked everyone to be at the Vedanta hotel this morning. The ceremony was simple and was not pompous and splendorous like the usual celebrity weddings. Meanwhile there was also news that after the wedding the first treat for the newlywed couples would be at Mammootty`s house. Also there is news that both that the couple would be flying to Dubai this evening.
Meenakshi the daughter of Dileep told that she is happy that her father got married. Earlier there were reports that the marriage was delayed because Dileep didn`t get the nod of his daughter. In the stage it was obvious that Meenakshi was happy and was bonding well with Kavya. The ceremony got over in 15 minutes. The couple after the marriage interacted with the media.
Follow us on Google News and stay updated with the latest!
Follow
Actress Photos
Shradda Das
Lavanya Tripathi
Krithi Shetty
Catherine Tresa