"Nainika will be back to routine after Theri" : Meena
Friday, April 8, 2016 • Tamil Comments

Listen to article
--:-- / --:--



Nainika instantly stole the hearts of every Tamil movie buff with her dialogues, expressions, dance and everything in the recently released trailer of Ilayathalapathy Vijay`s Theri`. The kid makes her Kollywood debut playing the daughter of Vijay in the Atlee directorial.
Like her mother and yesteryear dream girl Meena made her debut playing Superstar Rajikanth`s pet child in Anbulla Rajinikanth`, the daughter is also got a dream debut with today`s top star Vijay.
Indiaglitz got the opportunity to have an exclusive and detailed chat with this beautiful and highly talented mother-daughter duo. Excerpts:
Atlee`s Conviction wins Meena`s Reluctance

As she said in the audio release Meena was initially reluctant to accept the coveted offer to let her daughter act in Theri`. However Atlee managed to convince her. Listen to that in her words:
"First of all I wanted to avoid since she is too young. At 4-4 and a half years it is too early. Cinema takes a lot of hard work. As adults we know a lot of things about the job, the cost incurred etc. We will have that seriousness. But for a kid they don`t know anything. They only know to be playful. But Atlee kept insisting. Then he narrated the script. Of course it is a very good character that comes with Vijay throughout the film. When I saw Atlee he was looking so young and I had doubts about his capability to deal with a child. It requires a lot of patience. The entire unit should have the patience. If someone makes any complaint about daughter it will be painful. Thinking all these I tried a lot to refuse the offer. But they assured that they will take care and everything will be fine. Then finally I gave up. Even when I said Okay I did not have full confidence. I should really thank Atlee, Vijay, and the whole unit for their patience. Their understanding and the way they treated us. It was like super. And Vijay is also very sweet".
When the Entire Theri unit waited for Nainika
As a professional, Meena could empathize with other artists and technicians, who had to wait with patience for the kid to understand the requirements of a film.
"Everybody had to wait for her. Only when she gets the mood she will heed to the director`s call. She gets bored for repeated takes and same shot being taken in different angles. She will refuse to do that. She will ask how many times I should do the same thing as she does not know anything about movie making. Everyone in the set was patient and waited for her. I even asked sorry to everyone.
When she comes inside the caravan for costume change she will lay down saying she feels sleepy. It was very hot and humid. She had to keep running, travelling and playing in spot. So she will get tired easily. So she will take a lot of time when she comes for costume change. "
The Cartoon lover Nainika
Like every other child Nainika loves watching cartoons and if you ask her which cartoon character she likes the most she names almost all of them with the seriousness of uttering a lengthy dialogue. "Tom & Jerry, Chota Bheem,
Krishna…" After being prompted by her mother the cute kid mentions Nija Hattori` as she had forgot that.
Nainika amazes Meena and Vijay with her first shot
Nainika swept away the apprehensions of her mother about her capability to become an artist with the first scene she shot for. Even Vijay was amazed by the kid`s performance.
"After seeing her performance in the first scene she shot for, I got the confidence that she will accomplish the task. The first applause she got was from Vijay. In the first day scene she was like so thorough with the dialogue. The full scene she went on perfectly. Vijay, me and the full unit was stunned. Vijay is the first person who clapped. Then everyone started clapping.
Vijay`s shower of gifts for Nainika
Throughout the shooting period Vijay had given a lot of gifts for Nainika as she became his pet instantly. Nainika in her cute words enlists the gifts she got from Ilayathalapathy.
"First he gave a remote car then a watch, then a pink colour bag, chocolate and one smiley puzzle box."
Meena`s sacrifice for Naninika`s film Entry
Meena was accompanied Nainika to the shooting spot every day. The actress is still sought after for powerful characters.l
"I was with her every day. I set aside all other works. I even did not accept any acting offers in the meantime. Even they wanted my presence. Initially it she did not know anyone in the set. But from the second or third day everything became quite normal for her as she knew everyone in the set. "
Making Nainika Dub for her character
Nainika has dubbed on her own and Meena says it was a tougher task to make the kid dub on her own. She was equally reluctant to make her kid stand in front of the dubbing mike as she knows how crucial is dubbing. Then how they came over the barriers?
"Shooting was easy but dubbing was very tough since she (Nainika) had to remain in a single room for a long time. She had to keep uttering the same dialogue again and again with proper sync. Only through dubbing we give the life to the character. Whatever mistake we do in shooting spot we correct them all in the dubbing session. Dubbing is so crucial. I was little hesitant to make her dub. But they said she got some unique way of delivering dialogues and it will be the best for her character. We went for a try.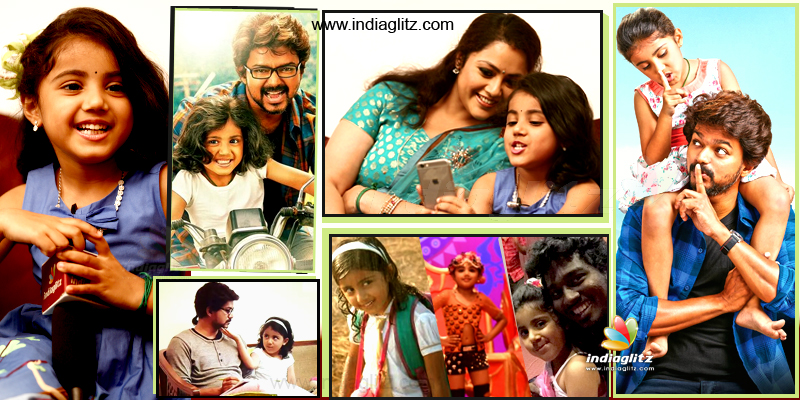 Every day, I will take her to the dubbing after school hours. She will dub for a couple of hours like that we completed every scene one by one like that. Even Atlee also came for corrections. Finally she did everything pucca. "
Chennai Rains- a blessing in disguise for Nainika`s Education
Education is the most important duty during childhood and it is really a tough task for child artists to manage both studying and shooting for a mainstream feature film.
"Education is very important at this stage as she has just started her basics. If this is not proper it will be difficult for her to cope up in the higher classes. So that was a big cause of worry. I was very apprehensive about taking leaves. Though I informed this in her school, the teaching style is very different these days. They teach everything with phonetics. So it is not possible to replace the education we get in schools with tuitions. Fortunately or unfortunately, 75-80% of her portions were shot during the Chennai rains in December.
Follow us on Google News and stay updated with the latest!
Follow
Actress Photos
Mehreen Pirzada
Sonal Chauhan
Amala Paul
Shobitha Dhulipala