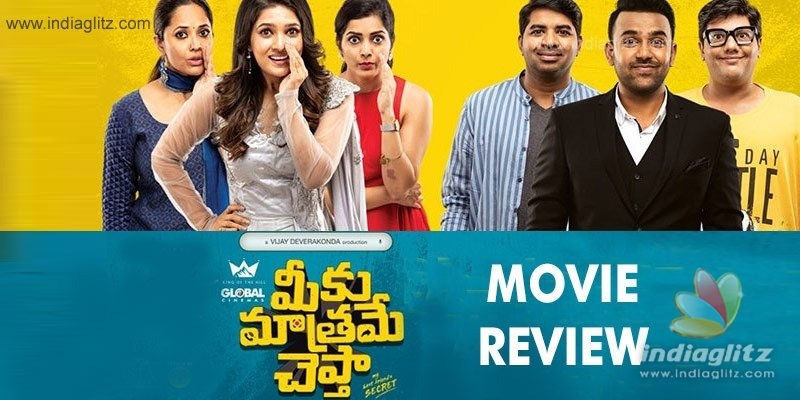 'Meeku Mathrame Chepta' hit the screens this Friday.  Here is our review of the comedy entertainer.
Story:
Rakesh (Tharun Bhascker) is going to enter into wedlock with his girlfriend Steffi (Vani Bhojan) in a matter of days.  A bombshell drops when he receives a porn link on his phone.  The porn video has him in a compromising position with a woman (Avantika Mishra).
Rakesh had ended up on the bed in a curious way.  But since the world can't be expected to believe his story, Rakesh gets anxious at the prospect of the video reaching his fiance.
Together with Kamu (Abhinav Gomatam), he works to find a way out.  Does he succeed?  Or will his marriage fall apart because of the sex tape?  That's the rest of the story.
Analysis:
Debutant director Shammeer Sultan comes equipped with a comedy-driven plot.  'MMC', whose dialogues are co-written by Tharun Bhascker (the male lead), is content with its love for situational humour.
The initial scenes project its male characters as somewhat childish men who pass time indulging in inanities.  The hero is a forgettable TV host anchoring a ridiculous show for a channel whose existence nobody knows about.  He himself is talented despite being a non-entity.  He sees that the TV industry is going through a crisis of content.
Some of the characters overdo their eccentricity and it's an issue.  Also, the hero repeating stock lines like 'Liquor is injurious to health' should have been avoided.
If there are directors who have successfully outgrown their short filmmaking sensibilities, there are others who have found it challenging to dish out feature film-level entertainment.  Shammer seems to be in the second category.  Nothing proves this more than the twist offered in the pre-climax phase of 'MMC'.  The twist is fun but it's neither intelligent or consequential.  Had this been a web series or a short film, it would have been seen as a passable fun idea. In a film, where the writing is expected to be dramatic, such twists can be seen as too trivial.
Lack of emotional heft haunts the proceedings in the entire second half.  When the bridegroom doesn't show peak levels of anxiety even when the going gets tougher, the audience can't easily buy into his story.  Tharun's demeanour and facial expressions in the second half are at the same level as in the first.  As such, you don't feel that the film has an exciting or convincing middle.
Believability goes for a toss after a point.  This is because of the behaviour of Steffi, the bride or the heroine (if you would have it). She is reduced to making mildly frustrated calls to her fiance. She is definitely perturbed but doesn't do anything more.  Her elders are comic pieces and that robs the film of the much-needed seriousness all the more.
At one level, the film needed the kind of smart storytelling we saw in the 2013 comedy 'Pusthakamlo Konni Pageelu Missing', which played its cards well without diluting the inherent emotional heft.
There was potential to make the climax nail-biting but without fleshed out characters, nothing much emerges.
Tharun looks confident.  He would have pulled off a better performance had it not been for the lurking one-note vibe.  Abhinav Gomatam looks poised to attract more and more roles.  Naveen George Thomas is promising, Anasuya Bharadwaj clicks as a woman who knows what to do, Vani Bhojan is consistent, Avantika Mishra, and Pavani Gangireddy are apt.
Sivakumar's songs are put to good use, Mathan Gunadeva's cinematography is adequate, given the ordinary locations in which the film unfolds.
Verdict:
'Meeku Matrame Chepta' offers situational humour and an atypical circumstance.  Watch it for some small and sweet moments. The characters come underdeveloped and the story is wafer-thin.
Rating: 3 / 5.0
Showcase your talent to millions!!
Write about topics that interest you - anything from movies to cricket, gadgets to startups.
SUBMIT ARTICLE
More
Telugu Movie Reviews
Calling Sahasra
Atharva
Animal
Kota Bommali P.S
Aadikeshava
Sound Party