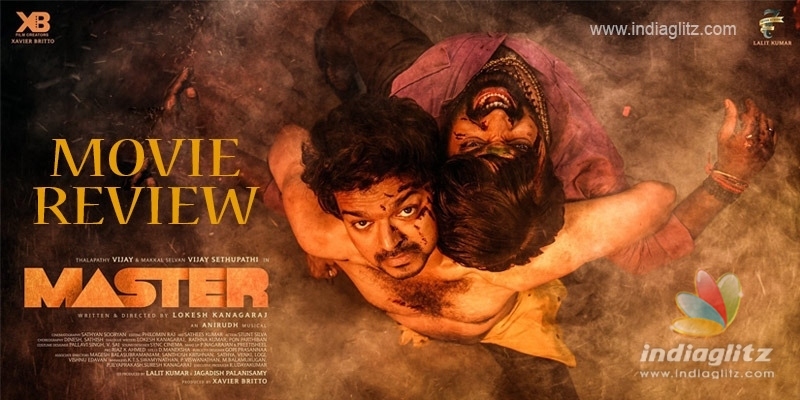 'Master', starring Vijay, hit the screens today (Jan 13). Here we present the review of the big-ticket action-thriller that has released simultaneously in Tamil, Telugu, Malayalam and Hindi.
Story:
When he fails to handle a students' election in a city college without untoward incidents, JD (Thalapathy Vijay), a self-styled professor, is posted as a teacher at an observation facility in Warangal. It's a kind of punishment posting that he himself had signed up for. At the facility, where juvenile criminals are being used as guinea pigs and pawns by a ruthless villain named Bhavani (Vijay Sethupathy), JD has his task cut out. When a game-changing tragedy strikes the hellish place, JD decides to smash the empire of Bhavani.
Analysis:
Director Lokesh Kanagaraj adopts a linear style of story-telling. The story begins in the Warangal of 2002, where a young lad is almost killed by three cruel men and packed off to an observation facility. He undergoes torture and abuse, things that turn him into a monster. He grows up to be a lorry union's president nurturing political dreams, all while his enemies lick their wounds. He starts subjecting kids to unspeakable abuse for selfish gains. Vijay Sethupathy aces this role with so much ease, making the audience invest in his menace and brutality. When he utters lines like 'I am an emotional candidate', the 'Sye Raa' actor looks endearing.
Vijay's character is introduced after treating the audience to elaborate sequences dedicated to the villain. Yes, the hero enters the scene after a good 20 minutes. But the pretense of novelty stops here. Very soon, we resign to the fact that Thalapathy will be indulgent when it comes to fights. He bashes up the goons in a bus, in a train, and, eventually, during a song. The director shows flashes of creativity when he stages a casual song wherein a laidback Vijay wakes up to his trusted 'bhajana' batch and dances as if he is still asleep. A drunkard who has no control over himself, JD is loved by the students and hated by the college management. Amid giving sermons on politics being a vehicle for service, he fools around narrating the stories of 'Attarintiki Daredi' and 'Okkadu' and 'Magadheera'. In this, he is much like Mahesh Babu in 'Aagadu', only that he 'aaguthadu' before the audience gets bored of verbal diarrhea.
Once the main plot takes off, it's easy to understand that 'Master' is nothing but a formula-driven story. It's the director's narrative tactics that could have saved the film. But, then, 'Master' falls apart.
There are stretches of melodrama wherein Vijay seems to get overly weepy. The cat-and-mouse fight doesn't have flashes of brilliance either. The second half tests your patience with overlong sequences. From routinely done murders to a halting romantic track, the film has everything that is the antithesis of the term 'kutti story'.
Yes, it's not all about the hero. He gets questioned by a character for not rising up to the occasion. He does lose his voice. But the overall impact is ordinary. We never believe that JD will get inventive because he is capable of only getting provocative. We never believe that Sethupathy's Bhavani will be a step ahead of the hero, who himself is not full of smarts to begin with.
Anirudh's superb BGM is a whiff of fresh air in this otherwise yawn-inducing drama. He elevates the many shots involving not just the good Vijay but the other Vijay, too. 'Master' is one of the best albums in recent times and it was really interesting to see how Lokesh staged the songs. 'Chitti Story' has an unusual set-up. All the other songs are also used to a good effect. Sathyan Sooryan's cinematography is efficient, especially in making the frames at the observation facility look non-mundane.
In a film that doesn't need a glamorous face, Malavika Mohanan comes across as a believable conscience-keeper. Andreah Jeremiah shines in a cameo.
Verdict:
'Master' hits the right notes in the first act. However, as the plot takes off, the pace slackens and, in the second half, the drama eventually bites the dust. The fights are too many and, sometimes, too long and too cliched. There are no thrills after a point. The performances make the cut, so also Anirudh's superb music.
Rating: 2.5 / 5.0
Showcase your talent to millions!!
Write about topics that interest you - anything from movies to cricket, gadgets to startups.
SUBMIT ARTICLE