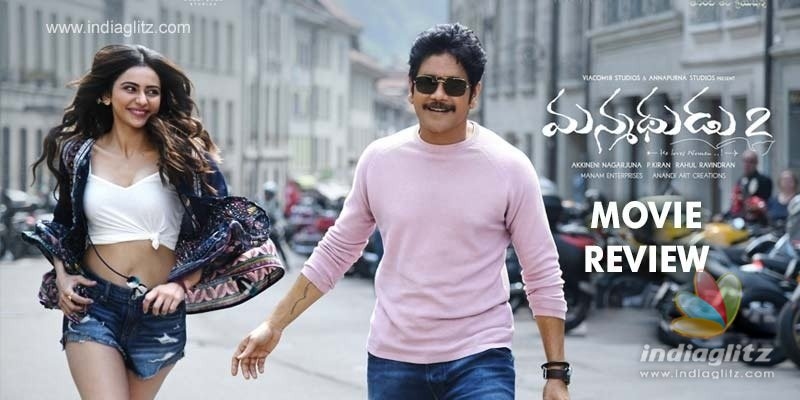 'Manmadhudu-2', starring Akkineni Nagarjuna in the lead, hit the screens today.  Directed by Rahul Ravindran, it is a comedy-family entertainer.  Here is our review of the flick.
Story:
Sam (Akkineni Nagarjuna) is a professional perfumer who doesn't believe in long-term relationships.  His family forces him to get married.
Pushed to the corner by emotional blackmailing, Sam conspires with Avantika (Rakul Preet Singh), a waitress, to stagemanage a wedding.  When she doesn't turn up on the wedding day as planned, Sam feels relieved but his family reacts unfavourably.
What follows next is more drama involving the lead pair and the hero's family. Will Sam ever fall in love?
Analysis:
The biggest problem with 'Manmadhudu-2' is that many things in it are rather sketchy.  It takes the quirkiness of its lead man way too seriously and believes that its sensibilities have to be too eccentric while also dishing out occasional melodrama to satisfy the native audience.
Writer-director Rahul Ravindran needed to show exceptional craft in the second half with Nagarjuna's character.  What happens here is hardly smart.  All of a sudden, hero's obsessive compulsive disorder (OCD) gets projected and it's farcical and distracting.  The hero faces a grave situation in the family but he gives no strong reason to disagree to Avantika's terms and conditions.  
Predictability mars the proceedings after a point.  The bonding between the lead pair is shown to grow artificially and hurriedly.  Avantika's backstory and her pathos are narrated with rank vagueness.  It also becomes an excuse to elevate heroism.
What ought to be the main source of conflict?  The hero's disinclination for a long term relationship.  Why does he keep saying no to marriage?  Because he found redemption in flings.  Fine.  But when and how exactly does he outgrow the penchant for sexual relationships with sexy women?  You just don't get an answer in the film!
The hero is shown to be leading a rich lifestyle.  He seems to think of money only when he bargains with the heroine.  Just doesn't wash.  It's bizarre.
The film seems to over-indulge Vennela Kishore in the first half.  Take the intro scene of Rakul Preet, for example.  It's as if director Rahul Ravindran just cryptically launched his best buddy Kishore as the film's second male lead.  In one scene, the beauty tells the comedy sidekick that she can consider him if the hero doesn't work out for her.  
The comedy is way too slapstick at times, and even Nagarjuna is not spared here.  If the double meaning lines (trust dialogue writer Kittu Vissapragada) are largely organic, the melodramatic lines become too much to take when Nag speaks them.  
There clearly was much scope for at least two more comedians.  Rao Ramesh does evoke laughter but there needed more.  The 'Ganjai' scene remains farcical because it practically doesn't lead to any explosive development in the family.
Lakshmi is nuanced as a mother who is constantly worried about her son's unmarried status.  Together with Jhansi, Devadarshini and others, she evokes sentimentism.  The family scenes could have avoided the temptation of consistent idiosyncrasy.
Nagarjuna tries new demeanor here and there.  The jury is still out.  His comic timing is a bit off-colour.  Vennela Kishore does an able job, while Rakul is helped by Chinmayi's dubbing.  She does a competent job in the second half.  Keerthy Suresh's cameo hardly makes an impact, while Samantha's cameo is a bit indulgent. Brahmanandam reminds us of 'Manmadhudu' and disappears in 30 seconds.  This is exactly how a director can shoot himself in the foot - by reminding the audience of a classic when there is no such need.
Chaitan Bharadwaj's background music is fine and the songs are able.  Sukumar's cinematography efficiently shows the unsung locations of Portugal with conviction.
Verdict:
The film offers a predictable fare that hardsells its atypical characters.  The writing department doesn't quite succeed in remaking the French film 'I Do'.  The technical departments make the cut.
Rating: 2.5 / 5.0
Showcase your talent to millions!!
Write about topics that interest you - anything from movies to cricket, gadgets to startups.
SUBMIT ARTICLE
More
Telugu Movie Reviews
Sapta Sagaralu Dhaati
Changure Bangaru Raja
Mark Antony
Jawan
Miss Shetty Mr Polishetty
Kushi