Manjula on 'Manasuku Nachindi', directing Mahesh & Pawan, & more
Monday, February 12, 2018 • Telugu Comments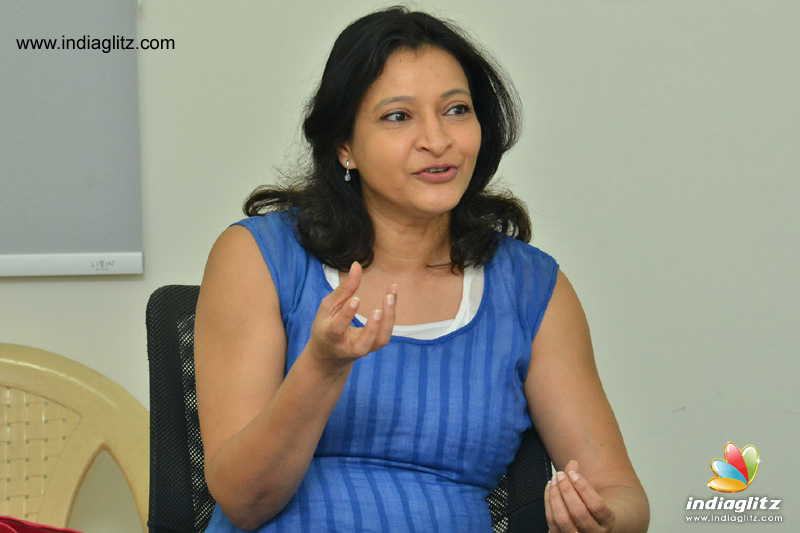 Manjula Ghattamaneni is ready to show her directorial skills on Feb 16. Ahead of the release of 'Manasuku Nachindi', she talks about why it's a heart-felt film for her, Mahesh Babu, directing Pawan Kalyan, and more.
What made you take up direction?
I have done this movie only because I loved the script and wanted to do. I am not at a stage where I would want to make a film for the sake of it. In other words, I don't need to step into direction. Despite this, if I wanted to make a film it's because I wanted to express what I felt strongly about. This is not an inspired film. It's straight from my heart.
Is the film commercial?
'Manasuku Nachindi' is both aesthetic and entertaining. It's not like entertainment is not necessary. There has to be something refreshing on the platter. We are missing out on small pleasures in our lives. After watching our film, you will want to experience the joy of a sunrise and a sunset.
What brought you to this thinking?
There was a time when I was hurried in my life. But once I started enjoying small gifts, I felt peace within me. I wanted to share that peace with everyone. I wanted to put my experiences in a visual form.
Any film needs a good story. It's possible to be progressive by telling unique stories. It's not difficult to make some film. But now is the time for good movies. I feel I have made a film that the audiences will be very happy about.
What kind of a film is 'Manasuku Nachindi'?
It's like an ocean. It's a layered fun, romantic film. There is a story behind a story. I have used Nature as a motif to demonstrate our connection with our heart. Nature is the film's real hero. Mahesh Babu has given the voice-over for Nature.
We heard that the film has taken too long to be completed. What is the truth?
I wrote the script all by myself. And it took me one year to be done. I had penned the script in English. Sai Madhav Burra garu translated it into a beautiful language. The whole process took another 6 months.
My characters have a certain flow. And I didn't want to hurry through the process for the sake of it. I had resolved to make a meaningful film.
It seems the film is very close to your heart.
Yes. This is a heart-felt, fictional love story. The character of Nithya is very close to my heart. I have penned the characters inspired by Nanna garu (Superstar Krishna) and Mahesh Babu. It's a love story that essentially revolves around two characters.
Did you imagine any actor/s while writing the script?
I didn't have anybody in mind. I don't write stories that way. I have watched Nanna garu's and Mahesh's movies. I don't know much about the actors of the present generation. I met quite a few actors before making this film. Sundeep Kishan's name was suggested by Kiran garu. It was then that I watched 'Venkatadri Express'. I felt he is quite spontaneous. His performance is great.
Was it a hard process to make the movie?
I didn't find it hard. My cinematographer, Ravi Yadav, was telling me I did it like an experienced director. My family members were thrilled when I stepped into direction. Mahesh was thrilled but he also told me direction is not an easy job. But when he watched the trailer, he was surprised. Nanna garu and Mahesh are going to watch the film on the first day. My daughter has done a very key role in 'MN'. Hers is the next most important character after the leads'. Nobody has inspired me to take up direction.
When are you going to direct your superstar brother?
It's a dream to direct him. We are going to quarrel on the sets when it happens. If and when we have a story that suits his image, he might ask me to direct him!
I have also a story that suits Pawan Kalyan's image. At a time when he is moving to politics for public service, I have a suitable story for him.
Follow us on Google News and stay updated with the latest!
Follow
Actress Photos
Meera Jasmine
Faria Abdullah
Nidhhi Agerwal
Hansika Motwani