Mani Ratnam's advice for 'Irudhi Suttru' team
Wednesday, February 10, 2016 • Tamil Comments

Listen to article
--:-- / --:--




After Bala and Shankar, now Mani Ratnam, the most respected director across the country has also watched the latest Kollywood sensation Irudhi Suttru` and as expected he was extremely happy with the film of his protégé Sudha Kongura.
In a chat with Dhananjyan of UTV Motion Pictures which has presented the film, Mani Ratnam spoke and appreciated the film as well as the work of its important crew members.
Sudha as a AD and Director
Being an assistant director is completely different job altogether. Only after becoming a director, individuality will be revealed. That`s the satisfaction I derived while watching Irudhi Suttru`. There was a sense of wholeness. There was intelligence in story-telling and the work dedicated for detailing in the script was evident. And I was happy.
About Irudhu Suttru`
This is absolutely an individual piece. I don`t remember any film has come like this about boxing in Tamil. That too about a female boxer. It is very interesting. Subject itself was different and interesting. It was narrated entertainingly, commercially, lively and with wholeness.
Madhavan
Madhavan has clarity since initial stage. I wish he does more number of Tamil films.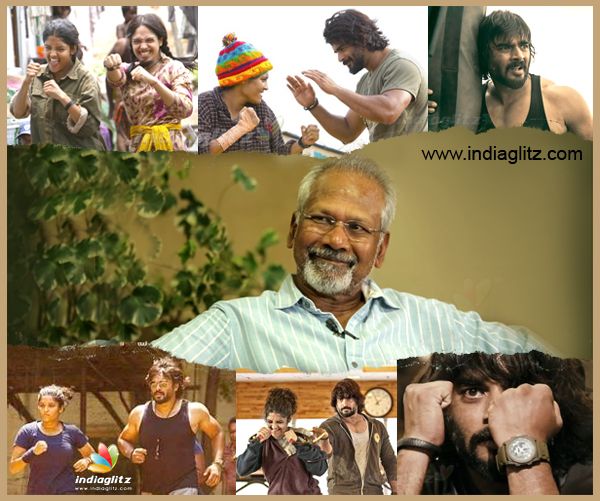 Rithka Singh
Rithika looks mostly like Sudha. It doesn`t look like her first film. Speaks good Tamil. Looks very confident. Physicality of boxing, training and getting ready were highly effective. And in some places she was very good.
A Woman director`s film
Director is a director, Nothing about women or men. So its just the director and what story he says. If I watch a film after paying money this is what I will see. What matters to me is only whether I like the film or not. If it`s a woman who has directed.. very good, fantastic. That`s it.
Santhosh Narayanan
I think Santhosh has got a distinct sound. That is very catchy and young. And he has got a unique style of sound and that is present in this film.
Technical aspects of the film
When I watch the film I watch it as an audience. I won`t see separately as to how the editing has come out and all Since it is Sudha`s I was anxious that it should be wholesome. That was there in the film. Everything was good and wholesome in the film and that`s why this film is completely satisfactory to me.
Tamil audience accepting novel attempts
There is nothing surprising in that. It`s the land where Uthiri Pookkal` was welcomed. Since then Bharathiraja, Mahendran, Balachander and all have laid a long highway for us. Audiences were ready for new thoughts. The current generation is exposed to world cinema. So in the last ten years the acceptance for different kind of ideas and different kind of films by Tamil audience has increased. So more number of individual styles and individual thoughts are coming out. So films that fall out of a regular formula have started coming.
The Master`s Words for Irudhi Suttru` Team
You have done the film very well and it is running well in theaters. Get on to the next one soon. I think this is just the beginning. There are a lot more to come. I hope the entire team is really successful in the long run.
Follow us on Google News and stay updated with the latest!
Follow
Actress Photos
Mehreen Pirzada
Sonal Chauhan
Amala Paul
Shobitha Dhulipala