Manchu Lakshmi: Yoga Adds to Your Mental Strength
Wednesday, June 21, 2017 • Telugu Comments

Listen to article
--:-- / --:--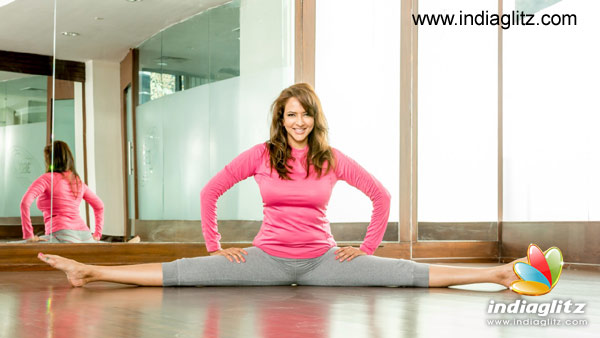 21st of June has been recognized as the International Yoga Day by the United Nations since Narendra Modi`s proposal in 2014.
The hashtags #InternationalYogaDay and #WorldYogaDay2017 started trending on Twitter with people tweeting out the benefits of Yoga and spreading awareness and importance of Yoga, today 21st of June, 2017.
Many celebrities in India tweeted out celebrating the day with snaps of them in different asanas.
One of the many Yoga enthusiasts in Tollywood is Manchu Lakshmi. She has always been in a great shape and now she gushed about benefitting from the age-old stress-buster, Yoga.
Speaking to Stumagz, Manchu Lakshmi said the following about Yoga:
"I took it up 12 years ago and since then, I have benefitted extensively from it. The fact that you do difficult asanas and stretch your body in ways that you never thought you could. Yoga helps you confront your fears easily in life"
"Subconsciously, it adds to your mental strength a lot and while physical exercise is a major part of Yoga, the mental strength you get from it is equally beneficial."
"I really wish I practiced it more often and had taken it up earlier. It gives me immense joy and it is an absolute stress buster." She gushed.
She continued reflecting on her experience with Yoga
"Other forms of exercise just help the body but yoga is extremely internal too. It helps every cell in the body and that is why I would even suggest this to students. The mental and spiritual strength that you get from practicing yoga will enable you to face anything in the world with ease, whether it is an interview or an exam."
She continues "In fact, I believe yoga should be made mandatory in schools and in our school (the school that the Manchu family runs) yoga is one of the options available to the children. We put a lot of emphasis on physical activities and in fact, we openly tell parents that if they want to send their children to our school only for getting marks, then they can choose some other school."
She adds "With globalization, many people in other countries are happily taking it up while at the place of its origin, it is neglected to a great extent. I think only 1 in 50 individuals are into yoga and it should gain more acceptances in our own country" and concludes.
Happy Internation Yoga day to everyone!
Celebrate the special day by following us on social media and get more updates like this!
Follow us on Google News and stay updated with the latest!
Follow