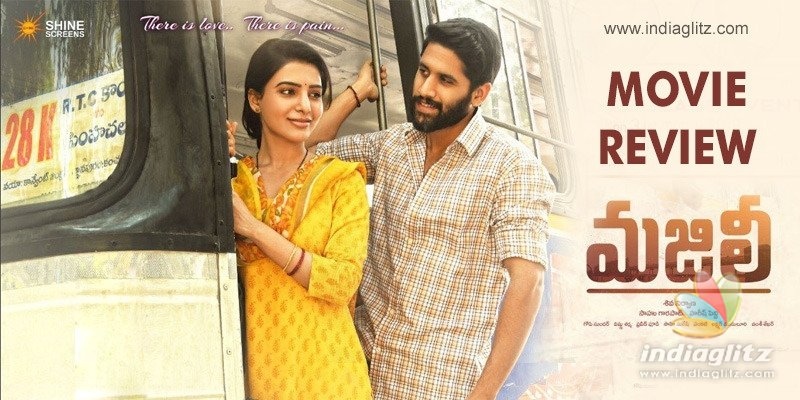 'Majili', starring Naga Chaitanya, Samantha and Divyansha Kaushik, hit the screens this Friday.  Here is our review of the latest box-office release.
Story:
Poorna (Naga Chaitanya) is a gloomy middle-aged husband of Sravani (Samantha).  An alcohol-addict, he comes with a devil-may-care attitude.  
He was full of life 15 years ago when he met and fell in love with his soulmate, Anshu (debutante Divyansha Kaushik).  Back then, Poorna was brimming with hope as a budding cricketer playing for a Railways team.  All hell broke loose when he couldn't marry her.  
The narration takes us through their love story and sudden separation, how Poorna fails to deal with the aftermath, the changing equations between him and his doting wife, and what happens in the end.
Analysis:
First things first.  This film is nothing like its trailer.  It's not about intense, emotional conversations between Poorna and his wife Sravani.  It's not about emotional crests and troughs delivered through dialogues.  It's about some events and a few characters who stubbornly stay the course.  It's about elements that overstay their welcome.  It's about scratching the surface.  
'Majili' is about repartees and low-intensity comedy rather than poignant conversations between a morose husband and his new soulmate.  It's not about soulful moments, rather it's about superficial situations.
Writer-director Shiva Nirvana plucks low-hanging fruits in terms of introducing a new character and doing away with an old one with an 'I am a Tollywood filmmaker' attitude.  What would the film have been like had a particular character not entered the screen (revealing who is that character would be blasphemy)?  What would the conversations have been like had it been just about Sravani and her man?  What would the climax have been like?  The possibilities that the Trailer threw up were limitless.  But the tropes that Shiva Nirvana manufactures in the film are ordinary at best.
Take this scene where a friend gives Chaitanya's character a game-changing idea to deal with a particular situation.  This idea should have come from Samantha's character. That would have been the biggest service to her character.  But the director busies himself with friends and mediocre goondas (like Subburaju's character).  So much so, he forgets that there should be dialogues between husband and wife.
When a frustrated father (Rao Ramesh) chides his son for being irresponsible at 19, he would taunt him.  Exactly what Rao Ramesh does.  Fine.  But when he is shown chiding the son, who is now even more irresponsible and hopeless at 34, you must show pain on the face of that father.  In 'Majili', it's Rao Ramesh whom we see even in the second half.  We don't see Poorna's father.
The cricket match scenes are underdeveloped, so also the tracks involving the hero and his coach (Ravi Prakash).  And Tollywood just can't do without the fiance who disgusts the hero-loving rich girl with his possessiveness.  
Where the momentum is not served, the performances, the neat camera angles and the able BGM (by Thaman) help.  Samantha is not only charming but also subtle as a patient wife who unconditionally loves her husband.  Naga Chaitanya could have been better in the shattering moments but he does a decent job by and large.  Divyansha passes muster and the likes of Mahesh Vitta do well.  Rao Ramesh, Posani Krishna Murali and Atul Kulkarni are at their usual best.  
The interval bang and the climax are two highpoints that can't be missed.  The directorial touch to Samantha's intro scene is unique.  The film could have done without 'One Boy One Girl' song and it should have been replaced with an elaborate climax perhaps.
Gopi Sunder's songs (especially 'Priyathama Priyathama') fit the bill, while the art work is credible.
Verdict:
'Majili' is about events rather than conversations.  It could have been a coming-of-age drama but it remains content with situational humour and convenient situations for the most part.  Performances and a couple of other elements save the day.
Rating: 3 / 5.0
Showcase your talent to millions!!
Write about topics that interest you - anything from movies to cricket, gadgets to startups.
SUBMIT ARTICLE
More
Telugu Movie Reviews
Ahimsa
Nenu Student Sir
Pareshan
Boo
Mem Famous
Malli Pelli