"I felt I could have done 'Thuppakki' but happy with 'Spyder' " - Mahesh Babu
Sunday, September 10, 2017 • Tamil Comments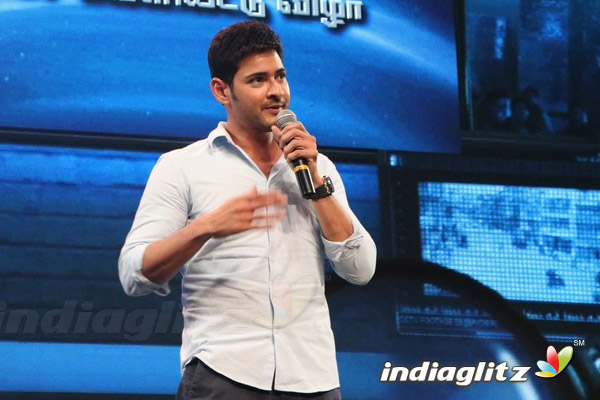 The audio launch of 'Spyder' held in Chennai on Saturday was a celebration of its hero Mahesh Babu. Chennai got a taste of the Tollywood Superstar's phenomenal fan following with this event. Since the moment he entered the auditorium and competed his final speech the fans were in a state of euphoria and that vibe spread to everyone sitting in the auditorium,
Mahesh Babu gave a fantastic and honest speech in chaste Tamil. He studied in Chennai and knows Tamil but it is amazing to know that he has not forgotten the language and speaks it so fluently even after many years. The amazement multiples when we see many people who have born in Tamil Nada
"I am going to speak in Tamil. எல்லாருக்கும் வணக்கம். Today i am very happy. Very exciting and tensed. After 18 years acting career, I get the feeling of doing my first film. I am really really happy that I am doing my first bilingual with Murugadoss sir.
We were planning to work together for over 10 years. He came to my house and narrated this story. It is a edge of the seat thriller. He said it needs good music, good costume, good hair style. Its length of 2 hours 25 minutes. Whatever he said in the narration has come on screen. Only that has come in the film. I am very honoured to have worked with him. It was a great experience.
Then our producers Madhu sir, Tirupathi Prasad sir...Making a film on a budget of Rs.120 crores is no joke. It needs guts and passions. These two people have that. Thank you sir thank you for Spyder.
Harris sir... I like his music a lot. Very rarely people say that the background score for a film was extraordinary. People say that only for Harris Jayaraj sir's films. Thank you sir thank you for giving your best for this film.
I have to separately talk about Peter master. He has given his life for this film. For climax he worked 20 days and cancelled all other commitments. Because in this film action sequences are very, very difficult to shoot. After completing a risky shot he will come to me and ask whether I am okay. After I said I am okay, he will ask for one more. Thank you master.
Then SJ Suryah sir. I know him as a director. I have done a film with him ten years ago. Thank you for working in this film sir. Your dreams are very big. Rakul, you've been an amazing co-star. 'Spyder' is a very intense film. It is very difficult to make. Unless the team is their giving you confidence it is not possible. Thank you the entire direction department for an amazing experience. "
After Mahesh Babu completed his speech, Chinmayi tried to ask some questions. He immediately interrupted and complimented her saying "When you talk in Telugu, I got excited that Samantha has come suddenly". It must be noted that Chinmayi dubs for Samantha in all of her Telugu films.
Then the Prince answered a few questions posed by the host.
You remember any punch dialogue of Ilayathalapathy Vijay?
That is a memorable one. "I am waiting".
Have you felt you could have done any of his films?
That has not happened to be honest. When I watched 'Thuppakki; I felt it would have been good if I did it. I also told that to sir. But now I am happy that I did 'Spyder'.
This is the first time you have done a Tamil film and you have dubbed on your own. How does that feel?
Frankly, it is not a pre-planned decision. God has given me a market and a huge number of affectionate fans. This is enough for this birth of mine actually. When we do a big budget film like 'Spyder', we spent 125 crores, we wanted to cover more than one marker.
You have done many films. Which character is closest to your heart?
Honestly. It is 'Spyder'. It is a very new experience for me as an a actor. It will take four, five takes in Tamil to complete a shot. Immediately we have to take the same shot for Telugu and it will take another four-five takes. This is a very new experience and it will definitely help me in future.
How do you look this much prettier?
(Smiles) What can I tell about this?
Actress Photos
Nabha Natesh
Vedhika
Archana
Samantha