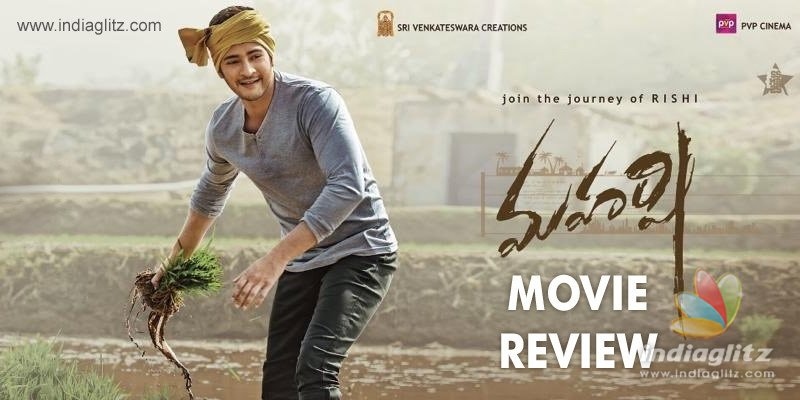 'Maharshi', starring Mahesh Babu in the lead, hit the screens this Thursday.  Here is our review of the biggest non-'Baahubali' release in the history of Telugu cinema.
Story:
Rishi Kumar (Mahesh Babu) falls in love with his M.Tech classmate Pooja (Pooja Hegde) during his stint at IIET, Vizag.  Ravi (Allari Naresh), his roommate, derives inspiration from his genius and becomes his all-weather friend.  
Rishi's urge to rule the world by creating a software revolution makes him take a stunning decision and this has unforeseen consequences for him, Ravi and his girlfriend.   
What is that decision, and how does it affect the lives of Ravi and Pooja?  Where does the redemption lie for Rishi, who is consumed by ambition?  Answers to these are found right from the interval block.
Analysis:
It's problematic when filmmakers have obsessions and not ideas.  One of the stubborn obsessions of our directors is this: Building drama, melodrama and more melodrama around the woes (none of which our filmmakers understand thoroughly and scientifically) of farmers.  Sentimentalism and lazy narratives around farm distress are a sorry feature in our films.  We have to live with it.  In 'Maharshi', writers Hari-Vamshi Paidipally-Solomon romanticize farming and guilt-trip the audience.  They call it "message".  We call it intellectual and creative bankruptcy, even virtue-signalling.  
'Maharshi' has been touted to be a journey of Rishi Kumar.  It's one and that's one big issue with the movie.  In his journey, the hero keeps on visiting and revisiting the definition of success multiple times.  Every time he meets his mother (Jayasudha), they talk in the language of wannabe motivational gurus brainstorming on their syllabus.  "Success is... commas... full-stops," Mahesh Babu says again and again at regular intervals.  He should have added a couple of punctuation marks (like semi-colon, hyphen) at least in the second half.  
Any film that thinks social movements can be created by one speech (delivered with all sincerity and intellectual poverty by a glamorous hero) should be treated as a joke.  Yes, that's what happens in 'Maharshi'.  Our hero says we the people are the government and everyone from school managements and weekend party revellers is transformed overnight into benefactors of suffering farmers!  
There is a super-rich corporate billionaire (was Jagapathi Babu feeling uncomfortable during the making?) who gets caught by the law right when the hero wants.  And such a guy is the antagonist of a superstar in a big-ticket entertainer?  Wow!  
Whole villages stand up in rebellion after a press briefing by our gorgeous hero.  In the meantime, the Chief Minister comes to know that farmers actually need warehouses.  Guess who delivers him this information that even a Standard VII kid knows in India's villages?  Again, it's our cute, marvellous, fantastic, mind-blowing, know-all Rishi Kumar.
Meanwhile, don't forget one thing.  Amidst romancing the heroine in underwhelming songs like 'Paala Pitta', our hero keeps on improvising the definition of success, the final edition of which will be delivered only in the climax.  
How is the friendship track treated?  Allari Naresh comes, dances alongside Mahesh and Pooja for 'Choti Choti Baatein', writes exams, fails in two subjects, gets motivated in a '3 Idiots'-like scene, and boom!  
It's Mahesh Babu's show all the way.  His impeccable timing, intense expressions, and earnest dialogue-delivery are a treat.  He carries weakest scenes on his shoulders and salvages a few of them.  He pulls off the fights with elan.  
Allari Naresh is convincing, Pooja Hegde is good.  Rao Ramesh goes overboard, Prakash Raj and Jayasudha are restrained.  Prudhvi, Vidyullekha Raman, Vennela Kishore, Anish Kuruvilla, Brahmaji, Kamal Kamaraju, Srinivas Reddy, Mukesh Rishi and others fit the bill.  
Devi Sri Prasad's RR helps in a big way, and the songs are unremarkable.  KU Mohanan's cinematography is nimble.  
Verdict:
'Maharshi' is largely a bland film that has a superficial take on the issues it takes up.  Dry dialogues and melodramatic conversations should have been avoided.  The 'Srimanthudu' favour is palpable.  Mahesh Babu's acting credentials are a saving grace.
Rating: 2.75 / 5.0
Showcase your talent to millions!!
Write about topics that interest you - anything from movies to cricket, gadgets to startups.
SUBMIT ARTICLE
More
Telugu Movie Reviews
Ahimsa
Nenu Student Sir
Pareshan
Boo
Mem Famous
Malli Pelli