A mix of old and new
IndiaGlitz [Thursday, May 3, 2018 • తెలుగు] Comments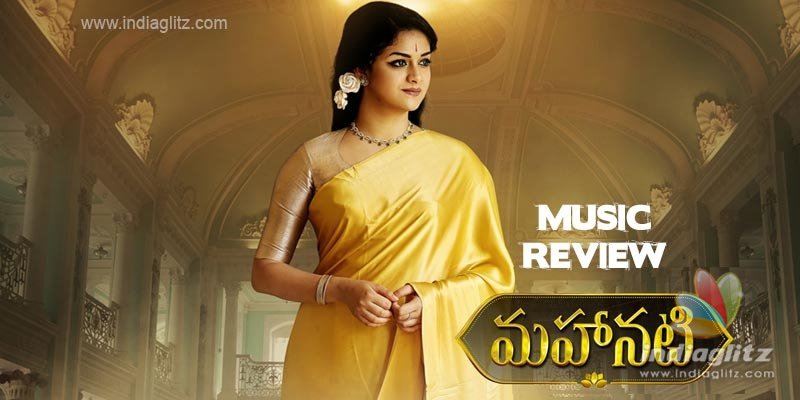 'Mahanati', music-directed by Mickey J Meyer, has lyrics by Sirivennela Sitarama Sastry and Ramajogayya Sastry.  Anurag Kulkarni, Ramya Behara, Shreya Ghoshal, Anurag Kulkarni, Charulatha Mani and Sunitha have crooned the numbers.  The music is out on Aditya Music.
Mahanati
Singer: Anurag Kulkarni
Lyrics: Ramajogayya Sastry
The stylized flavour of the song is a treat.  The way the number begins and the musical highs it achieves are interesting.  Anurag Kulkarni's voice is both soft and aptly sharp to pull off such a song.  Ramajogayya Sastry's lyrics laud the great actress that Savitri without falling back on cliches.
Aagipo Baalyama
Singer: Ramya Behara
Lyrics: Sirivennela Sitarama Sastry
In the beginning, the song has the flavour of Hindi film music of the 1950s.  The meter later softens to give way to a typical childhood number.  Sirivennela's lyrics pack a 'holiday' punch.  They even anticipate Savitri's ascendancy later in her life.  Ramya Behara's voice has the strength to make the song all the more breezy.
Mooga Manasulu
Singers: Shreya Ghoshal, Anurag Kulkarni
Lyrics: Sirivennela Sitarama Sastry
Sirivennela's lyrics imaginatively reflect the thinking of Savitri when she loved Gemini Ganesan.  The lines 'Samayam anna jada leni hayi lo' and 'Ee kadhe nijamani kala lo ne gadapani' suggest that Nag Ashwin's Savitri is fantastical in her thinking, filmi-style.  Shreya Ghoshal's voice is sedative.  Anurag Kulkarni's is comforting.  Mickey J Meyer does come with a certian 'Brahmotsavam' hangover.  The influence of Maestro Ilayaraja is palpable.
Sada Ninnu
Singer: Charulatha Mani
Lyricist:  Sirivennela Seetharama Sastry
Sirivennela Seetharama Sastry pens sublime lyrics for this song that seems to be about two love stories set in two different periods.  'Kalam narthinchada neetho jathai, pranam suminchada nee kosamai' is a phenomenally profound line.
If the film's first single ('Mooga Manasulu') had a 'Brahmotsavam' hangover, for this song, Mickey J Meyer attempts his hand at classical music.  And he comes out with flying colours.  Phani Narayana Vadali's Veena and Ravi Shankar's Flute is mellifluous.  Charulatha Mani renders the melody to a soothing effect.  Her voice has the grace of a consummate classical singer.
Chivaraku Migiledi
Singer: Sunitha
Lyrics: Sirivennela Sitarama Sastry
For the first time since 'Nilavde' from 'Shatamanam Bhavati', 'Chivaraku Migiledi' makes it clear that, for songs that should be a throwback to a bygone era, Mickey derives inspiration from Maestro Ilaiyaraaja.  The song, deliberately or otherwise, also has a horror filmi-type flavour.  It's meant to convey gloominess.  Sunitha's voice comes with an old-worldly charm.  Sirivennela's lyrics are impeccable, drawing material from Savitri's life and body of work.
Verdict:
It's to director Nag Ashwin's credit that he defies cliches in conceiving the title song, 'Sada Ninnu', and 'Chivaraku Migiledi'.  With profound lyrics and enjoyable voices, the album is a winner.
Rating: 3/5