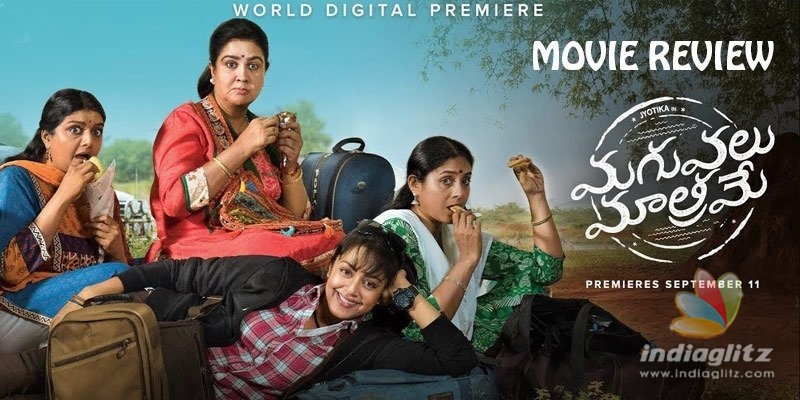 'Maguvalu Matrame', the dubbed version of Jyothika's 'Magalir Mattum', is currently streaming on Aha. Here we present its review.
Story:
Prabhavathi (Jyothika) is a documentary filmmaker. She understands that her future mother-in-law Gomatha (Urvashi) misses her old friends Rani (Banupriya) and Subbu (Saranya). If Rani lives in Agra as the wife of a local politician (Nassar), Subbu has been condemned to a life of utter boredom because of her drunkard husband. When Prabhavathi steps in and resolves to make the trio come together for a vacation, their lives change in unexpected ways.
Analysis:
The Telugu dubbed version of 'Magalir Mattum' (Tamil, 2017) lives up to its noble intention of driving home its message that reducing women to their domestic chores dehumanizes them over a period of time. Director Bramma's film makes a strong statement against male chauvinism without sounding preachy.
There is this phrase which Jyothika's character uses in the film: 'Loosen yourself up'. That can be said about the 'Chandramukhi' actress's performance, too. After watching a stiff Jyothika in Karthik's 'Donga' (2019), the viewer gets to see her deliver a winsome act as a feisty documentary maker for whom questioning the norms of patriarchy is not just an act of resistance but a matter of routine. Bhanupriya, the yesteryear actress, brings a certain charm to a role that demands her to be light-veined yet serious. Urvashi, one of the best comediennes of south Indian cinema, pulls off her role with casual conviction. Although her dubbing is a bit unsettling, her comic timing is intact.
The segment involving Saranya, her bedridden mother-in-law and her insensitive, drunkard husband needs a special mention. The housewife has become numb to her travails.
Now and then, the narration tosses itself back to the days when the three women were hostel mates in a convent. At times, the stretches look dragged. In the first half, especially, the scenes look somewhat repetitive. The same theme of finding an escape in change from the dreary routine gets repeated.
The film is a slow-burn, with the second half standing out in terms of content. Ghibran's lively music revs up the mood whenever the narrative threatens to soak the audience in boredom. As the film progresses, it acquires an aura of brevity. Madhavan's cameo is okayish.
Characters finding an escape on a vacation is nothing new. In fact, it's a cliche in our movies. Holidaying is often showcased as an elixir. This film falls back on the formulaic trope and yet it doesn't succumb to the temptation of its low-hanging fruits.
Manikandan's camera work is brilliant and he has successfully executed long takes. CS Prem has cut at a leisurely pace which the script demands.
The film is also predictable. Although specific scenes look different at times, their overall impact looks familiar. The male characters have a change of heart quite easily. How come mindsets undergo a transformation in such a small frame of time?
Verdict:
The film is sans melodrama, but it could have been a crisper outing. The dialogues should have been witty. The scenes look ordinary at times. It's the performances that uplift a number of moments. Since the Tamil original was released in 2017, the dubbed version also looks quite stale.
Rating: 2.25 / 5.0
Showcase your talent to millions!!
Write about topics that interest you - anything from movies to cricket, gadgets to startups.
SUBMIT ARTICLE
More
తెలుగు Movie Reviews
The American Dream
Hero
Rowdy Boys
Bangarraju
Veyi Subhamulu Kalugu Neeku
Atithi Devo Bhava